Donation To Scott Brown Pokes At Yankees-Red Sox Rivalry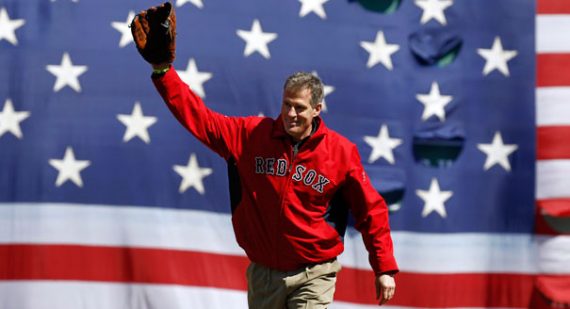 This weekend, Fenway Park will celebrate it's 100th birthday with the 2012 renewal of one of the most bitter rivalries in sports. Before the Yankees arrive in town, though, a donation to Scott Brown's campaign is stirring up passions on both sides:
U.S. Sen. Scott Brown may be rooting for the Red Sox [team stats] against the Yankees this week, but the head of the hated Pinstripes is going to bat for Brown.

Randy Levine, president of the New York Yankees, donated the maximum $2,500 to the Massachusetts Republican's re-election campaign last month, according to newly released campaign finance records.

That's right, the commander of the Evil Empire is helping to pay for all those Brown ads championing his support of the Red Sox.

It's one thing to be bipartisan, Senator, but this is taking it a little too far. There's no compromising in baseball.

"We're happy to accept Randy Levine's donation," Brown campaign spokesman Colin Reed said. "The way Scott Brown looks at it is, this is their way of paying us back for Babe Ruth."

The Babe for Brown? Somehow I don't think Sox fans — even those who love Brown — would take that deal.

Levine is the embodiment of everything we hate about the Yankees. He's described as arrogant and brash, and is the chief henchman of the Steinbrenner family, according to reports. Oh yeah, one of his chief goals every year is to destroy the Red Sox.

Brown, meanwhile, is openly trying to win over the hearts of Sox fans — and voters — in his tough re-election fight against Democrat Elizabeth Warren.
Politics is one thing and, while I like Scott Brown, he needs to remember that there is no bipartisanship in baseball. He can ponder that thought while watching his Sox lose this weekend.
Photo via Buzzfeed