Don't Judge The Libyan People For Killing Gaddafi
Should we be outraged over the manner in which Muammar Gaddafi died? I'm not losing any sleep over it.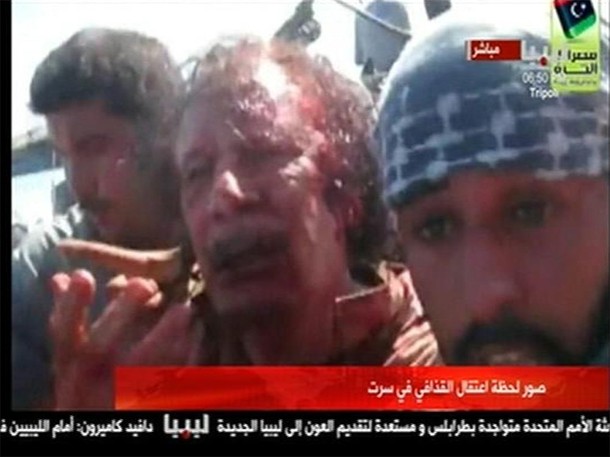 Jonathan Turley is seemingly outraged over the world's reaction to the videos depicting the events that led to the death of Muammar Gaddafi:
What I find rather disconcerting is the treatment of this video by the media, which covered the "joy" and "celebration" of the event while ignoring the shocking abuse of a wounded man and then the parading and stripping of this corpse. We were appalled when militants paraded the bodies of Americans in Somalia and Iraq. Yet, when it is someone we hate, it barely draws mention while newspapers taunt the dead man as being pulled "from a stinking drain."

Following the killing, President Obama took to the air to herald the victory and a "future . . . of dignity."

We long denounced Gadhafi on this blog. However, the treatment of Gadhafi below should shock the conscience. Only this morning did I see a brief story on CNN interviewing a man on how he felt about the way Gadhafi died. The thrust however was not about the abuse but the lost opportunity of a trial.

Instead of addressing the abuse of a wounded man and later a corpse, CNN and other outlets simply warned about graphic images and focused on Libyans firing weapons (including heavy machine guns) into the air (a moronic form of celebration that led to the wounding of various civilians).

(…)

This video should shock the conscience and the story should be not the celebration but the crime depicted in this video.
As some kind of abstract level, I suppose that Turley has a point. In a just world, Gaddafi would have been captured and put on trial for his four decades of crimes against the people of Libya and the people of the world, much as Saddam Hussein was when he was finally captured hiding out in a hole in the ground. He would have had legal representation and he would have been forced to sit in a courtroom somewhere and listen to the tales of what he did and the pain and misery he caused. Then, he would have been put to death.
Perhaps that would have been the idea outcome, but we do not live in an ideal world. Gaddaffi was caught trying to escape from the fall of Sirte, where he had apparently been hiding since disappearing from Tripoli in August, apparently with the intention of continuing his guerrilla campaign from some other redoubt in Libya.  Previously, he had said repeatedly that he intended to die on Libyan soil rather than surrendering, thus making the possibility of surrender pretty much non-existent. More importantly, he was captured in the middle of a civil war in a country that hasn't known anything resembling the Rule Of Law for four decades. Expecting the people of Libya to live up to the legal standards of George Washington University Law School strikes me as pretty unrealistic.
It strikes me that Turley is likely pretty much alone in his reaction to the death of Gaddafi, even liberal groups like the Center for American Progress are cheering it:
Moammar Qaddafi's demise today represents a measure of justice for the countless individuals he and his regime terrorized in Libya and around the world during his 40-year rule. … His death creates hope for a truly new Libya that can be responsive to its people and responsible in the world.
Of course, it's interesting to note that CAP's reaction to the death of Saddam Hussein, which occurred after a trial in which he was represented by counsel, was quite different. Back then, they approvingly quoted a statement by Tom Brokaw in which he compared Hussein's hanging to a the worst excesses of the Old West. So according to CAP, beating a dictator to death in the street is okay, executing him after a trial isn't.
Patrick at Popehat reacts to the video quite differently from Turley:
That's a lynching. A well-deserved lynching, to be sure. But it evokes none of the tut-tutting of frontier justice, of barbarism, of western disdain for savages asthey take their revenge on the future martyr. Instead, we get Hillary Clinton cracking a joke so lame it would have been rejected by the writing team on an Arnold Schwarzenegger action movie.  (They'd have given it to Steven Seagal.)

As citizens of a democratic republic, we should all cheer when a tyrant gets his just deserts.  So I'll join the Center for American Progress in celebrating this long delayed justice, and congratulate them on their change of heart.

And in years to come I'll look forward to celebrating the deaths of Kim Jong Il and Bashar Assad with them.  Regardless of who occupies the White House.
Earlier today, I compared Gaddafi's death to the deaths of Benito Mussolini in the waning months of World War II and Nicolae Ceausescu during the Romanian Revolution in December 1989. They were quick, brutal, and nasty deaths. But they were also entirely understandable, as is Gaddafi's. After 40 years of brutal dictatorship and a civil war in which tens of thousands of people are believed to have died, it's difficult to expect the Libyan people to be calm and collected when the man who had been brutalizing them for so long is finally in their grasp. The phrase Sic Semper Tyrannis comes to mind. It's the State Motto of Virginia, and it means thus always to tyrants. The rage against a brutal dictator is primal, and it's totally justified. From a distance, we can tut-tut about the violence of actions like this, but until you've walked in the shoes of a person who's been ruled by one of these men, I don't think it's really possible to understand the way they feel. I'm not going to judge them, and I'm not going to mourn for Muammar Gaddafi.