Don't Try to Have It All: Just Live With Your Choices
My latest for The Atlantic continues the debate over work-life balance spawned by Anne-Marie Slaughter's cover story "Why Women Still Can't Have it All."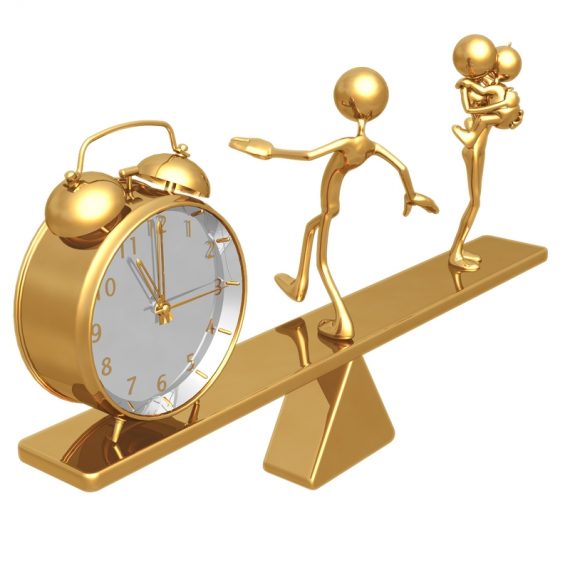 My latest for The Atlantic, "Don't Try to Have It All: Just Live With Your Choices" continues the debate over work-life balance spawned by Anne-Marie Slaughter's cover story "Why Women Still Can't Have it All."
A few days back, I argued that "Men Can't Have It All, Either." In the follow-up, I respond to several other pieces in the series and observe:
The piece that touched me most was Dana Shell Smith's "How to Have an Insanely Demanding Job and 2 Happy Children." She and her fellow senior State Department colleagues were "puzzled" that Slaughter found it so hard to balance work and family demands. Then she explained how she "turned down assignments that I desperately wanted but that I knew would not be a good fit for my family;" burned vacation time getting settled in after frequent moves; spent her days, nights, and weekends tethered to her Blackberry so that she might "continue my work regardless of my physical location and late into most evenings after my kids are asleep;" hasn't seen a non-animated theater movie in more than a decade; and how she and her husband "collapse from exhaustion most evenings." Oh, and she's also "missed the chance to be as involved in my children's school, extra-curricular activities, and homework routines than I would have liked;" felt "the pain of my first grader asking me why I couldn't pick him up every day after school 'like the other mommies'"; and doesn't have time for close friends, haircuts, or exercise.

My first thought upon reading this was: What an absolutely miserable existence! Even as a single parent with two very small children, I have more control over my life and more time for my kids and myself than that. But Smith says that her kids are happy and that she and her husband are, too. And I have no reason to doubt that's the case.

In my original piece, I noted that men can't have it all, either, and that we all have to make trade-offs. What Smith's piece and several of the others make clear is that we're all wired differently and will therefore not make the same choices.

[…]

Not everyone has control of their hours. Many are paid very little on an hourly basis and have to work far more than 40 hours a week just to make ends meet. Still others have very few job options and feel trapped into working very long hours because they receive the message, overtly or covertly, that if they don't someone else will.

Many others, though, especially those of us in the so-called creative class, work long hours out of choice. We're passionate about what we do and derive pleasure from doing it; we have careers, not jobs. Some of us nonetheless manage to work something resembling a "normal" schedule–at least, one that seems that way in comparison to others that we know who seldom seem to not be working. The workaholics, at least those who somehow maintain productive energy during those long nights and weekends, are simply going to get ahead of those who seek this "work-life balance" we're debating.

For some, probably especially the women, they'll feel guilty about time not spent with their children. Some won't regret it until after it's too late. And some will be perfectly satisfied with their choice. But there's simply no getting around the fact that they're more valuable to their employers than the ones deciding to fill hours they could be working raising kids, enjoying friends, and otherwise having a life. Frankly, they ought to get ahead at work.

The rest of us — male or female, parents or childless, married or single — simply need to accept that reality. Those of us with the luxury of setting our own priorities shouldn't complain too much when our choices come with inevitable consequences.
Of course, most of us will be more like Joe Walsh who famously observed, "I can't complain but sometimes I still do."
UPDATE: Among the perils of having written some 23,000 posts here is that I forget when I've written something before. The Related Posts plugin reminds me that I wrote this almost exactly three years ago:
News flash: If you want to work a normal work week, have weekends off, and go to your kids' soccer games, don't become a White House staffer.  Or a congressional staffer.  Or a major college or professional sports coach.  Or a brain surgeon.  Or a professional bull rider.  Or an airborne Ranger. Or a long haul trucker or dozens of other jobs.

Most prestigious and high paying jobs require ridiculous hours.  Some, like medicine and the law, having grueling dues paying periods after which point some modicum of a normal life can ensue.   Others, like coaching, simply demand long hours because that's what the competition is doing. Quite a few non-prestigious, non-high paying jobs require long workdays and workweeks, too.  Truckers, movers, retail managers, lawn care providers, and quite a few others come to mind.

Unlike this last group, White House staffers get not only substantial prestige from their work but they tend to make these sacrifices for relatively brief periods and then take much more lucrative positions outside government, parlaying their public service into substantial wealth.  Often, they'll cycle back into political appointments every few years depending on the vagaries of election outcomes.