Drone War Discussion Absent from Campaign
My latest for The New Republic, "America's Scandalous Drone War Goes Unmentioned in the Campaign," is out.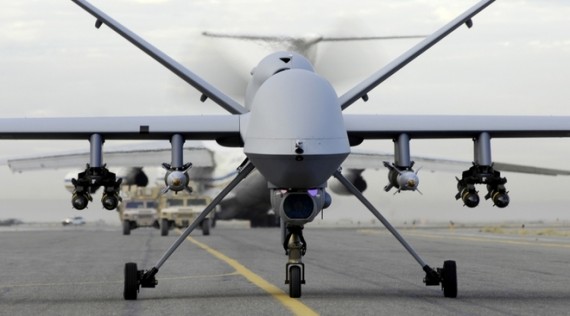 My latest for The New Republic, "America's Scandalous Drone War Goes Unmentioned in the Campaign," is out.
The headline over-dramatizes my argument somewhat but, like Afghanistan, we have an issue where national security professionals are very leery of a policy yet it's virtually absent from the presidential debate.  Some excerpts:
[O]ver the last eight years, drone strikes have "killed 2,562-3,325 people in Pakistan, of whom 474-881 were civilians, including 176 children." Meanwhile, only 2 percent of those killed were "high-level" targets. This means that the strikes have killed three times as many children as terrorist leaders.

[…]

[T]he vast majority of those killed are mere "foot soldiers" or simply those who might be "militants" of some stripe. Indeed, that's been an explicit policy choice by President Obama, under whose tenure the pace of attacks have dramatically escalated. The Bush administration carried out between 45 and 52 attacks, all aimed at major terrorist leaders. In less than half the time, his successor has carried out nearly 300, lowering the targeting threshold to include so-called "signature" strikes against "groups of men who bear certain signatures, or defining characteristics associated with terrorist activity, but whose identities aren't known."

[…]

Despite the increasing intensity with which this issue is being debated in foreign policy wonk circles, the discussion has been all but absent in the ongoing presidential campaign. Terrorism is not among the twenty-six "issues" discussed on Mitt Romney's website and the treatment of "Afghanistan & Pakistan" doesn't mention the drone policy. To the extent that the issue is getting any traction on the domestic political front, it's coming from the likes of Glenn Greenwald and others on the president's left. One suspects that's just fine with Obama, whose ability to tout the fact that "we got bin Laden" has put him in the unique position among Democrats of having the edge on national security issues.

Indeed, Obama has shrewdly—some might say cynically—positioned himself to the right on foreign policy, thereby insulating himself from the "weak on defense" canard that has plagued his party going back to the days of George McGovern. He doubled down on Afghanistan, at the expense of more than a thousand dead American soldiers and marines, at a point when it was obvious the war was unwinnable on the timetable he set. He ignored the hectoring over damaged relations with Pakistan that would result from the bin Laden raid, betting that success would ensure his re-election. And his use of drone strikes makes George W. Bush look like a cautious man.
Much more at the link.