Economy Grows at 5% For Only Second Quarter Since 2001
The Commerce Department had a Christmas present for investors, businesses, and consumers today.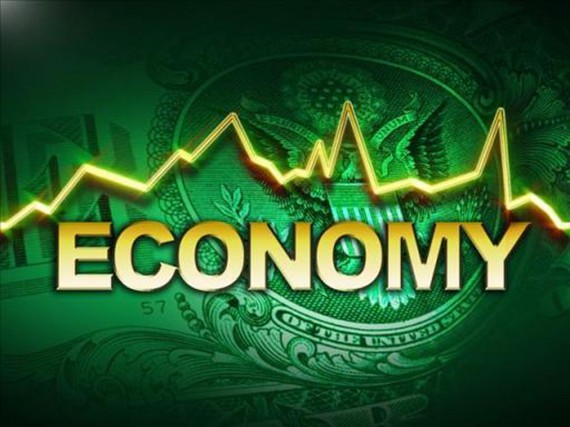 The U.S. economy grew at its fastest pace in more than a decade in the third quarter of 2014 according to the latest revision of Gross Domestic Product, which showed growth at 5.0%, a number it has only achieved twice since 200:
The U.S. economy posted its strongest growth in 11 years during the third quarter, supported by robust consumer spending and business investment.

Gross domestic product, the broadest measure of goods and services produced across the economy, grew at a seasonally adjusted annual rate of 5% in the third quarter, the Commerce Department said Tuesday. That was up from the second quarter's growth rate of 4.6% and the strongest pace since the third quarter of 2003, when GDP grew at a 6.9% pace.

The agency last month had estimated third-quarter GDP growth at 3.9%. Economists surveyed by The Wall Street Journal had expected a smaller upward revision, to 4.3% growth.

Tuesday's report showed stronger-than-expected spending by U.S. consumers, particularly on services like health care. Fixed nonresidential investment also was revised up, signaling more spending by businesses on new buildings and research and development.

"There is a positive feedback loop going on at the moment," Mike Jakeman, global analyst for the Economist Intelligence Unit, said in a note. "Job creation is running at the strongest rate for 15 years. More people in work means more income, which means more private spending, which means more business investment, which means more hiring."

The jump in growth was less dramatic on an annual basis. Economic output in the third quarter climbed 2.7% from a year earlier, up from 2.6% growth in the second quarter.

U.S. stocks rose sharply after the report was released Tuesday morning, with the Dow industrials topping 18,000 for the first time.

The Commerce Department also revised upward its estimate of corporate profits last quarter. Corporate profits after tax, without inventory valuation and capital consumption adjustments, rose 2.8% from the second quarter, versus an earlier estimate of 1.7% growth. Profits last quarter rose 5.1% from a year earlier.

The U.S. economy has experienced robust growth since the spring, recovering from the first quarter's unexpected—but fleeting—GDP contraction. The nation has seen its best year of hiring since 1999. Those signs of strength stand in contrast to worries about a slowdown in other parts of the world, including China, Japan and members of the eurozone.

Still, the weak first quarter will weigh on full-year growth in the U.S., and many economists expect somewhat slower growth in the fourth quarter. Federal Reserve policy makers expect GDP growth of 2.3% to 2.4% in 2014, and a pickup next year to growth of 2.6% to 3%, according to projections released last week.

The Commerce Department will release its first estimate of GDP in the fourth quarter, which ends next week, on Jan. 30.
More from The New York Times:
In a second report, the Commerce Department said non-defense capital goods orders excluding aircraft, a closely watched proxy for business spending plans, was unchanged after declining 1.9 percent in October.

The continued weakness in the so-called capital goods orders is at odds with industrial production data, which has shown strong momentum in the manufacturing sector.

But a rapidly strengthening labor market and lower gasoline prices should provide the economy with sufficient momentum in 2015 and keep the Federal Reserve on course to start raising interest rates by the middle of next year.

Underscoring the economy's firming fundamentals, growth in domestic demand was revised up to a 4.1 percent pace in the third quarter instead of the previously reported 3.2 percent pace. It was the fastest pace since the second quarter of 2010.

Consumer spending, which accounts for more than two-thirds of U.S. economic activity, grew at a 3.2 percent pace, the fastest since the fourth quarter of 2013, instead of the previously reported 2.2 percent rate.

Growth in business investment was raised to an 8.9 percent pace from a 7.1 percent rate, with a stronger pace of spending than previously thought on equipment, intellectual property products and nonresidential structures accounting for the revision.

Inventories were also revised higher, with restocking now being neutral to GDP growth instead of being a mild drag. That also helped to offset downward revisions to export growth.

But inventories could undercut output in the fourth quarter.

Spending on residential construction was also revised higher, as were government outlays. Export growth was cut to a 4.5 percent rate from the previously reported 4.9 percent pace, while imports were also revised down.
This is obviously good news about the state of the economy heading into the final quarter of the 2014, and most assuredly better than the sharply negative downturn that we saw at the start of the year, when First Quarter growth shrunk by 3% in what now seems to be purely the impact of one of the harshest winters the United States had seen in some time. Fortunately, the economy bounced by strongly from that downturn and, as we have seen, grown steadily over the past ten months or so at a pace that we really have not seen since the economy recovery began in early 2009. In addition to strong GDP growth, we've also seen strong jobs growth months after month, with new job creation now averaging over 210,000 jobs per month, a number that is, at the very least respectable although it could obviously stand to be much better. It's difficult to say exactly what it might be about the economy that has "clicked" in 2014, but the fact that the economy remains strong in the United States while showing signs of slowing down elsewhere in the world is no doubt part of what's going on since investors and business are going to look to put their money where it can earn the highest return while still being relatively safe, and right now that's the United States. Additional factors, such as the decline in energy prices that we have seen since January, and which seems likely to continue going forward for at least the medium term, are also no doubt playing a role, especially when it comes to the up-tick in consumer spending since lower energy prices make it more likely that consumers will spend money elsewhere in the economy. Given that current forecasts have energy costs continuing to drop heading into 2015, this bodes well for the economy in the 4th quarter and for New Year, unless, of course, weather intervenes yet again to upset apple cart.
Conservative economist James Pethokoukis makes as interesting point about today's numbers:
From 1981-2000, US had 21 quarters of 5% real GDP growth or faster, since then, just 2 — including 3Q 2014

— James Pethokoukis (@JimPethokoukis) December 23, 2014
Or, to put it another way, more than 27% of the quarters over a 19 year period showed economic growth of 5% or better. Since 2001, just 3.7& of the quarters have seen economic growth at that level. That's not a very good endorsement of the economic policies of either of the men who have been President during this period, to say the very least.  Hopefully, today's news means that we've broken the trend of the last fourteen years.