Ed Koch's Grave Mirrors Daniel Pearl's Final Words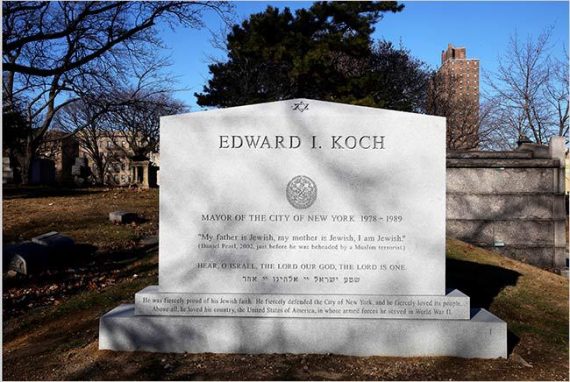 Former New York City Mayor Ed Koch, who died today, had his grave marker created several years ago, and its words have some special significance:
Ed Koch thought about his final resting place, famously worrying that his body might end up somewhere besides Manhattan.  He also weighed with great care the inscription on his headstone, which was placed at Manhattan's Trinity Church Cemetery in 2009.

The grave marker is inscribed with words spoken by Wall Street Journal reporter Daniel Pearl before he was killed by militants in Pakistan: "My father is Jewish, my mother is Jewish, I am Jewish."

The former three-term mayor of New York, who died Friday, explained the selection in a 2012 interview with the Journal. "Well, that's me, too," he said of Mr. Pearl's last words.

"I think that statement is as important as the most holy of all statements in Jewish ritual," Koch said. "I think that every Saturday, we ought to say, 'My father's a Jew, my mother was a Jew, and I'm a Jew,' with great pride."
The eerie thing is that Daniel Pearl was killed exactly nine eleven years ago to the day.