Education Colleges Academic Slums
Schools of education attract the weakest students and give out the highest grades on campus.
That grade inflation is rampant on campus and that schools of education are among the biggest offenders is old news. But the extent of the skew may surprise you.
Mark J. Perry, professor of economics and finance at the University of Michigan-Flint, provides this stunning graphic of the grade distribution at Cornell: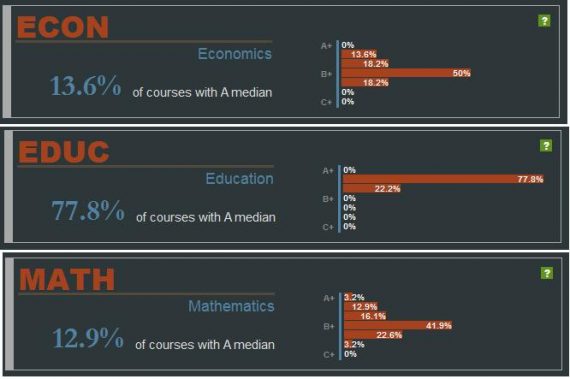 The graphic above shows median grades for course in three departments at Cornell: Economics, Education and Math.  Specifically, it shows the percentage of course in each department with a median grade of A: Economics (13.6%), Education (77.8%) and Math (12.9%).  Note also that 100% of Education courses have a median grade of either A (77.8%) or A- (22.2%), whereas for Economics there's a wider distribution of median grades: A (13.6%), A- (18.2%), B+ (50%) and B- (18.2%).  For math the breakdown is: A+ (3.2%), A (12.9%), A- (16.1%), B+ (41.9%), B (22.6%) and B- (3.2%).
He points to a recent column by Walter E. Williams reminding us that, "Schools of education, either graduate or undergraduate, represent the academic slums of most any university."
American education will never be improved until we address one of the problems seen as too delicate to discuss. That problem is the overall quality of people teaching our children. Students who have chosen education as their major have the lowest SAT scores of any other major. Students who have graduated with an education degree earn lower scores than any other major on graduate school admissions tests such as the GRE, MCAT, or LSAT. Schools of education, either graduate or undergraduate, represent the academic slums of most any university.

As such, they are home to the least able students and professors with the lowest academic respect. Were we serious about efforts to improve public education, one of the first things we would do is to do away with schools of education.
I wouldn't go that far, in that special training is required for those who are going to teach elementary school, special education, and the like. Any college graduate, after all, ought to have the basic knowledge required to teach 3rd grade! Subject matter mastery and high IQ don't translate automatically into an ability to teach; indeed, they can hinder it because slow learners can be frustrating for those to whom it comes easily. But I can't come up with a reason why junior high, much less high school, teachers ought to specialize in education rather than an academic subject. Some training in pedagogy might still be useful–the lack of it is a flaw in our preparation of college professors–but it shouldn't be paramount.
Additionally, we must avoid the ecological fallacy here. Just because education majors on aggregate have some of the lowest standardized test scores and yet the highest grades on campus, it doesn't mean that all education majors are sub-par or that none of them actually deserved an A in their courses. Given the relatively low pay and prestige the comes with teaching at the primary and secondary level, it's actually remarkable how many bright, talented people go into the field. Unfortunately, these are the very people most likely to drop out of teaching, discouraged by the poor quality of their peers and the chafing constraints of the educational bureaucracy in which they must operate.