Edward Brooke, First African-American Elected To Senate, Dies At 95
The first popularly elected African-American Senator, and the first African-American Senator to serve since the end of Reconstruction ended, has passed away.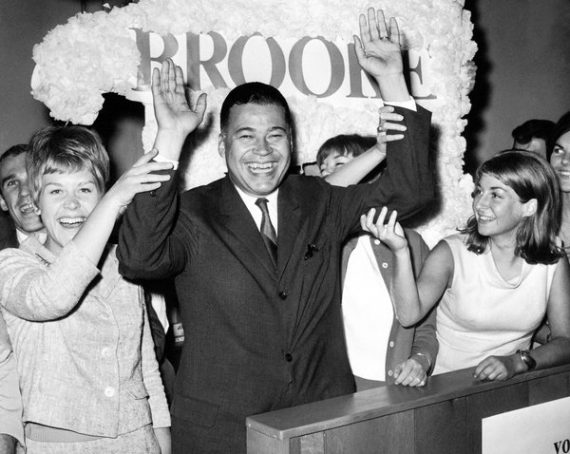 Edward Brooke III, who made history nearly 50 years ago when he became the first African-American elected to the Senate and remains the only African-American to serve two full terms in office in the Senate, has died at the age of 95:
Edward W. Brooke III, who in 1966 became the first African-American elected to the United States Senate by popular vote, winning as a Republican in overwhelmingly Democratic Massachusetts, died on Saturday at his home in Coral Gables, Fla. He was 95. Ralph Neas, a family spokesman, confirmed the death.

Mr. Brooke won his Senate seat by nearly a half-million votes in 1966 and was re-elected in 1972. He remains the only black senator ever to have been returned to office.

A skilled coalition builder at a time when Congress was less ideologically divided than it is today, Mr. Brooke shunned labels, but he was seen as a centrist. His positions and votes were consistently more liberal than those of his increasingly conservative Republican colleagues.

He opposed the expansion of nuclear arsenals, pushed for improved relations with China and championed civil rights, the legalization of abortion and fair housing policies. He urged Republicans to match the Democrats in coming up with programs to aid cities and the poor.

"Where are our plans for a New Deal or a Great Society?" he asked in a 1966 book, "The Challenge of Change: Crisis in Our Two-Party System."

He was a thorn in the side of his party's leader, President Richard M. Nixon. He successfully led the fight against two Nixon Supreme Court nominees whose positions on civil rights were called into question. When Nixon became entangled in the Watergate scandal, Mr. Brooke called for the appointment of a special prosecutor. He was the first Republican senator to demand Nixon's resignation.

"His presence in the Senate in those years was absolutely indispensable," said Mr. Neas, who was chief legislative assistant to Mr. Brooke and later president of the liberal advocacy group People for the American Way. "There were repeated battles during those years. Even some Democrats were retreating on the Senate floor on issues like school desegregation and abortion rights, and Senator Brooke was the one who often single-handedly took on the radical right."

Still, he disappointed liberals by opposing a program to recruit teachers to work in disadvantaged areas. He sought to deny federal aid to New York City during its financial crisis and resisted changing Senate rules to make filibusters against civil rights legislation easier to stop.

On the issue of the Vietnam War, Mr. Brooke, a decorated combat veteran, was torn, moving from dove to hawk, then back to dove. He was a forceful speaker, often described as gentlemanly and charming, and meticulous about his appearance, sometimes changing clothes three times a day.

His political career began collapsing in 1978. What Mr. Brooke thought would be an amicable divorce from his first wife, the former Remigia Ferrari-Scacco, turned bitter and was played out in the news media, resulting in an admission by Mr. Brooke that he had made a false statement under oath in a deposition.

He lost his bid for a third term to Representative Paul E. Tsongas, a Democrat, who received 55 percent of the vote. Mr. Brooke described the experience as "the lowest point in my life."

Cleared by the Senate Ethics Committee four months later, he was nevertheless devastated. "Why did it happen?" he said in an interview with The Boston Globe in 2000. "I don't know. I've asked my God that many times. 'Why, why, why, dear God?' "

Mr. Brooke was twice elected attorney general of Massachusetts, the first African-American to be elected attorney general of any state. When President John F. Kennedy heard the news in 1962, on the same day that his brother Edward was elected to the United States Senate, he said, "That's the biggest news in the country."

In 1964, as President Lyndon B. Johnson led a Democratic landslide, Mr. Brooke was re-elected attorney general by more votes than any other Republican in the nation. In 1968, he was at the top of many lists of possible Republican vice-presidential candidates. By his own and others' accounts, he turned down cabinet posts and a seat on the Supreme Court.

The only previous black senators, Blanche K. Bruce and Hiram R. Revels, both Republicans, were elected not by voters but by the Mississippi Legislature in the 1870s.

(…)

Edward William Brooke III was born on Oct. 26, 1919, in Washington. He was the third child and only son of the former Helen Seldon and Edward W. Brooke II, a lawyer for the Veterans Administration and a Republican, as most blacks were then.

He grew up in "a cocoon," he wrote in his autobiography, "Bridging the Divide: My Life" (2007). He had a stable home, firm religious guidance — he was an Episcopal altar boy — and a good education, attending Dunbar High School, a prestigious black school in Washington.

Surrounded by middle-class blacks, he wrote, he rarely encountered direct racial discrimination, although when the Washington opera was closed to blacks his mother took him to the Metropolitan Opera in New York.

Mr. Brooke earned a bachelor's degree in sociology from Howard University in 1941. A reservist during college, he was commissioned as a second lieutenant after Pearl Harbor in 1941 and joined the all-black 366th Combat Infantry Regiment.

After his discharge, Mr. Brooke enrolled at Boston University School of Law, where he became an editor of the Law Review. He also corresponded with Ms. Ferrari-Scacco, an Italian woman he had met during the war, and she came to Boston. They married in 1947.

A year after Mr. Brooke began practicing law in the predominantly black Roxbury section of Boston, he returned to Boston University to earn a master's degree in law.

In 1950, persuaded by friends, he ran for state representative in both the Democratic and Republican primaries, as was legal then. He won the Republican nomination but was buried in a Democratic landslide in the general election. He ran and lost again in 1952.

In 1960, Mr. Brooke won the Republican nomination for Massachusetts secretary of state, becoming the first black to be nominated for statewide office in Massachusetts. He was defeated by the Democrat, Kevin H. White, whose campaign issued a bumper sticker saying, "Vote White."

The new governor, John Volpe, a Republican, appointed Mr. Brooke chairman of the Boston Finance Commission. He turned what had been an ineffectual post into a crusading one, uncovering a scandal involving the illegal disposal of public land.

Two years later, in 1962, Mr. Brooke won the Republican nomination for attorney general by a razor-thin margin over Elliot L. Richardson, a future attorney general of the United States. In the general election, the campaign of his Democratic opponent, Francis E. Kelly, hired blacks to drive through white suburbs yelling that they planned to move in as soon as Mr. Brooke won.

Mr. Brooke was the only statewide Republican winner.

In 1963, Mr. Brooke fought civil rights groups that were calling on students to boycott school to protest segregation in Boston. He said it was his job to enforce state laws, which required children to go to school.

In 1964, Mr. Brooke refused to support the Republican presidential nominee, Barry M. Goldwater, or to be photographed with him. Mr. Brooke said he was serving not just his conscience but also the best interests of the party, which he believed should be more liberal.

Massachusetts voters were hardly put off by his liberal views: In 1966, he handily defeated his Democratic opponent in the Senate race, former Gov. Endicott Peabody.

On the opening day of Congress in 1967, Edward M. Kennedy, Massachusetts' senior senator, escorted Mr. Brooke down the Senate's center aisle to a standing ovation. When Mr. Brooke got his first haircut on Capitol Hill, he integrated the Senate barbershop.
After losing his bid for election to a third-term in 1978, Brooke largely disappeared form public life and returned to the private practice of law where he remained for the rest of his career. Of course, part of this was due to the fact that the form of moderate Republicanism that he represented was on the wane at that point and, while he likely could have continued to represent Massachusetts in the Senate for many years to come had he survived the Tsongas challenge, he had largely reached the apex of politics as far as he was concerned. He would re-emerge in later years to receive both the Presidential Medal of Freedom from President Bush and, in 2009, the Congressional Gold Medal. In 2011, meanwhile, Barbara Walters revealed that she had had an affair with Brooke in the 1970s while he was still married to his first wife. Brooke's legislative accomplishments, though, and his historical significance as the first African-American to be popularly elected to the Senate, something that can still only be said of four other people in 36 years since Brooke left office, have largely been forgotten. Perhaps his passing will change that.