Election Thoughts
A lot to think about, not a lot of conclusions.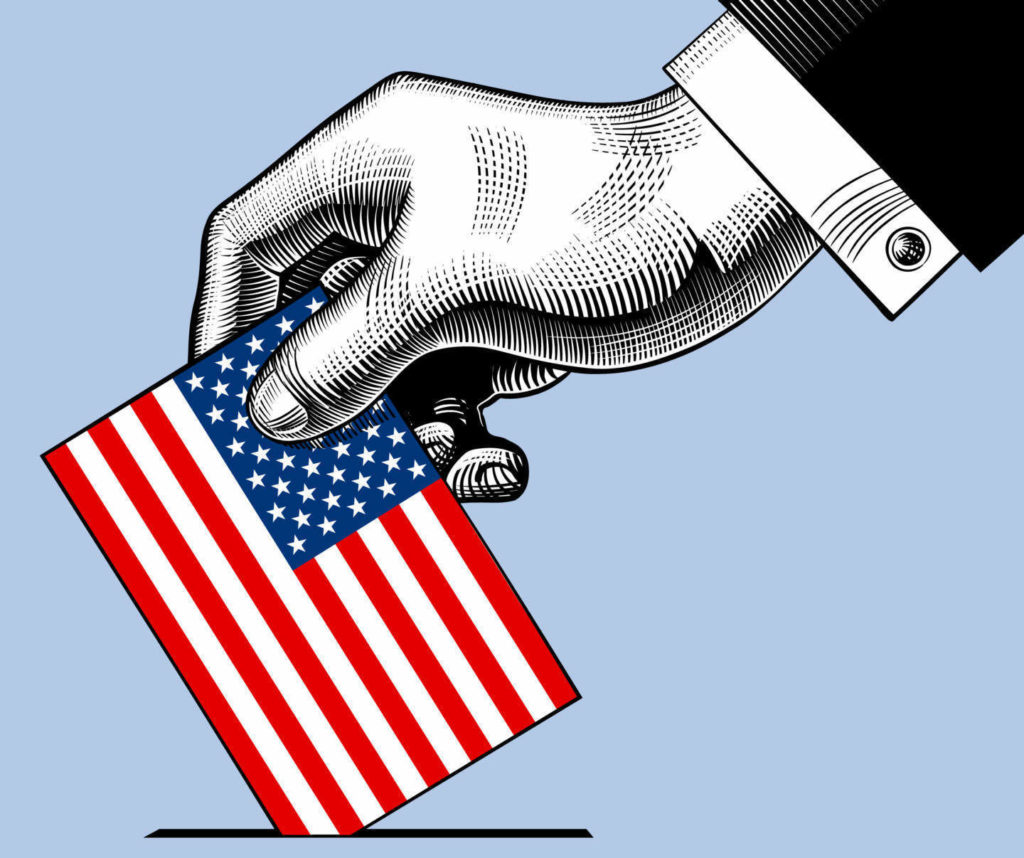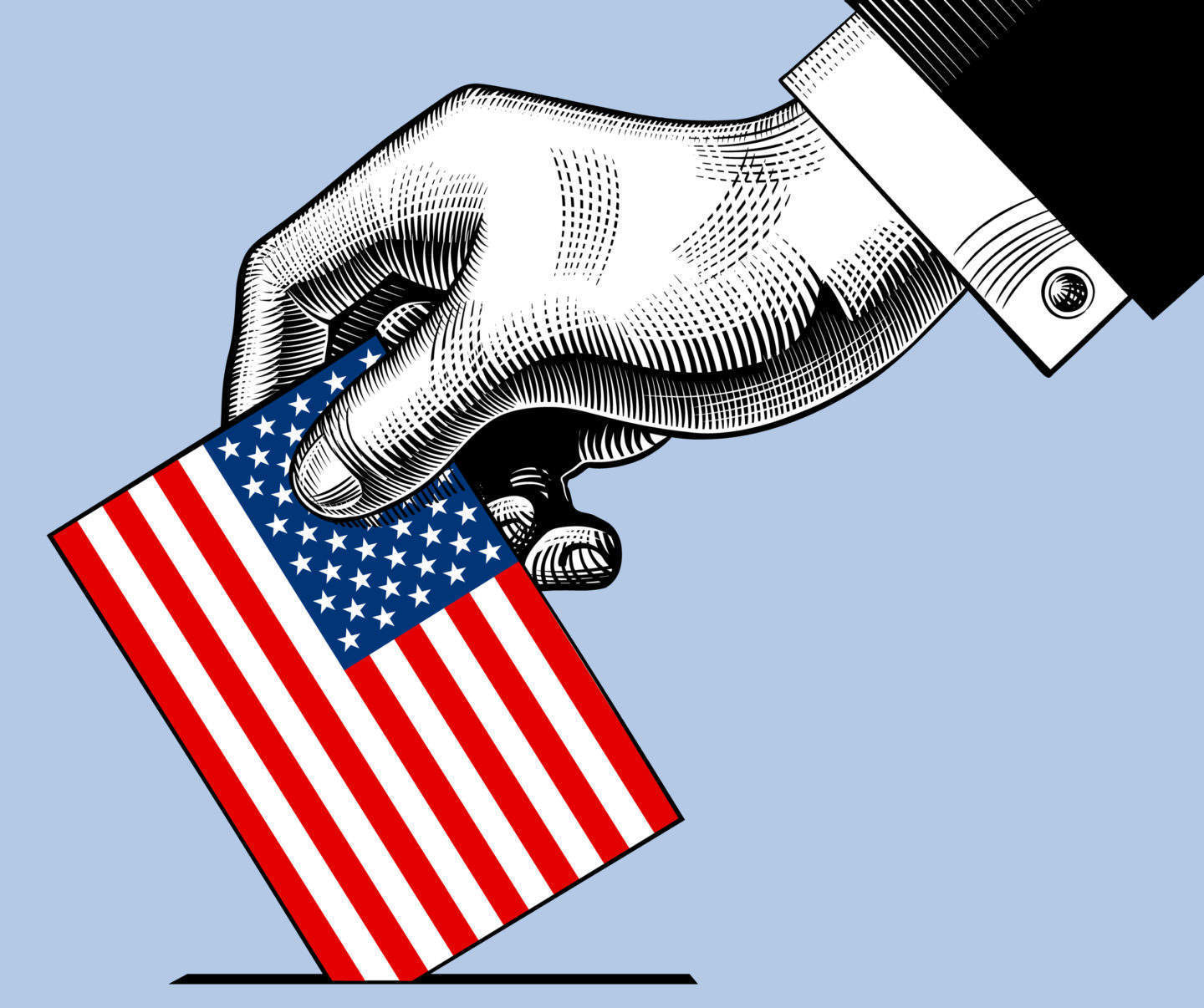 To de-clutter my mind, some various thoughts:
Surprise? What happened last night, a seeming Trump advantage and then having to wait on mail-in ballots that likely favor Biden is what we were warned about. I think a lot of us allowed hope to override that warning. And here we are. I noted a while back that we were going to have to wait on WI and PA specifically, and they are now pivotal.
Polling and Modeling. It is too early to know how wrong they were, but at the moment it seems for sure that the polling in Florida (and elsewhere) was off and while there are still millions of ballots to count, the ~+8 popular vote gap for Biden looks substantially off. To be fair to the 538 model, it has stated from the beginning that Pennsylvania being the tipping point state was high, and it could yet be that state.
There will be a lot to tear apart here and I won't even try at the moment. It will require final tallies to really understand where the errors were.
The Popular Vote. According to the CNN count, Biden currently has 50.2% of the popular vote to Trump's 48.3% (just over +2.5 million for Biden). In any other system of election of a president used anywhere else in the world, Biden would be the clear leader and while we might still be waiting for final results, the odds of him winning would be high.
I would note that the odds are that the popular vote gap will grow in Biden's favor no matter what happens in the Electoral College.
Let that sink in.
Biden has the Better Path. Here's the AP-based map at NPR, Biden has 238 EVs to Trump's 213: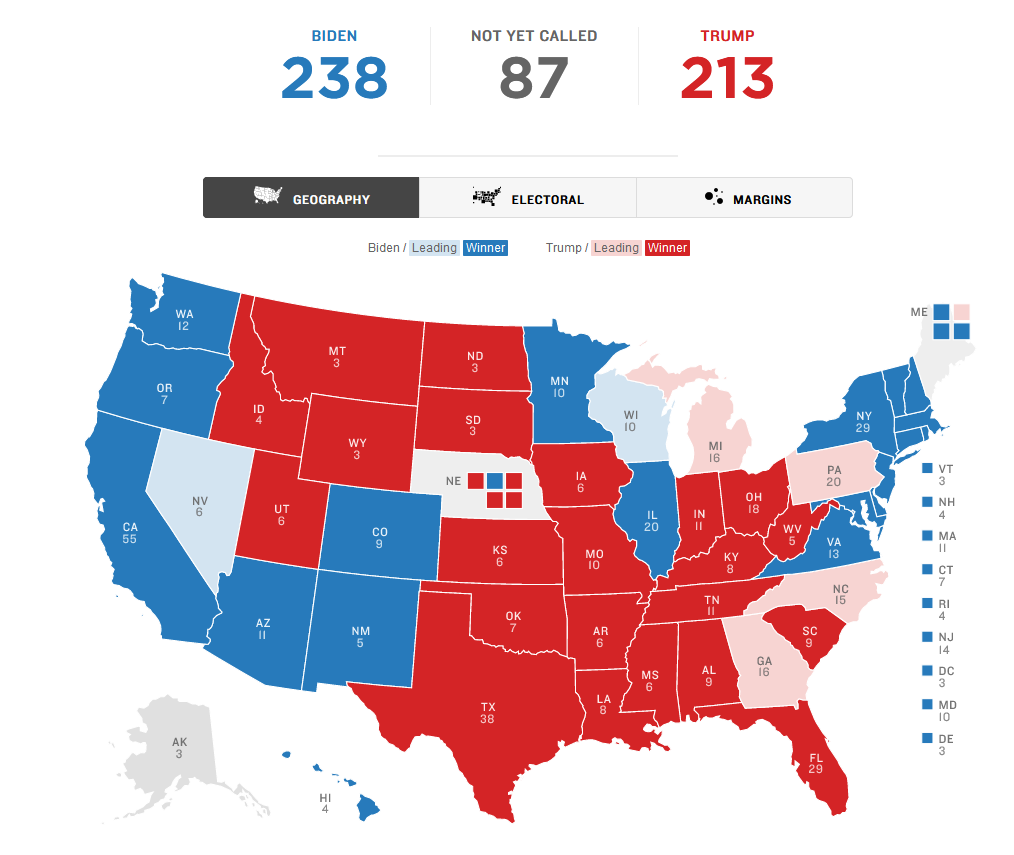 If Biden wins Nevada (6), Wisconsin (10), and Michigan (16) that gives him the needed 32 EVs needed to get to 270. That means he can lose PA, NC, and GA and still win.
Trump has the far harder path. Of course, given the popular vote situation, that we have to take about "paths" underscores the absurdity of the EC yet again.
I hope that it does not come down to just one state, however, as that would allow for a legal fight recall of 2000. We don't need that.
One Flip: It is worth underscoring that Biden did flip Arizona and Trump has flipped nothing and if he wins, it will be without any flips. Georgia and NC could yet flip, and if Georgia does that would be a big deal. But I would not recommend holding one's breath.
The Senate. Looks like if Biden pulls this out, the Congress is likely to remain split. Effective legislation is, therefore largely dead (and will be even if Trump wins, the House remains in Democratic hands and so we will be in for deja vu all over again).
Minority-Leaning Institutions Reign. Again, the drama over the presidency is because of the Electoral College and the legislative dysfunction will likely persist because of the Senate. It won't be because the majority of the population wants it to be that way.
No Repudiation. I think that a lot of us who have profound and sincere fears about our democracy writ large, as well as concerns about basic good governance, had hoped for a real repudiation of Trumpism. No matter what happens when the dust all settles, there will have been no repudiation. This will have significant effects on the Republican Party, American public policy, and international politics.