Is A Politician Who "Flip-Flops" Really A Bad Thing?
Mitt Romney is still being dogged by charges of changed positions. Now, he's trying to spin that as a good thing.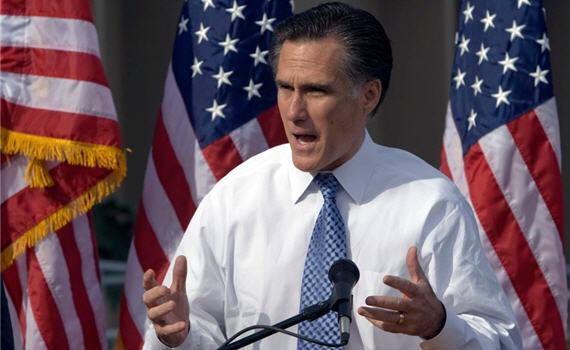 During the 2008 campaign, one of the most stinging accusations made against Mitt Romney was the accusation that he had changed his views for political purposes, specifically to appear more conservative that he had been during his previous campaigns for political office in Massachusetts.  The charge that Romney was a "flip-flopper" covered several hot-button issues for Republicans, and resonated throughout the winter of 2007-08 as Romney and Mike Huckabee battled it out in Iowa:
1. Abortion. In October 2002, campaigning for governor of Massachusetts, Mitt Romney said he would "preserve and protect" a woman's right to choose. He now describes himself as an abortion opponent.

2. Gay rights. In a 1994 letter to the Log Cabin Republicans, who advocate gay rights, he said he was in favor of "gays and lesbians being able to serve openly and honestly" in the military. He now says it would be a mistake to interfere with the "don't ask, don't tell" policy.

3. Gun control. Campaigning for the Senate in 1994, he said he favored strong gun laws and did not "line up with the NRA." He joined the National Rifle Association in 2006 while pondering a presidential run, and he praised the group for "doing good things" and "supporting the right to bear arms."

4. Campaign finance. In 1994, he advocated a spending limit on congressional elections and the abolition of political action committees. In 2002, he supported public financing of campaigns from a 10 percent tax on private fundraising. This year, he said the McCain-Feingold law limiting campaign contributions is an attack on free speech.

5. Immigration. In a November 2005 interview with the Boston Globe, he described an immigration overhaul advanced by John McCain as "reasonable." He now denounces it as an "amnesty plan." In December 2006, he signed an agreement authorizing state troopers to round up illegal immigrants.
Rick Perry's campaign has hit Romney hard on the flip-flopping theme recently this time time around. So far, they've released web videos on Romney's position on health insurance reform, the President's education policies, and the 2009 stimulus plan. It's clearly a message that resonates with many conservatives, who have distrusted Romney for some time for just this reason.
Yesterday, Romney argued that changing one's mind in the face of new information is what business people do all the time, and that it's a virtue rather than a sin:
Mitt Romney today responded head-on to critics who say he flip-flops on issues, telling a crowd at a New Hampshire town hall that "it's not that every single issue I've looked at my entire life I've never changed my view on."

While Romney never mentioned chief rival Texas Gov. Rick Perry by name, he certainly seemed to be referencing him in answering a question from a voter asking how to respond to those who question Romney's candidacy.

Romney at first joked, "Let me give you some brass knuckles, that should help."

But then he launched into a more serious answer, taking what sounded like veiled swipes at Perry.

"The nature of politics is that you try and find some edge to characterize your opponent and beat him over the head, and that is if you don't have a optimistic or positive message of your own," said Romney.

"That's going to happen and I understand it," he said. "It's pretty rough and tumble and I don't whine about that I realized that when I got into [politics]."

Then, without specifically mentioning Perry's latest web video attack on Romney, which accuses him of switching his stance on Obama's stimulus plan, Romney said, "The nice thing about writing a book is that you can read it and see what I stand for."

"In the private sector, if you don't change your view when the facts change, you'll get fired for being stupid," Romney added.
On the surface, there's much to recommend to this position. Holding oneself rigidly to a policy position based solely on ideological considerations when the facts argue otherwise isn't necessarily an admirable or desirable quality in a politician. Similarly, there is much about governing that is pragmatic, requiring a decision maker to choose between alternatives that are both undesirable, but one of which may be wiser than the other. Under those kind of circumstances, a politician who says "I was wrong" isn't necessarily a bad thing. Additionally, the humility necessary to admit that one was mistaken is something that one would hope that every political leader would possess. So, in that respect, what Romney is saying here is both correct and makes sense.
Back in 2007, when the flip-flopper charges against Romney were just starting to heat up, Boston University Professor Bruce Schulman pointed out that some of America's most well-regarding Presidents could be called flip-floppers:
Are all flip-flops really so objectionable? Isn't it equally fair to argue that a willingness to shift, often abruptly and fundamentally, in response to changing circumstances is a venerable tradition in American governance? Indeed, the willingness to compromise is a crucial ingredient of serious leadership. The nation's most respected presidents, from the founding generation to modern times, have proudly and, in some cases, defiantly flip-flopped on important issues.

Thomas Jefferson, for instance, hated public debt. In 1798, he wished for a constitutional amendment that would strip the federal government of its power to borrow.

But in 1803, French Emperor Napoleon Bonaparte offered to sell the United States his vast possessions in the North American West. Jefferson brushed aside his constitutional views about limited federal power and his abhorrence of public debt and acquired the Louisiana Territory, even using borrowed money to finance the deal. "Is it not better," he asked in justifying his reversal, "that the opposite land of the Mississippi should be settled by our own brethren and children than by strangers of another family?" It surely was.

Three score years later, Abraham Lincoln made an equally stunning about-face on the greatest issue of his day. On the campaign trail in 1860, Lincoln repeatedly promised no federal interference, directly or indirectly, with slavery in the states where it existed. He repeated that pledge in his inaugural address and went on to affirm states' rights, "especially the right of each state to order and control its own domestic institutions according to its own judgment exclusively." And Lincoln explicitly denounced invasion by armed force as "the gravest of crimes."

But when Southern states began declaring their independence, the president quickly dispatched the army to the rebel states. And as the military and diplomatic situation shifted, Lincoln flip-flopped on the slavery issue, considering plans for compensated emancipation and ultimately issuing the proclamation that slaves in the territory under rebellion would be "forever free." The president eventually welcomed ex-slaves into the Union army
Schulman also cites Franklin Roosevelt, who campaigned in 1932 on balancing the Federal Budget and completely reversed himself when he got into office, and even George H.W. Bush and the tax flip-flip, which arguably cost him his Presidency to make the point that in politics, "changing circumstances sometimes require compromising your principles."
On its face, there seems to me to be something wrong with criticizing a politician, or anyone for that matter, for changing their mind on an issue, or even acting against their principles if they think it's the right thing to do. For one thing, forcing someone to justify a position they took in the past and no longer agree with seems to be a bit unfair. Should Ronald Reagan have been disqualified because he used to be a Democrat? Should Rick Perry be disqualified because he was the Texas Campaign Chairman for Al Gore in 1988? Human beings are capable of changing their minds,  and condemning them for it is really rather silly.
As Steven Benen notes, though, Mitt Romney's problem is more than just changing his mind, it's the perception that he's done so for political reasons:
Romney would have voters believe that he's simply adapted to changing facts. The circumstances make this impossible to believe — his radical transformations, purely by happenstance, just happen to coincide with political expediency to further Romney's ambitions? The parallels between his metamorphoses and the shifting political winds are an accident?

Please. The list of Romney flip-flops is just too long, and covers too much ground, to be a remarkable coincidence. There's nothing remotely sincere about his repeated reinventions. The guy has demonstrated a willingness to flip-flop like no other American politician in a generation.

Indeed, can anyone name a single issue of any significance in which Romney has been consistent? Anything at all? I don't mean generic platitudes — he's "pro-freedom" or wants "a strong military" — I mean actual public policies. The fact that this question is challenging for the former governor's campaign speaks volumes.

I'm perfectly comfortable with a politician pondering doubts and questioning whether he or she is right about an issue. But when a politician changes his views so fundamentally that he's adopted several different worldviews in a fairly brief time span, is it really unreasonable to question the man's integrity?
Mitt Romney's problem isn't that he's changed his mind, it's the perception that he's done so solely, or primarily for reasons of political expediency. This seems to be especially true of issues like abortion, where he had long been on the record as being pro-choice and then, in 2005, suddenly announced that he had changed his mind and become pro-life, or at least that's the perception that was created. Perhaps if it had been one or two issues, even an issue as emotional as abortion, Romney might have been okay. It wasn't the only issue, though, and the perception by 2007 was that Romney had remade himself as a social conservative in anticipation of a run for the White House in 2008. That's the root of the problems that Romney continues to have with the conservative base of the GOP.
There's nothing inherently wrong with a politician who changes their mind, or a President who acts contrary to their previously stated principles when they come to the conclusion that it's in the best interest of the nation. The public, though, seems to have little patience for someone who does so for cynical political reasons. Will Romney's new spin on the "flip-flopper" charge help to deflect the criticism he's been dealing with for four years now? Given the perceptions that have been set in the minds of many activists conservatives, it's not going to be easy.