Elizabeth Warren Surging In Massachusetts Senate Polls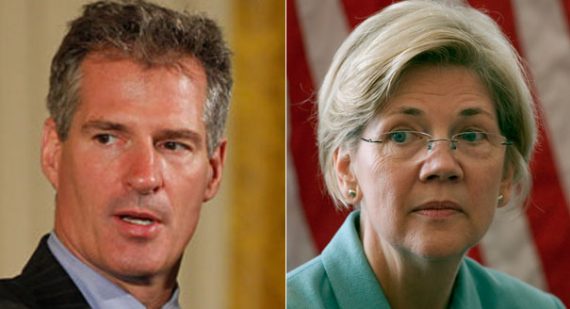 The Massachusetts Senate race has been neck and neck for much of the summer, but it now appears that Elizabeth Warren is pulling ahead of Scott Brown, even if just slightly:
Democratic challenger Elizabeth Warren holds a four point lead over Scott Brown in the high-stakes Massachusetts Senate race, but the contest is still within the margin of error, according to a Suffolk University/7News poll out Monday night.

Warren was backed by 48 percent of those surveyed, while Brown received 44 percent. Eight percent of people polled were undecided or opted for another candidate.

It's the latest in a series of polls that has Warren up over Brown.

Over the weekend, the Western New England University Polling Institute found Warren leading Brown, 50 percent to 44 percent, while the left-leaning Public Policy Polling firm found this week Warren to be up over Brown, 48 percent to 46 percent. The Harvard Law School professor gave a prime-time address at the Democratic National Convention earlier this month and she has launched an aggressive new ad buy.
According to RealClearPolitics, Warren has led in every poll taken over the past month. The last poll in which Brown led was a Public Policy Poling poll taken in mid-August. Presently, the RCP Average stands at +3.5 in favor of Warren, and you can see the extent of her spike in the chart: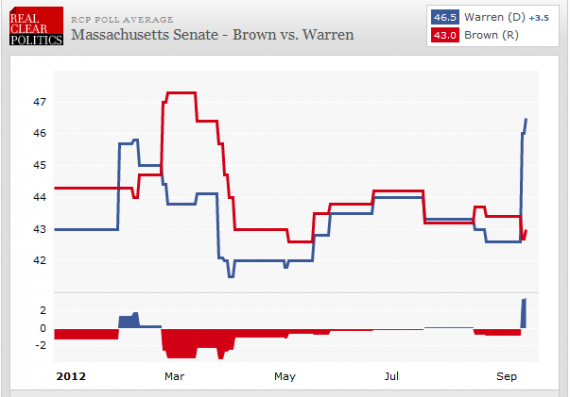 Clearly, Warren is getting some real benefit from her speech and the ad buy. I wouldn't write Brown off just yet, but I've always suspected that it would be difficult for a Republican to win in Massachusetts in a Presidential election year. The polls seem to be confirming that.