ESPN the Magazine Dead; Sports Illustrated Dying
A depressing day in the world of sports journalism.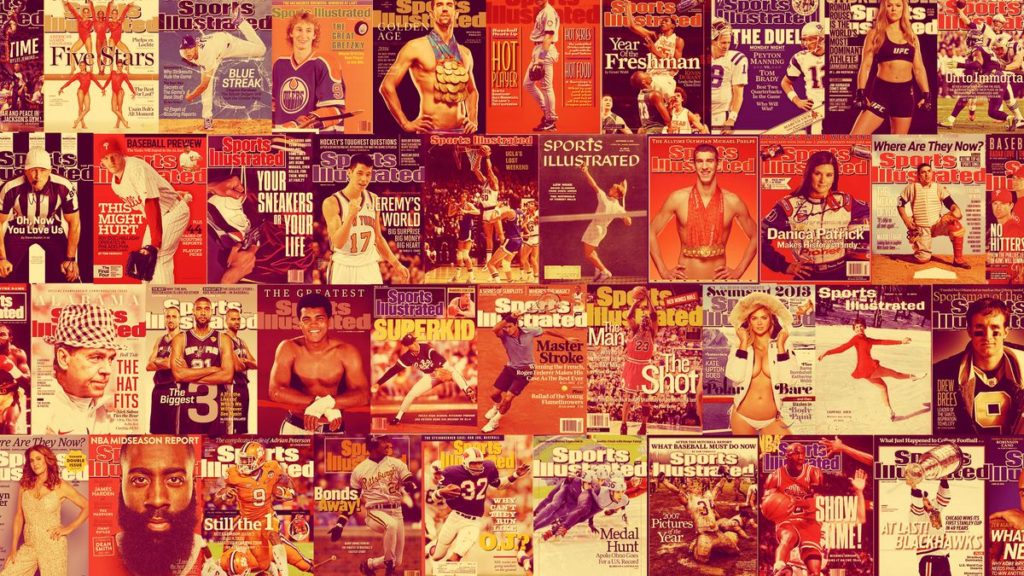 Sports Illustrated was long one of my favorite magazines. Because it could pay top dollar, it attracted not only the best sportswriters from around the country but many of the best writers, period. Established in 1954, well before I was born, it has always been around from my perspective.
ESPN The Magazine was a comparative upstart. Because it debuted when I was in my 30s, it seems like it has been around much less than its twenty years. I've subscribed to it since nearly its inception, but only because it came packaged with the old ESPN Insider package that unlocked premium content on ESPN.com.
Over time, the two became indistinguishable and, frankly, often went unread. It wasn't obvious why I needed a weekly print sports magazine in the age of the Internet. Indeed, they seemed to rely too much on non-sports gimmicks like the infamous SI swimsuit issue and ESPN's Body Issue knock-off.
Both, it appears, are going the way of the dodo bird.
One, for sure.
John Ourand of Sports Business Daily:
ESPN is ending the print version of ESPN the Magazine in September, more than 21 years after its launch. The news of the print magazine's demise was announced to staff this morning as part of a reorganization of Senior VP/Original Content Rob King's department. ESPN says that the move will not involve any layoffs today, though it is likely that a handful of print/publishing/circulation employees — said to be in the single digits — will be without jobs come September. An ESPN spokesperson said the company already had integrated the magazine's employees across its platforms.


In an emailed statement, ESPN said, "Consumer habits are evolving rapidly, and this requires ESPN to evolve as well. The only change here is that we are moving away from printing it on paper and sending it in the mail. … Our data shows the vast majority of readers already consume our print journalism on digital platforms, and this approach will maximize our reach and impact." ESPN said it will consider publishing print versions of special issues — like the Body Issue — in the future. The magazine launched in March '98. Sources said that it has lost money for the past several years. "It was not close to a break even proposition," a source said.

— "ESPN The Magazine To Cease Publishing In September"
The other is certainly on the ropes. Jean E. Palmieri in, of all places, Women's Wear Daily:
If Authentic Brands Group is successful in snapping up Sports Illustrated, it would undoubtedly become primarily a licensing and digital play.

According to sources, the print magazine would continue to be published for at least the next two years as ABG works to capitalize on its content to extend the brand's reach into a number of sports-related businesses. That could include everything from camps for kids to sports rehabilitation clinics, sources said.


AGB owns 50 brands, 45 percent of which are in the fashion space, and is the world's fourth-largest licensing company. It has $9.3 billion in annual retail sales. Among its sports-affiliated brands are Greg Norman, Shaquille O'Neal, Muhammad Ali, Prince, Spyder, Volcom, Hind, Above the Rim and Julius Erving.

One source close to the company said a Sports Illustrated site could potentially include golf tips from Norman or basketball strategy ideas from O'Neal. "This would be very different from just making Sports Illustrated jackets," the source said. "That's not the business they're going into."


[…]

Sports Illustrated had been one of the flagship titles for Time Inc. but Meredith, which purchased Time Inc. for $1.85 billion in 2018, said immediately that it did not fit into company's lifestyle magazine portfolio and would be put up for sale along with Time Magazine, Fortune and Money.


Meredith sold Time Magazine to Salesforce's Marc and Lynne Benioff for $190 million, and Fortune to Thai businessman Chatchaval Jiaravanon for $150 million. Last week it abandoned efforts to sell Money, saying it would retain the title but convert it to a digital-only product starting this summer.


Meredith had originally hoped to sell Sports Illustrated for around $150 million, but the price has now gone down as potential acquirers balked at such a high ticket.

— "ABG's Plan for Sports Illustrated Would Be Licensing Focused"
That doesn't exactly sound like a bright future for SI.
It's sad to see venerable brands die off but it happens all the time. Indeed, SI's companions, Time and Life, were both bigger properties once upon a time. Life is long defunct and Time seemingly exists to cater to geriatrics and dentists' offices.