Sports Illustrated Ends Print-Only Subscriptions
Sports Illustrated is trying to force subscribers to pay for a bundle of web and print services. Bad idea.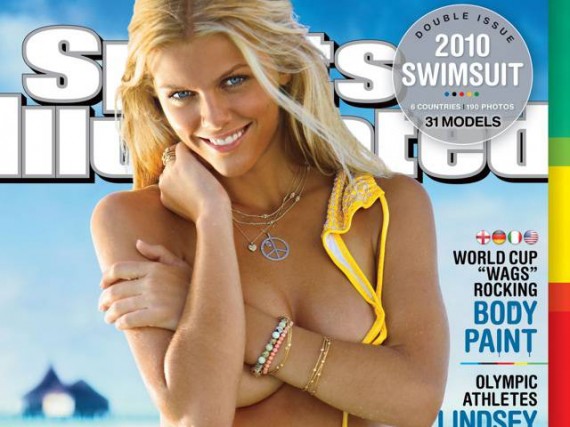 The magazine industry has been in trouble even longer than the newspaper industry. Most magazines sell subscriptions at ridiculously low prices in order to boost circulation numbers to charge high prices for advertising. A handful, with National Journal the most notable, charge very high prices to a niche audience who can pass off the cost to their employers.
Sports Illustrated has long employed the former model but is now trying something new: forcing would-be subscribers to pay for a bundle of services, including various digital formats.
Advertising Age ("Sports Illustrated to Stop Selling Print-Only Subscriptions"):
When Sports Illustrated unveiled its new $48 "All Access" subscription package bundling print, web and app editions for Android tablets and phones, a related detail went unmentioned: Sports Illustrated is quitting the business of selling print-only subscriptions.

One year of the dead-tree edition, without the Android apps and web edition, was still available Friday for $39 at SI.com/subscribe. But that $39 print-only offer will go away soon, a spokesman confirmed, replaced by the $48 package that wraps up print and digital. "You're really buying a subscription to the brand, not a magazine," the spokesman said.
The idea is to offer a universal price for access to the brand on any platform you like. That will please the kinds of subscribers who've complained in the last year about being asked to pay again for their magazines' app editions.

The magazine industry has also been knocked for selling subscriptions cheaply and relying on advertisers to carry the real freight. Charging $48 instead of $39 will help Sports Illustrated get more revenue from its readers and theoretically reduce its exposure to advertisers' comings and goings.

But Sports Illustrated is making the transition at an awkward point in time. Many people don't own Android devices and don't care much about reading the magazine's web edition on their desktops. The magazine's full content is still free on its website anyway, albeit in a less attractive package than "All Access" offers. For those people, the cost of a new subscription to Sports Illustrated is going up almost 23% for no appreciable gain.
I've subscribed to SI for most of the last 25 years, seldom paying anything like the full subscription rate. But if they actually makes the $48 rate stick, they'll lose me.  Not because $4 a month would impose a noticeable strain in my budget or strikes me as outrageous but because the value added is so small in the Internet age.
Until a few years ago, Sports Illustrated was simply one of the best written magazines available. They were the prestige outlet for sports writing, so they were able to attract all the best writers, most of whom had come up on the local newspaper circuit. Even though I'm primarily a football fan, which means that six months or more of the magazine was mostly on subjects of tangential interest to me, the extraordinarily high quality writing made subscribing worthwhile.
Now, though, I can get news on the Dallas Cowboys, the Alabama Crimson Tide, and pro and college football generally, year-round. I can read all the local papers (except, intermittently, the Dallas Morning News, which trots out a subscription-only format every few years until discovering, yet again, that it's not working).  For the most part, the writing's not SI level — or, frankly, college level — but there's a ton of it.
Relatedly, ESPN has caught up with and surpasses SI as the mecca of sports journalism. The plethora of networks and the website have managed to do what SI did back in the day: hire the best of the local sports writers. In many cases, they've managed to do so without taking them off their local beats, making the ESPN gig part time. And, a dozen or so years ago, they launched their own bi-weekly magazine.
Ironically, I started "subscribing" to ESPN The Magazine in the opposite fashion of what SI is trying to do now. I wanted ESPN.com's "Insider" content and was willing to pay the $19 or so annual fee to get it. And they threw in the dead tree magazine for free.
The upshot is that I take both Sports Illustrated and The Mag.  And, at this point, they run together in my head. Both provide interesting stories but neither is indispensable.  But the ESPN package gives me access to dozens of stories each and every day online. So, while I "engage" with ESPN almost daily in some form — usually watching something on their television channel, reading something on their website, and reading their magazine — SI remains a magazine with a mediocre website that I seldom visit. And I'm certainly not willing to pay extra to access it.
See more reactions at Mediagazer.