Europe Becoming Poorer?
The Eurozone is falling further behind the United States.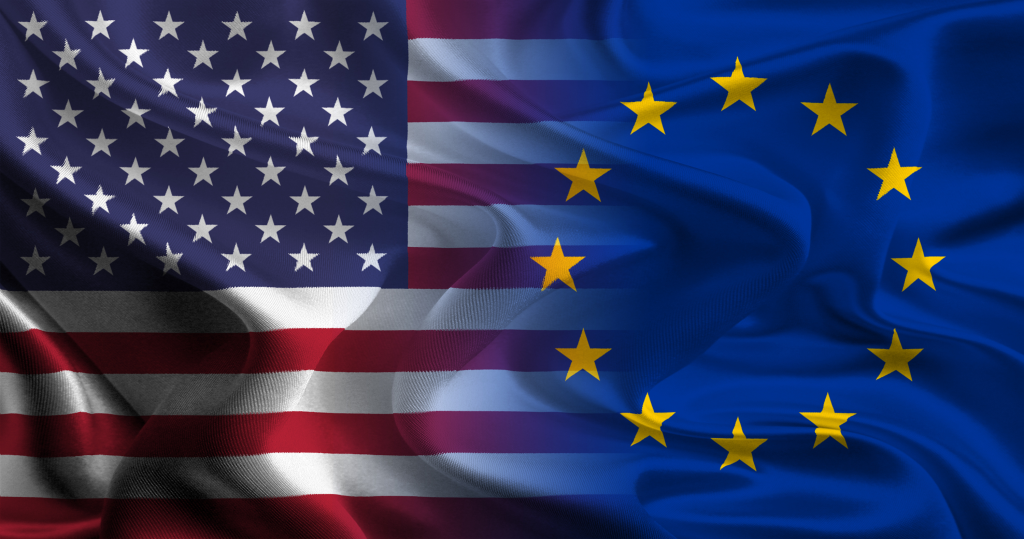 Tom Fairless, who covers Europe's economy for the WSJ, reports "Europeans Are Becoming Poorer. 'Yes, We're All Worse Off.'"
Europeans are facing a new economic reality, one they haven't experienced in decades. They are becoming poorer.

Life on a continent long envied by outsiders for its art de vivre is rapidly losing its shine as Europeans see their purchasing power melt away.

The French are eating less foie gras and drinking less red wine. Spaniards are stinting on olive oil. Finns are being urged to use saunas on windy days when energy is less expensive. Across Germany, meat and milk consumption has fallen to the lowest level in three decades and the once-booming market for organic food has tanked. Italy's economic development minister, Adolfo Urso, convened a crisis meeting in May over prices for pasta, the country's favorite staple, after they jumped by more than double the national inflation rate.

With consumption spending in free fall, Europe tipped into recession at the start of the year, reinforcing a sense of relative economic, political and military decline that kicked in at the start of the century.
He supplies the following chart (interactive at the link):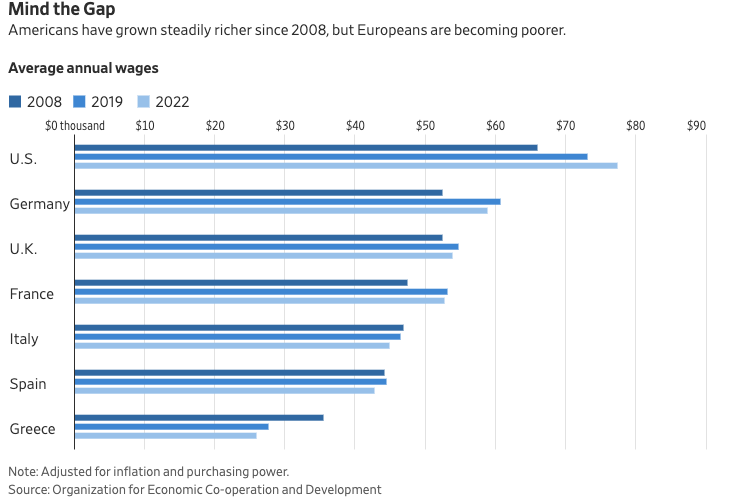 Two things stand out: the average American wage is way higher than that even in Germany and France, which I think of as very rich countries. But, two, only Greece has suffered a significant decline since 2019 the others look like minor declines that you'd expect in a recession.
It's noteworthy, too, that some of the richer countries are excluded. Here's the chart presented atop the OECD average wage page: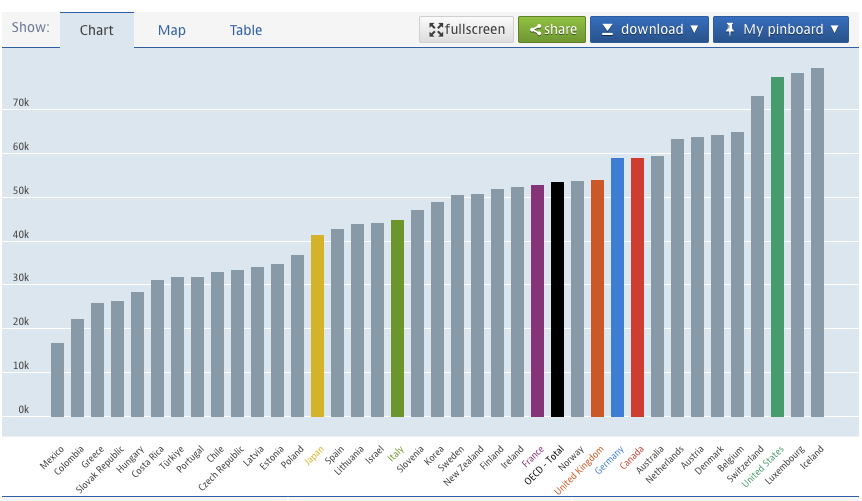 Still, it's remarkable that only Luxembourg and Iceland, both tiny countries, have higher average salaries than the US. (Is "average" the wrong measure?* Is the mean distorted by the extreme wealth at the very top of the income distribution here more so than in Europe?)
Fairless continues:
Europe's current predicament has been long in the making. An aging population with a preference for free time and job security over earnings ushered in years of lackluster economic and productivity growth. Then came the one-two punch of the Covid-19 pandemic and Russia's protracted war in Ukraine. By upending global supply chains and sending the prices of energy and food rocketing, the crises aggravated ailments that had been festering for decades.

Governments' responses only compounded the problem. To preserve jobs, they steered their subsidies primarily to employers, leaving consumers without a cash cushion when the price shock came. Americans, by contrast, benefited from inexpensive energy and government aid directed primarily at citizens to keep them spending.
Okay. But that's a temporary blip, right? I don't think there's another massive "relief" bill on the horizon and the supply chain situation seems to be sorting itself out.
In the past, the continent's formidable export industry might have come to the rescue. But a sluggish recovery in China, a critical market for Europe, is undermining that growth pillar. High energy costs and rampant inflation at a level not seen since the 1970s are dulling manufacturers' price advantage in international markets and smashing the continent's once-harmonious labor relations. As global trade cools, Europe's heavy reliance on exports—which account for about 50% of eurozone GDP versus 10% for the U.S.—is becoming a weakness. 
That's a more serious issue, assuming China's seemingly unsustainable growth has finally done what unsustainable things do. Germany, in particular, has long been known as a massive exporter.
Private consumption has declined by about 1% in the 20-nation eurozone since the end of 2019 after adjusting for inflation, according to the Organization for Economic Cooperation and Development, a Paris-based club of mainly wealthy countries. In the U.S., where households enjoy a strong labor market and rising incomes, it has increased by nearly 9%. The European Union now accounts for about 18% of all global consumption spending, compared with 28% for America. Fifteen years ago, the EU and the U.S. each represented about a quarter of that total.
This is quite interesting. Is this simply a cultural difference? How much of this is wealth versus profligate spending on credit? How much is a function of differential taxes on consumption?
Adjusted for inflation and purchasing power, wages have declined by about 3% since 2019 in Germany, by 3.5% in Italy and Spain and by 6% in Greece. Real wages in the U.S. have increased by about 6% over the same period, according to OECD data. 
If the point is to compare the United States and "Europe," then it would make more sense to point to the average of European OECD countries, not seemingly random individual countries. I don't have the time this morning to do that calculation.
After a few paragraphs of anecdotal color, Fairless reports,
Weak spending and poor demographic prospects are making Europe less attractive for businesses ranging from consumer-goods giant Procter & Gamble to luxury empire LVMH, which are making an ever-larger share of their sales in North America.

"The U.S. consumer is more resilient than in Europe," Unilever's chief financial officer, Graeme Pitkethly, said in April.

The eurozone economy grew about 6% over the past 15 years, measured in dollars, compared with 82% for the U.S., according to International Monetary Fund data. That has left the average EU country poorer per head than every U.S. state except Idaho and Mississippi, according to a report this month by the European Centre for International Political Economy, a Brussels-based independent think tank. If the current trend continues, by 2035 the gap between economic output per capita in the U.S. and EU will be as large as that between Japan and Ecuador today, the report said.
Assuming that a consistent definition of "Eurozone" is used (most notably, the UK has left in the intervening period, so it would be absurd to directly compare 2008 and 2023 without accounting for that) this is startling, indeed. (And, as one with deep ties to Alabama, that even the Europeans can now say, "Thank God for Mississippi" amuses me greatly.)
Weak growth and rising interest rates are straining Europe's generous welfare states, which provide popular healthcare services and pensions. European governments find the old recipes for fixing the problem are either becoming unaffordable or have stopped working. Three-quarters of a trillion euros in subsidies, tax breaks and other forms of relief have gone to consumers and businesses to offset higher energy costs—something economists say is now itself fueling inflation, defeating the subsidies' purpose.

Public-spending cuts after the global financial crisis starved Europe's state-funded healthcare systems, especially the U.K.'s National Health Service.
The US is one of the few exceptions within the OECD to the problem that rich people have fewer children which, combined with people in rich countries living longer, makes a generous welfare state difficult to sustain. There simply not enough working people to pay for a massive number of retirees. The US has mitigated the problem with not only a less generous welfare system—which is arguably a bad thing—but with high rates of immigration, compounded by the newer immigrants tending to have more children.
While I've skipped all the other anecdotes, this one is a doozy:
Noa Cohen, a 28-year old public-affairs specialist in London, says she could quadruple her salary in the same job by leveraging her U.S. passport to move across the Atlantic. Cohen recently got a 10% pay raise after switching jobs, but the increase was completely swallowed by inflation. She says friends are freezing their eggs because they can't afford children anytime soon, in the hope that they have enough money in future. 
Whether that's representative, I haven't a clue. And it's quite probable that we're over-paying our public affairs specialists.
With European governments needing to increase defense spending and given rising borrowing costs, economists expect taxes to increase, adding pressure on consumers. Taxes in Europe are already high relative to those in other wealthy countries, equivalent to around 40-45% of GDP compared with 27% in the U.S. American workers take home almost three-quarters of their paychecks, including income taxes and Social Security taxes, while French and German workers keep just half.
Which, of course, isn't new and was long touted as why life in Europe was often better: they could afford everything from free healthcare and university educations to longer vacations. But, again, that only works when there are enough people in the workforce to keep feeding the system.
There's a whole lot more but that's the gist of the report.
It was presumably sparked by the recent release of OECD wage figures but I'm not seeing other reports in a similar vein. My natural instinct was "Well, this is the Wall Street Journal," but we're not talking about the editorial page. But there have been periodic reports over the last few years elsewhere (See, for example, the Feb. 2019 NYT report "Europe's Middle Class Is Shrinking. Spain Bears Much of the Pain.") so I don't think this is just a pro-business paper poking at the welfare state.
____________
*Here's how OECD is defining the metric: "Average wages are obtained by dividing the national-accounts-based total wage bill by the average number of employees in the total economy, which is then multiplied by the ratio of the average usual weekly hours per full-time employee to the average usually weekly hours for all employees. This indicator is measured in USD constant prices using 2016 base year and Purchasing Power Parities (PPPs) for private consumption of the same year."