Even If Trump Loses, Trumpism Will Remain A Powerful Force In The GOP
Even if Donald Trump loses next month, the political forces inside the GOP he tapped into are likely to remain very powerful.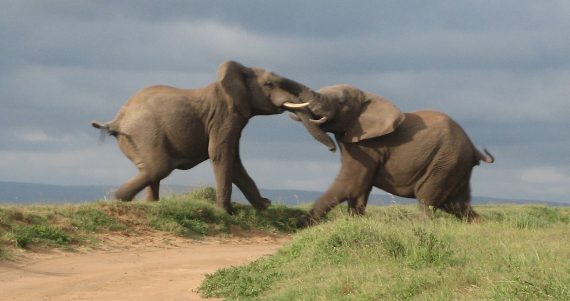 A new poll suggests that hard-line immigration positions and economic nationalism that have been at the core of Donald Trump's Presidential campaign since it began last June will likely continue to have a big influence on Republican politics for some time to come even if Donald Trump loses the General Election:
One of the big policy questions for the Republican Party, in the heat of this presidential election, is what it will do if Donald Trump loses come November. Will it retrench to its traditional positions and focus, stressing free markets, low taxes and social conservatism? Or will it continue along Trump's more populist path, critiquing globalization and, in particular, immigration, at increasingly high volume?

Newly-released polling from the Chicago Council on Global Affairs suggests the populism is here to stay. Concerns about immigration, refugees and globalization predate Trump in the GOP – and thus appear unlikely to dissipate whether he wins or loses.

It is a cycle of nativism and economic pessimism that has been building for years among Republicans, particularly those who form the core of Trump's support. As the Council puts it, "Those Americans who feel more threatened by immigration, favor deportation, and feel unfavorably toward immigrants believe that the next generation will be economically worse off than adults today. Unease with immigration and pessimism about the next generation's economic prospects reinforce each other and have proven to be key factors in support for Donald Trump."

Republican disillusionment with globalization and trade has been building for a decade. In 2006, more Republicans than Democrats said globalization had been good for America. Soon after, that flipped: Democrats today are substantially more likely to view globalization positively than Republicans do, 74 to 59 percent, and half-again as likely to do so as core Trump voters are (49 percent).

Immigration concerns are even more pronounced. A large majority of Republicans saw immigrants and refugees entering the U.S. as a "critical threat" even before Trump's candidacy (the 2015 survey was conducted almost entirely prior to Trump's campaign launch). What's notable is that concern about immigrants and refugees was similarly high across party lines in the late 1990s and after the Sept. 11, 2001 attacks, but concern dropped off substantially among both groups since then. Republicans have continued to be concerned.

Perceptions of immigrants and refugees as a "critical threat" peaks at 80 percent among Core Trump supporters, those who wanted him to become president more than all Republican or Democratic candidates.

Or consider the breakdown over time of Americans who think controlling and reducing illegal immigration is a very important foreign policy goal. Just like the "threat" question, Trump did not need to convince Republicans to be prioritize blocking illegal immigration – they already thought it was a major issue. And also similar to above, Republican concerns have been steady since rising after the 2001 terrorist attacks, while Democrats and independents have become less likely to say the issue is important over time. Also similar to the threat question, Trump's core supporters are significantly more likely to prioritize controlling illegal immigration than Republicans overall, 83 vs. 68 percent.

In a finding that won't surprise core Trump voters, the polling shows a divide between partisan opinion leaders and the GOP rank and file on the issue – a big divide. Republicans this year are 48 points more likely than Republican foreign policy leaders were in 2014 to say controlling and reducing illegal immigration is a "very important" foreign policy goal (68 percent for Republican adults vs. 20 percent for elites). Rank and file Republicans are also 51 points more likely to say large numbers of immigrants and refugees coming to the U.S. is a critical threat (67 vs. 16 percent).

International trade is one issue where Trump's campaign appears to have influenced public opinion in a significant way. The share of Republicans who said international trade is a "good thing" for the U.S. economy dropped from 60 percent in 2006 to 51 percent in 2016, though this was met by a slightly larger increase in the share of Democrats saying trade is a "good thing."
This isn't entirely surprising, of course, the attitudes toward immigration and trade that Trump has spent the better part of the past sixteen months exploiting didn't just appear out of thin air when Donald Trump came down the escalator at Trump Tower in June 2015. They have been a long-simmering issue inside the party and have had a real impact on internal Republican Party politics going back to the Bush Administration when conservatives ended up scuttling a bipartisan effort at immigration reform that seemed as though it had more than enough support from members of both parties to make it through Congress, as well as the support of President Bush. Additionally, as this chart shows, opinion polling was showing that Republicans have long been far more inclined than Democrats or Independents to see immigration as a threat to the interests of the United States: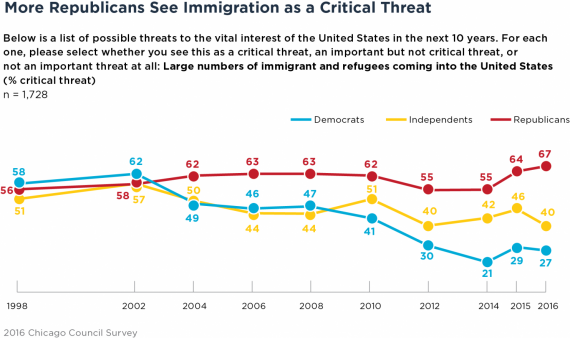 Additionally, Republicans are far more likely to believe that controlling and reducing illegal immigration is an important foreign policy goal for the United States: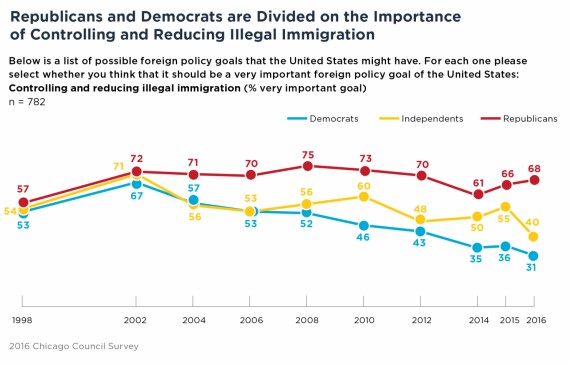 Given these numbers it's not surprising that Donald Trump's message has resonated so strongly with rank and file Republican voters,, nor is it surprising that so many Republicans have ended up rallying behind him since he clinched the nomination in May. It isn't because Trump is convincing Republicans to take positions that they hadn't previously considered, it's because Donald Trump is saying things that Republicans largely agree with notwithstanding the fact that he often peppers those positions with other things that are juvenile, inane, or downright hateful. Trumpism was a factor in the Republican Party before Donald Trump came along, and it will continue to be a factor even if he loses in November and ends up fading away to his Trump Tower redoubt rather than remain involved in Republican Party politics, In his absence, you can expect others to take his place when it comes to championing the issues that he rode to success during this election cycle. What this means, of course, is that the civil war between the Republican base and the so-called 'establishment' when it comes to issues such as immigration and international trade. In fact, we saw that during the Republican primary to the extent that candidates competed with each other to determine which one was the most anti-immigration and attacked each other for previous positions supporting immigration reform. Candidates such as Jeb Bush and Marco Rubio, who had once told their party that it needed to change its position on this issue if it was going to have a chance of competing for Latino voters in the future were soundly rejected, and candidates who supported a hard-line position such as Trump and Ted Cruz saw their poll numbers increase. The message that sends is obvious.
In other words, Donald Trump may disappear but his positions, his supporters, and probably even his poisonous rhetoric aren't going to go anywhere