Trump Imposes Ban On Travel From Several Muslim Countries, Halts Refugee Program
As expected, Donald Trump yesterday signed Executive Orders targeting Muslims and refugees.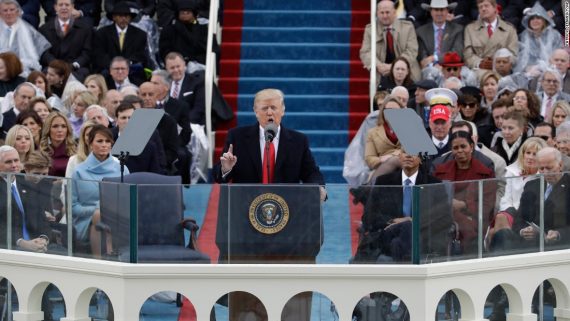 As promised during the campaign, yesterday President Trump signed an executive order that essentially puts a halt to the U.S. acceptance of refugees from around the world and bars any immigration from seven majority Muslim nations alleged to be sources of terrorist activity:
President Trump on Friday closed the nation's borders to refugees from around the world, ordering that families fleeing the slaughter in Syria be indefinitely blocked from entering the United States, and temporarily suspending immigration from several predominantly Muslim countries.

In an executive order that he said was part of an extreme vetting plan to keep out "radical Islamic terrorists," Mr. Trump also established a religious test for refugees from Muslim nations: He ordered that Christians and others from minority religions be granted priority over Muslims.

"We don't want them here," Mr. Trump said of Islamist terrorists during a signing ceremony at the Pentagon. "We want to ensure that we are not admitting into our country the very threats our soldiers are fighting overseas. We only want to admit those into our country who will support our country, and love deeply our people."

Earlier in the day, Mr. Trump explained to an interviewer for the Christian Broadcasting Network that Christians in Syria were "horribly treated" and alleged that under previous administrations, "if you were a Muslim you could come in, but if you were a Christian, it was almost impossible.

"I thought it was very, very unfair. So we are going to help them," the president said.

In fact, the United States accepts tens of thousands of Christian refugees. According to the Pew Research Center, almost as many Christian refugees (37,521) were admitted as Muslim refugees (38,901) in the 2016 fiscal year.

The executive order suspends the entry of refugees into the United States for 120 days and directs officials to determine additional screening "to ensure that those approved for refugee admission do not pose a threat to the security and welfare of the United States."

The order also stops the admission of refugees from Syria indefinitely, and bars entry into the United States for 90 days from seven predominantly Muslim countries linked to concerns about terrorism. Those countries are Iraq, Syria, Iran, Sudan, Libya, Somalia and Yemen.

(…)

Announcing his "extreme vetting" plan, the president invoked the specter of the Sept. 11, 2001, attacks. Most of the 19 hijackers on the planes that crashed into the World Trade Center, the Pentagon and a field in Shanksville, Pa., were from Saudi Arabia. The rest were from the United Arab Emirates, Egypt and Lebanon. None of those countries are on Mr. Trump's visa ban list.

Human rights activists roundly condemned Mr. Trump's actions, describing them as officially sanctioned religious persecution dressed up to look like an effort to make the United States safer.

The International Rescue Committee called it "harmful and hasty." The American Civil Liberties Union described it as a "euphemism for discriminating against Muslims." Raymond Offensheiser, the president of Oxfam America, said the order would harm families around the world who are threatened by authoritarian governments.

"The refugees impacted by today's decision are among the world's most vulnerable people — women, children, and men — who are simply trying to find a safe place to live after fleeing unfathomable violence and loss," Mr. Offensheiser said.

The president signed the executive order shortly after issuing a statement noting that Friday was International Holocaust Remembrance Day, an irony that many of his critics highlighted on Twitter. The statement did not mention Jews, although it cited the "depravity and horror inflicted on innocent people by Nazi terror."
Within hours hours after Trump signed the new order, individuals heading to or from the nations impacted by Trump's order were being turned away from airports in the United States and barred from boarding flights to the United States. Additionally, the first lawsuits against the change in policy were filed in New York City on behalf of Iraqi citizens who were detained at John F. Kennedy Airport after being denied the ability to board flights home. Additionally, there were reports of legal immigrants to the United States who were in one of the countries impacted by the immigration ban being barred from boarding flights notwithstanding their immigration status. While the current order on Muslim immigration falls short of the complete ban on immigration by Muslims regardless of national origin, it does have some interesting oddities. For example, the list of nations included in the ban includes nation's like Iraq and Libya, where individuals who have aided American and other western powers in military efforts in the past and are now targets for revenge will now be prevented from coming to the United States, it excludes nations such as Saudi Arabia, Pakistan, and the United Arab Emirates, which have been the source of actual terror attack in the United States. Just to name two such cases, the wife of the shooter in the December 2015 attack in San Bernardino was an immigrant from Pakistan, and the hijackers involved in the September 11th attacks came predominantly from Saudi Arabia and the United Arab Emirates. Additionally, as others have pointed out, the immigration restrictions don't apply to nations such as Egypt, Saudi Arabia, the U.A.E., and Turkey where Trump's businesses have significant investments and real estate projects both completed and ongoing.
In addition to the travel ban, Trump also imposed a ban on all refugees from Syria. This extends a debate that began in 2015 in the wake of the attacks in Paris and which led many Republican-controlled states to attempt to bar refugees from being brought into their state and many national GOP politicians, including all of the candidates for President at the time, to argue that the Obama Administration was endangering the nation by allowing even a single refugee into the country because we couldn't be sure they weren't terrorists in disguise. As I noted at the time, much of this reaction was based in political pandering and misinformation about both the refugee process and the population of people who actually made up the refugee population. While politicians such as Trump were playing upon the fear that refugees were potential terrorists, the facts showed that, at least as far as the people who made it through the American refugee process largely consisted of women, children, and families who had been rendered homeless thanks to the six year long civil war in Syria, including victims of the relentless attacks on cities such as Aleppo, which has been largely destroyed by Syrian government forces in their efforts to beat back a rebellion that refuses to completely die out. This order leaves those refugees to make the choice between life in a crowded refugee camp in Turkey, Jordan, or Lebanon, or risking their lives by staying in Syria where the civil war rages on.
Former British Foreign Secretary David Milband argues that Trump's immigration and refugee policies are un-American, while the Cato Institute's David Bier argues that it is illegal. While the first conclusion is a matter of opinion and the second is one that will ultimately be decided by the Courts, what is clear is that Trump is intent on carrying through with the worst of what he proposed during the campaign. In that respect, I suppose, we can hardly claim to be surprised or shocked by what is going on. Trump told us what he was going to do from the beginning and not only did he win more than 13 million people support him in his march toward the Republican nomination, but he received the votes of nearly 63 million people in November's General Election. None of them, and none of us, can claim to be surprised by any of this.
Update [Steven Taylor]: Green card holders included in Trump ban: Homeland Security
"It will bar green card holders," Gillian Christensen, acting Department of Homeland Security spokeswoman, said in an email.
See also, ProPublica:  Trump Executive Order Could Block 500,000 Legal U.S. Residents From Returning to America From Trips.