FAA Furloughs 4,000 Workers After Congress Fails To Agree On Funding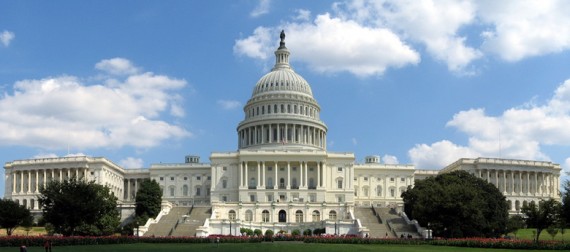 The Federal Aviation Administration has put 4,000 workers on furlough after the House and Senate failed to come to an agreement on how to fund the agency:
The Federal Aviation Administration (FAA) partially shut down Saturday, as Congress failed to reauthorize the agency's funding.

"I'm very disappointed that Congress adjourned today without passing a clean extension of the FAA bill," Transportation Secretary Ray LaHood said in a Friday statement. "Because of their inaction, states and airports won't be able to work on their construction projects, and too many people will have to go without a paycheck. This is no way to run the best aviation system in the world."

About 4,000 FAA employees are now furloughed without pay, according to the FAA, as the Senate on Friday failed to approve a controversial House-passed extension of taxes that help fund the FAA.

"The FAA employees who will be furloughed perform critical work for our nation's aviation system and our economy," FAA Administrator Randy Babbitt said in a statement. "These are real people with families who do not deserve to be put out of work during these tough economic times."

LaHood has stressed that essential personnel related to airport and air safety would not be cut. "I want to reassure the flying public that, during this period, safety will not be compromised," he said earlier.
This isn't related to the ongoing debt negotiations fiasco, but it is a symptom of the same inability of the parties, and the House and the Senate, to work together even on seemingly everyday issues of governance:
"It is unbelievable that after the House passed the 21st FAA extension, the Senate departed Washington and left the FAA and many of its employees behind," House Transportation and Infrastructure Committee Chairman John Mica (R-Fla.) said. "In light of the nation's pending financial disaster and soaring deficits, they couldn't find a way to cut even a few million dollars by accepting this minor request to reduce outlandish subsidies."

But  Senate Commerce, Science and Transportation Committee Chairman Jay Rockefeller (D-W.Va.) accused House Republicans of playing politics with the bill.

"The refusal by the House to extend FAA's funding authorities is a disservice to the American public and the aviation industry," Rockefeller said. "I am disappointed and stunned by their failure.  We had negotiated in good faith for four months, but when senior members of the House leadership admitted that they would try to gain political 'leverage' over the Senate, they effectively turned the aviation system into a political prop."
The whole dispute seems to boil down to a dispute over subsidies to small airports in Montana, Nevada and New Mexico where ticket prices are subsidized at the price of more than $1,000 per ticket. Opponents take the position that subsidies should be ended for airports that are within 90 miles of a medium or large-sized airport. The Senate bill apparently contains similar language, though, so it's unclear exactly what the dispute is really all about.
Nonetheless, one has to wonder, if Congress cannot reach agreement on this seemingly minor dispute, how are they going to be able to come to a fiscal deal of any kind by August 2nd?