Facebook Sex Selection: It's Complicated
"It's complicated" has long been an option to describe one's romantic status on Facebook. Now, it applies to one's sex as well.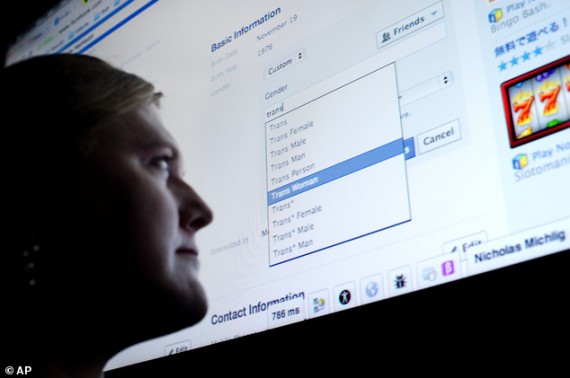 "It's complicated" has long been an option to describe one's romantic status on Facebook. Now, it applies to one's sex as well.
AP ("FACEBOOK OFFERS NEW GENDER OPTIONS FOR USERS"):
You don't have to be just male or female on Facebook anymore. The social media giant has added a customizable option with about 50 different terms people can use to identify their gender as well as three preferred pronoun choices: him, her or them.

Facebook said the changes, shared with The Associated Press before the launch on Thursday, initially cover the company's 159 million monthly users in the U.S. and are aimed at giving people more choices in how they describe themselves, such as androgynous, bi-gender, intersex, gender fluid or transsexual.

"There's going to be a lot of people for whom this is going to mean nothing, but for the few it does impact, it means the world," said Facebook software engineer Brielle Harrison, who worked on the project and is herself undergoing gender transformation, from male to female. On Thursday, while watchdogging the software for any problems, she said she was also changing her Facebook identity from Female to TransWoman.

"All too often transgender people like myself and other gender nonconforming people are given this binary option, do you want to be male or female? What is your gender? And it's kind of disheartening because none of those let us tell others who we really are," she said. "This really changes that, and for the first time I get to go to the site and specify to all the people I know what my gender is."

Facebook, which has 1.23 billion active monthly users around the world, also allows them to keep their gender identity private and will continue to do so.

The Williams Institute, a think tank based at the University of California, Los Angeles, estimates there are at least 700,000 individuals in the U.S. who identify as transgender, an umbrella term that includes people who live as a gender different from the one assigned to them at birth.
That "male" and "female" are inadequate to describe every person's gender has long been understood, if only recently accepted widely. That we need 50 choices, however, is news to me. Here they are:
Agender
Androgyne
Androgynous
Bigender
Cis
Cis Female
Cis Male
Cis Man
Cis Woman
Cisgender
Cisgender Female
Cisgender Male
Cisgender Man
Cisgender Woman
Female to Male
FTM
Gender Fluid
Gender Nonconforming
Gender Questioning
Gender Variant
Genderqueer
Intersex
Male to Female
MTF
Neither
Neutrois
Non-binary
Other
Pangender
Trans
Trans Female
Trans Male
Trans Man
Trans Person
Trans*Female
Trans*Male
Trans*Man
Trans*Person
Trans*Woman
Transexual
Transexual Female
Transexual Male
Transexual Man
Transexual Person
Transexual Woman
Transgender Female
Transgender Person
Transmasculine
Two-spirit
I must admit, I haven't the slightest clue what some of these terms mean, much less the distinction between, say, Trans Female, Trans*Female, Trans*Woman, Transexual Female, and Transgender Female. For that matter, if I'm understanding the terms correctly, I'm not only male I'm also Cis, Cis Male, Cis Man, Cisgender, and Cisgender Male; I have no idea what advantage is created by having so many choices to describe the exact same thing.
My point isn't to make light of this. On balance, I think this is the right move. The fact that simply choosing male was a no-brainer for me under the old category system—indeed, it never occurred to me to wonder why additional choices weren't provided—is an indicator of privilege. Facebook may have overcompensated here. But at least they've inspired a useful conversation.