Gender, Choice, and Immutability
A fascinating conversation between two queer journalists.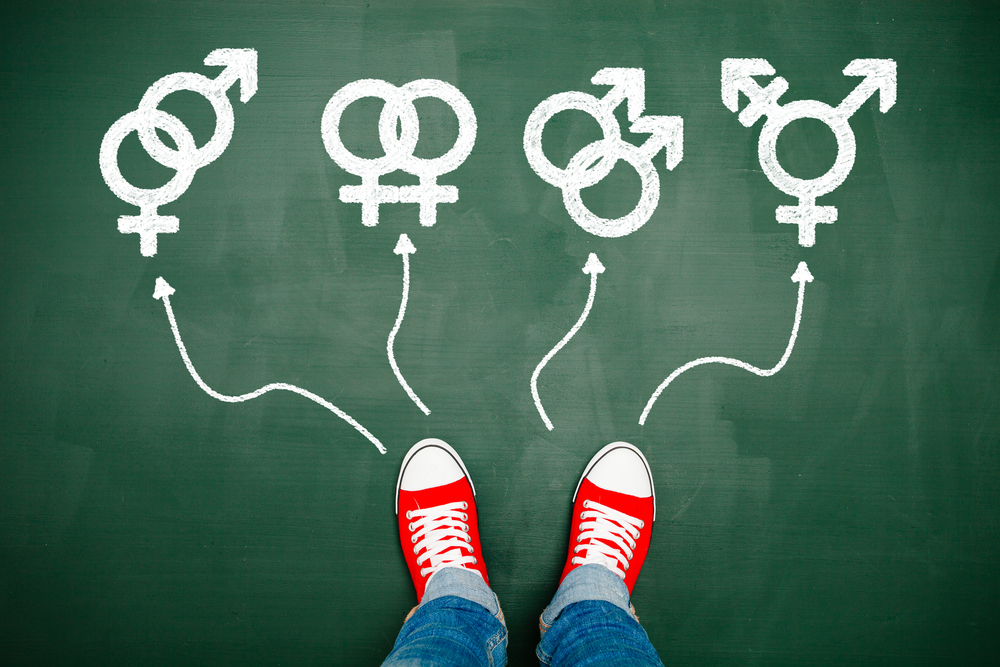 @Stormy Dragon's message on the open forum this morning has prodded me to get to a post I've been meaning to write a while now based on a recent episode of the Ezra Klein Show titled "We Need Better Narratives About Gender." (Transcript here)
Ezra was out on book leave and the show was hosted by NYT international reporter Lydia Polgreen, who describes herself as "queer," and features a discussion with New Yorker staff writer Masha Gessen, who "identifies as trans and nonbinary."
It was almost certainly the most thoughtful discussion of the current cultural zeitgeist around LGBTQ issues I've heard. Partly, that's a function of my having thought about these issues for long enough to be receptive to their thinking. Mostly, though, it's the fact of two middle-aged professionals having a candid conversation about their own experiences with enough perspective to be acutely aware of how public reception of these issues has evolved in recent decades.
I think it's fair to say that they approach the topic from a cosmopolitan and center-left perspective.
I will be selective in my excerpts, highlighting the points I found most enlightening. But the length of even that will likely explain why it's taken me two-three weeks to circle back to the discussion.
Lydia Polgreen: Why are we talking about gender right now? Why is gender the thing that has — I don't know — seized the conservative imagination? Why is this assault on gender-nonconforming people, trans people, queer people happening in the world right now? What's your theory?

Masha Gessen: So my theory is that autocrats and aspiring autocrats need an effective way of communicating a very simple idea, which is I can take you back to an imaginary past. And in this particular case, they're saying, I can take you back to an imaginary past where women were women, and men were men, and families were families, and life was predictable. And you felt comfortable, and you didn't have to accept things that made you uncomfortable and made the future seem unpredictable.

And importantly, you didn't have to fear that there will be such a chasm between you and your child that you will not understand each other. And all of that, that whole big promise of past-oriented politics can be communicated with this very simple strategy of attacking trans people, in particular, but then all of what they call gender ideology and L.G.B.T. rights.
While I'd reject the characterization that traditionalists on these issues are necessarily autocrats (remember, Barack Obama opposed same-sex marriage until Joe Biden shamed him into changing positions in 2012), I think the rest of that's right. Further, as the conversation evolves, it turns out that both Polgreen and Gessen are actually quite sympathetic to the parents and others struggling to come to terms with these issues.
Masha Gessen: I mean, let's be honest about it. It's not just that we've seen progress in our lifetimes. It's that there has been such incredibly rapid change. Just in the last — I don't know — five, seven years on trans issues, I mean, it's been head spinning. And if it's been head spinning for me, then I can only imagine how head spinning it has been for people who didn't even know such a thing existed as trans people. And suddenly, they feel — and they really do feel that all around them.

Lydia Polgreen: Yeah, change is hard. It's interesting because I've been working on an essay about regret and about thinking about trans kids and what it is that we're saying when we worry about regret. And one of the things that's sort of come up in the process of reporting that is just really thinking about the different tracks that — I don't want to say anti-trans thought. But there is sort of an element of anti-trans thought that comes out in — that is not actually the kind of totalitarian, like we're going to — we don't believe that gender transition exists.

We're all pretty familiar with that sort of attack on transgender people. I've been thinking a lot lately about the sort of softer side, of the group that doesn't even think of itself as being anti-trans. And I think that particularly among, you know, I think the kind of people that you and I probably know and are in our social circles, there's a lot of discomfort, right? And you just referred to this, that just in our lifetimes, there's been a lot of change and a lot of discomfort. And I think that that discomfort shows up less in the form of let's ban all care and more in the form of, well, geez, I'd really hate for a child to make a choice that they might regret.

And you end up with a kind of perspective on transition that is basically, yes, there's this small clearly defined group of people who are transgender. We can very closely look at them and decide who's who, and sort them into the group, and make sure only the right ones who really truly are, are the ones who transition. And to borrow a phrase, transition should be safe, legal and rare.

And talk to me a little bit about that side of the conversation, because I think we spend a lot of time talking about the more authoritarian side of it and the Ron DeSantises of the world. I spent a lot of time worrying about the other side of it.

Masha Gessen: I'd like to talk to you a lot about it, not a little.

Lydia Polgreen: Great.

Masha Gessen: Because I think there are so many things to talk about. And maybe I would start — since I'm talking to you, I would start with how it's largely — this framing is largely our fault. And by us, I mean queer people. And I think it goes back to this idea of choicelessness that we sort of made the main argument of the L.G.B.T. — well, the gay and lesbian rights movement or, really, the gay rights movement back in the early '70s.

It was probably pragmatically brilliant because it was the shortest way to getting homosexuality removed from the diagnostic manual, to get both the American Psychiatric Association and the American Psychological Association to accept that homosexuality wasn't a pathology. And it was a way to argue for civil rights.

It wasn't the only possible way to argue for civil rights. Nobody is born into a religion. Well, people are born into religions. But nobody argues that it's an immutable characteristic. Right?

Lydia Polgreen: No. But it has the advantage of actually being written into the United States Constitution. But so it's a rare — I'm just saying it's a very rare outlier to what you're saying, which is that this kind of rights-based discourse requires you to adopt a kind of immutability argument.

Masha Gessen: It's certainly the easiest way to make the argument. But I have an issue actually with the rights-based discourse in the first place. I would really much rather live inside a liberatory discourse than a rights-based discourse. That's what I thought I was signing up for.
Now, Gessen isn't the first queer person that I've heard make this argument but their later explication of this is the most nuanced I've seen. I have certainly, for example, heard of people, in defiance of the "born this way" convention that has predominated this discourse for half a century, say that, no, they did in fact make "a lifestyle choice" (to use the phraseology of the anti-gay right from years past) to be lesbian. Gessen argues this is true of many trans people as well.
Incidentally, it also clarifies the "identifies as trans and nonbinary" bit from the intro. My immediate reaction was that this was a contradiction in terms. Being "trans" means having a gender identity in conflict with the biological body one was born into. Being "nonbinary" means identifying as neither a man nor a woman.
Skipping just a bit ahead:
Masha Gessen: I think we, the L.G.B.T. rights movement, by choosing that strategy, fundamentally changed people's lives for the better for millions of people. I mean, the gains in a single lifetime have been staggering.

But we also set a trap for ourselves, which I think we're seeing now with trans issues. And that's the immutability trap. We're so used to arguing, we don't really know how to argue anything else — that you're born in the wrong body, that — and that is — I don't mean to say that that is not true for some people. For some people, it is absolutely true. But it's entirely possible that those are the people who fall into the safe, legal and rare category.

And there's an entire spectrum of people who transition for other reasons, for a combination of reasons, who at some point, at least, experience it as a choice. And we don't know how to see our way to that. That creates a lot of difficulties because it's very difficult, for example, to argue that a nonbinary person was born in the wrong body, because how do you even do that?

Lydia Polgreen: Yeah. Yeah, because the body that you're born into is just the body that you're born into. But the identity piece of it, I think, is where it becomes sort of messy and confusing to people, right? So there is this notion that I see undergirding the conversations that I have with even, frankly, gay and lesbian parents whose children come to them and say, I'm nonbinary or I'm trans. It really freaks them out.

And of course, I think your child being different from you is a very, very scary experience. I'm personally not a parent, but you are. And I think I have many, many friends who are parents. It is sort of terrifying. And yet we have an ability to metabolize regret. We have an ability to tolerate and understand that children will make decisions that they regret.

So for example, I gave up swimming when I was a child. I was a very good swimmer. I could have been a varsity athlete. I can imagine a version of my life unfolding in which I did something very different. And in some ways, I regret not following that path. But that's life. I think most people would say, well, that's very different from something as fundamental to your identity as changing your gender. I guess I wonder if it is.

Masha Gessen: Well, that's exactly the thing. So if the immutability trap is the trap we set for ourselves, I think the regret trap is a trap we didn't set for ourselves, but we fell right into it. I think the regret trap was definitely set by people who are opposed to, nervous about, scared of seeing more and more trans people, which is a statistical fact — and seeing people transition younger.

And I think it is easy to explain by saying that 10 years ago, a 14-year-old didn't have the option, didn't have the imaginary to be able to ask their parents for help and transition. And now they do.

But another way, of course, of looking at it from the opposite side is, it's social contagion, and children are making decisions, irreversible decisions, that they're going to regret.

And we, proponents of trans rights, tend to respond to it by saying, but very few people are going to regret it, which is also a statistical fact. And that's how we fall right into the trap. What I think we should be saying is, possibly. So what? Like, what exactly are they going to regret? And what other things are they going to regret?

The two comparisons that I usually go to — and maybe you can think of better ones — but teenagers sign up for the military. That's a huge life decision. I'm not really sure that 17-year-olds are equipped to make that decision. It's binding. It really shapes people's lives for at least a decade or so. And I think people are likely to regret it. And we think that they're qualified to do it. In fact, we create all sorts of systems to facilitate their making this decision.

Another, of course, is medical interventions, which is something that — a decision that parents often make for children or children make together with their parents — going on antidepressants. Not dissimilar from transitioning if you think about transitioning as a way to be in the world in a way that is more comfortable, makes it easier for you to cope.

And that gets us into all sorts of other conversations. Let me know if I'm going too fast with these. But one of the objections that we hear from clinicians — and it's their job to raise these objections — is what if there's something else going on? What if there's depression? What if there's autism?

And again, I think the go-to answer is usually, that's rare. We can tell genuine transness from spectrum — autism spectrum disorder, which, A, I don't believe and, B, look, it is probably easier to be a boy on the spectrum than a girl on the spectrum. Like, not a bad choice. Go for it. Your life will be easier if you feel like that's something that's an option that works for you.

And I can imagine listeners fainting at this because, what am I saying? Am I saying it's a choice? For some people, it is. It's a choice about being in the world.

And that gets us back to what parents and allies of parents are so terrified that their children will regret — cutting off their breasts, preventing puberty. That comes from our understanding of just how essential these body parts are to who we are. But that's just how we construct gender.

[…]

Lydia Polgreen: So in 2020, fewer than 1 percent of teens in the United States received cosmetic procedures [of all sorts, not just those related to transition], according to a report that I found, that was published by the American Society of Plastic Surgeons. And there were some other numbers in this report about cosmetic procedures more generally that I found fascinating.

So first of all, 92 percent of all cosmetic procedures are done on women. And rhinoplasty is the most popular surgical procedure. And you might say, what does that have to do with gender? Well, I mean, the ideas that we have about female attractiveness are, of course, very much bound up in gender.

There are also thousands of breast augmentation and reduction surgeries for girls and, very, very interestingly, 2,800 surgeries performed on boys to remove excess breast tissue. So I mean, that obviously is very much bound up in affirming the gender of these kids.

And when you move into cosmetic surgeries for adults, there's been this huge explosion in popularity of a surgery to lengthen one's legs. And it's really growing among men. It's quite invasive. And it adds a few inches of height. But again, this is a gendered expectation that men in our culture are going to be of a certain stature. And this is even more squeamish making, but there's been a huge explosion in the popularity of penile enlargement in adults.

But I guess, this all sort of gets to my broader sense that we're all feeling a little bit uncomfortable about our bodies and the way that we show our gender in the world. And this, to me, like, really speaks to something that goes far beyond the experience of queer people, of trans people, of gender-nonconforming people and to the kind of human condition of having to show up in the world with a gendered body.

Masha Gessen: And we do ourselves no favors when we pretend that it's not messy and complicated, when we pretend that people under the age of 18 have no ability to make decisions and people over the age of 18 have all the ability to make decisions.
The discussion about what choices we allow young folks to make—including other medical procedures–is interesting, as is the overlapping one with regret. It doesn't fully persuade me but that's because I do indeed view gender identity as an essentialist one, a point Gessen, in particular, hits multiple times throughout the conversation.
The most amusing:
Masha Gessen: Because I'm sure people are listening to you and thinking, well, yeah, OK, we've debunked the biological component of race. But obviously, there is a biological component to gender. And yes, I mean, there's also biological component to race in the sense that you can see it. But you're not seeing categories. Categories is what we make up.

[…]

If you're not paying attention, you may not notice that your — if you get a ticket for improperly recycling, they will actually attempt to indicate your gender on it, in the city.

[…]

But I was like, really? Gender? I mean, it's not just your passport, your driver's license, all your health care records, but things like your recycling tickets, and all sorts of things that — there's absolutely no reason why my badge for entering The New Yorker offices at One World Trade Center should indicate my gender.

[…]

But it does.
Less amusingly:
Masha Gessen: I've always felt and, after a certain point, was able to put words to it, that gender is something that happens between me and other people. It doesn't actually happen inside my body. It's what people see, what I want them to see, what I feel when they see one thing and not the other thing.

All of that is my gender. And so my gender has changed over my 56 years. But it also changes — I mean, I'll tell you a ridiculous and somewhat humiliating story.

So I guess this was two years ago. I was at a conference in Kyiv. And you know, I've never changed my name. So my name to a Russian speaker or any Slavic language speaker is undoubtedly completely 100 percent Russian. And I'm known to — I was known in this conference. So I wasn't going to make anything of it. I just knew I was going to be presenting as female to all the people at this conference, who knew who I was.

And that was fine, except when I had to pee because at this conference venue they had people minding the door, the entrances to the bathrooms. So there I was. And I tried to go into the ladies room, because I was female, at this conference. And this lady immediately blocks my way [LAUGHS] because obviously I looked the way I look — like, what — except to people who are primed to see me as a woman.

So I'm standing there thinking, what am I going to do? Because I can't go into the men's room because they all know me. And if they know me, then they know me as female. But a person who doesn't know me clearly knows me as male. And so that's how gender happens. I mean, I finally told her that I really knew what I was doing.

And I belong there. But that's how gender operates. And it's also a funny comment on the impossibility of presenting as male one minute and female the next. But I was actually like doing it in real time.

Lydia Polgreen: Yeah. We haven't talked about your own transition and how you identify. But I can tell people who are not, like me, sitting across from you, that you have a masculine presentation, what would be received as a masculine presentation. I think I also have a fairly masculine presentation and have had very — not exactly that experience but lots of bathroom confusion.

But as you were talking, I was thinking about this great quote that I got for this piece that I'm working on from a historian named Jules Gill-Peterson. And she said this wonderful thing to me that — was we were talking about this issue of where gender comes from. And might it actually be a problem for everyone as opposed to a problem just for people who have gender? It used to be that people who had gender were just women. And then it was now it's transgender and queer people.

But she said this wonderful thing. She said it might be comforting and reassuring to imagine that trans people are fundamentally different. But I think the real startling possibility is that they are not and that we all depend on the generosity of strangers to give us our gender every single day.
Finally:
Masha Gessen: I think that dismissing out of hand the argument that people raised as boys have a completely different social experience, have a completely different experience of being in the world than people raised as girls — not all girls, and not all boys, and all of that. But by and large, we're talking about different social experiences. And we have opportunities to hash that out.

If we assume that we're allies and if we assume that we're in a common struggle for control over our own bodies, then we can discuss the ways in which we're different. But I think one side saying, you're not me and I'm not talking to you, and the other side saying, I am and you, and you have to accept me as you, not terribly constructive, even — and I'm not saying that one side is not more wrong than the other. One side is more wrong than the other. But they're both a little bit wrong.

Lydia Polgreen: Yeah. No, that's right. And I think in conversations with friends of mine, both friends who have children who are assigned female at birth and who've either come out as nonbinary or transitioned, there is this kind of feeling that, particularly for mothers, that my child is rejecting womanhood, that they're rejecting femininity.

And I think that that's painful, right? I think that that's something — I think it's probably true across genders. But I think particularly for a certain kind of feminist woman who's excited to raise a feminist daughter, that person who you thought of as a daughter telling you, no, that's not who I am, I think is painful.

And it's a thing that — I agree with you — it doesn't help anybody to tell that person, no, you should just be happy about it and you should have no feelings.
There are also interesting sidebars about race (Polgreen's mother is Ethiopian and Black, her father a white Wisconsinite) and nationality (Gessen is of Russian stock and has spent decades working there as an adult) that are interesting but this post is already absurdly long.
I don't have much to add in terms of commentary. These are just incredibly complex issues that engender disagreement even within LGBTQ circles.