Federal Judge Rules Ohio Must Recognize Out Of State Same-Sex Marriage, Sometimes
A limited ruling out of Ohio with wide ranging implications.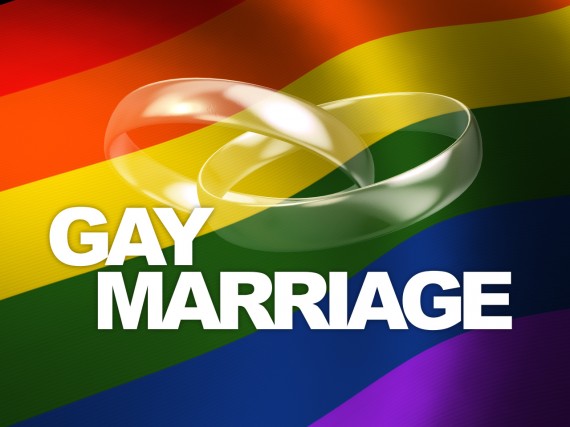 Yesterday, a Federal Judge in Ohio ruled that the Buckeye State must recognize out of state same-sex marriages, although the facts of the case limit his holding to the content of state issue death certificates:
Just three days after a federal judge in Utah declared that state's ban on gay marriage unconstitutional, a federal judge on Monday issued a much narrower ruling that Ohio's ban on gay marriage is also unconstitutional.

Although Judge Timothy Black's ruling applies only to death certificates, it is expected to be precedent-setting, leading to more lawsuits in Ohio challenging the law.

Black wrote that "once you get married lawfully in one state, another state cannot summarily take your marriage away," saying the right to remain married is recognized as a fundamental liberty in the U.S. Constitution.

"When a state effectively terminates the marriage of a same-sex couple married in another jurisdiction, it intrudes into the realm of private marital, family, and intimate relations specifically protected by the Supreme Court," he wrote.

Ohio's attorney general said the state will appeal.

Black's decision stems from a lawsuit in July by two gay Ohio men whose spouses recently died and wanted to be recognized on their death certificates as married.

In July, Black issued a temporary restraining order in one of the cases, recognizing James Obergefell as John Arthur's spouse, and suggested that failing to recognize the couple's out-of-state union violated their rights to equal protection under the U.S. Constitution.

Obergefell and Arthur had been together for two decades and got married in in Maryland because Arthur had Lou Gehrig's disease. Arthur died in October.

"This is not a complicated case," Black wrote last summer. "The issue is whether the State of Ohio can discriminate against same sex marriages lawfully solemnized out of state, when Ohio law has historically and unambiguously provided that the validity of a marriage is determined by whether it complies with the law of the jurisdiction where it was celebrated."

Camilla Taylor, Lambda Legal's marriage project director, said of the case: "This is particularly tragic and compelling case and it shows to all of us in the country, not just those of us who are gay or those of us who are in the judiciary, but to all Americans, the degree of commitment shown by many gay couples and their desire to take care of each other in the worst time of life that any of us can imagine," Taylor said.
Lyle Denniston notes that, as with many cases we've seen since June, the Supreme Court's decision in United States v. Windsor played an important role in the Court's decision:
Expanding the meaning of the Supreme Court's decision in June in U.S. v. Windsor, a federal judge in Cincinnati ruled on Monday that states have a constitutional duty to accept the marriages of same-sex couples performed legally in other states.  U.S. District Judge Timothy S. Black said the Windsor ruling took away from states the power to nullify valid marriages, although state laws were not at issue in that case.

The judge said the ruling was limited to giving two same-sex couples who were married in Maryland the right to have that fact declared on a death certificate in Ohio, where they live, when one of the spouses died.  But the ruling, at least in its broader reasoning, contradicts a part of the federal Defense of Marriage Act that was not before the Supreme Court when it struck down another part in Windsor.

(…)

Monday's ruling, in the case of Obergefell, et al, v.Wymyslo, "flows from the Windsordecision," the judge wrote.  Now, he said, lower courts are moving to apply that ruling, "as they must, and the question is presented whether a state can do what the federal government cannot — e.g., discriminate against same-sex couples … simply because the majority of the voters don't like homosexuality (or at least didn't in 2004 [in Ohio]).  Under the Constitution of the United States, the answer is no."

The opinion added: "The fact that each state has the exclusive right to create marriages within its territory does not logically lead to the conclusion that states can nullify already-established marriages from other co-equal states absent due process of law."

Judge Black found no compelling state interest to justify Ohio's ban on same-sex marriage as a basis for refusing to recognize valid marriages from elsewhere.
As Denniston notes, the ruling from Judge Black, a 2009 Barack Obama appointee (unanimously confirmed by the Senate) who had previously been selected as a United States Magistrate Judge by the Judges of the United States District Court for the Southern District of Ohio in 2004, seemingly directly attacks Section Two of the Defense of Marriage Act. That section provides that no state can be forced to recognize a same-sex marriage legally entered into in another state. Many legal scholars have argue over the years that Section Two is just as unconstitutional as Section Three was found to be in the Windsor case. Principally, it has been argued that Section Two violates the Full Faith & Credit Clause set forth in Article IV of the Constitution which requires states to recognize the laws, court decisions, and legal acts of sister states, although there are certain exceptions to that requirements. However, Section Two was not at issue in Windsor and there have been no significant legal challenges to that portion of the law, meaning that it remains the law of the land to this day.
The interesting thing about Judge Black's ruling is that he doesn't address Section Two of DOMA at all, which suggests that the issue wasn't addressed by the parties either. That strikes me as somewhat odd given that it would seem to be a natural thing for the State of Ohio to do in any case of this sort. If they had, one would have expected Black to address it in his ruling in some respect rather than leave it hanging out there for an appeal. I'll try to track down some the pleadings in the case, because if Ohio didn't bring up DOMA on appeal, traditional appellate practice rules would prevent it from raising that issue on appeal. It's possible, of course, that Ohio didn't raise the DOMA issue because they didn't want to risk an adverse ruling on the issue, but given the fact that Black had already ruled against them on the TRO it strikes me as odd that they would not raise any relevant legal issue they could find in defending the law. It would be particularly interesting to find out why they didn't raise the argument at all if that in fact is what happened.
In any event, even though Black's ruling is limited to the specific facts of the case before him and specifically says that it only applies to the issue of recording the marital status of a decedent on a Death Certificate, it's easy to see how the ruling has potential to have wide ranging implications. For one thing, gay couples in Ohio who legally married in another state now have a legal authority upon which they can base an argument that they are entitled to have their marriage recognized by the state for purposes other than the issuance of Death Certificates now have a ruling upon which to base their arguments. While Judge Black's ruling isn't binding authority, it will no doubt be considered persuasive authority to say the very least. For another, Judge Black's  rulings on both the Due Process Clause arguments and the Equal Protection Clause arguments is as strong as what we saw from Judge Shelby out of Utah last week, and his reliance upon Windsor shows yet again just how extensive the implications have been in just the six months since it was handed down. Finally, Judge Black's decision will likely also provide ammunition to those in Ohio wising to attack the entirety of Ohio's marriage ban as well as those seeking to strike down similar bans in other parts of the country. Slowly but surely, the legal underpinnings of the bans on same-sex marriage bans are starting to collapse.
Here's the Opinion: