Federal Workers Earn Twice Private Sector Counterparts?
The average federal government employee earns twice as much as the average private sector worker. An outrage? Not so much.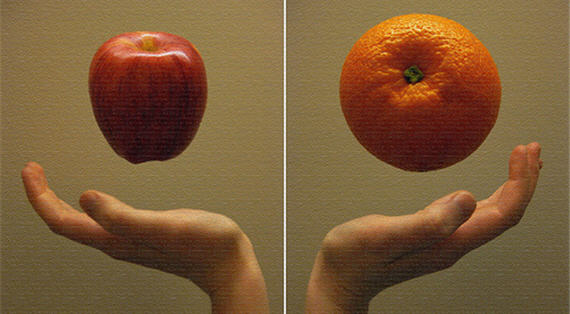 Continuing a meme that won't go away, USA Today has a story headlined "Federal workers earning double their private counterparts."
At a time when workers' pay and benefits have stagnated, federal employees' average compensation has grown to more than double what private sector workers earn, a USA TODAY analysis finds.
Federal workers have been awarded bigger average pay and benefit increases than private employees for nine years in a row. The compensation gap between federal and private workers has doubled in the past decade.

Federal civil servants earned average pay and benefits of $123,049 in 2009 while private workers made $61,051 in total compensation, according to the Bureau of Economic Analysis. The data are the latest available.

The federal compensation advantage has grown from $30,415 in 2000 to $61,998 last year.
There's a lot to unpack here.
First, federal workers do get a great deal in terms of annual salary and benefit bumps.  It helps that the federal cost-of-living index has long exceeded real inflation.  And that the body which oversees federal worker pay, Congress, has its pay and benefits tied to the overall pool.  And that federal workers are unionized.
Second, the doubling over the last decade in the gap.  Considering that the past decade has coincided with the post-9/11 ramp-up in security spending, thus raising the level of federal spending and hiring, and the burst of the dot.com bubble at the front end and the Great Recession at the tail end, thus holding down private sector wages, it's not surprising.
Third, that federal workers "earned average pay and benefits of $123,049 in 2009."  That's just staggering.   Even when you take out the $41,791 in "benefits," the $81,258 average salary is very generous.  And implausible.   For 2009, that's just a little more than the base pay for a GS-13, Step 5.  Which, even for the DC area, is a very senior civil servant.  Even factoring in an average geographic locality adjustment, say, Miami's 15.9%, we're talking GS-12, Step 4.     And federal pay is capped on the high end by law to ensure civil servants make less than Congressmen.   For 2009, that was $155,500. A GS-15, Step 6 in the San Jose-San Francisco-Oakland metro area, the one with the highest locality pay, made that.   And there are very few people, comparatively, making that kind of money.  I'm not sure how that average was arrived at.
Fourth, that the average private sector worker makes $50,462 in salary strikes me as about right.  Given the staggering amounts made by those in the upper reaches of the top percentile, it's probably skewed a bit high; I'd bet the median is somewhat lower.
Fifth, and probably most importantly, comparing averages probably doesn't tell the whole story.
Public employee unions say the compensation gap reflects the increasingly high level of skill and education required for most federal jobs and the government contracting out lower-paid jobs to the private sector in recent years. "The data are not useful for a direct public-private pay comparison," says Colleen Kelley, president of the National Treasury Employees Union.
I'm not a fan of unions and think there's a lot of bloat in the federal bureaucracy. But the barriers to entry are indeed higher. Most federal civil servants making anything like a decent wage are college educated. And the government employs a disproportionate number of attorneys, engineers, computer scientists, PhDs, and others who command high salaries in the private sector and comparatively few maids, janitors, and retail clerks.
But, of course, these weak reports yield a predictable chorus:
Chris Edwards, a budget analyst at the libertarian Cato Institute, thinks otherwise. "Can't we now all agree that federal workers are overpaid and do something about it?" he asks.

Last week, President Obama ordered a freeze on bonuses for 2,900 political appointees. For the rest of the 2-million-person federal workforce, Obama asked for a 1.4% across-the-board pay hike in 2011, the smallest in more than a decade. Federal workers also would qualify for seniority pay hikes.

Congressional Republicans want to cancel the across-the-board increase in 2011, which would save $2.2 billion. "Americans are fed up with public employee pay scales far exceeding that in the private sector," says Rep. Eric Cantor, R-Va., the second-ranking Republican in the House.
Again, we may be overpaying a lot of people in the public sector. And we're surely employing too many. But it's just demagoguery to call for pay cuts on the basis of comparing meaningless midpoints.
UPDATE:  Commenter John Personna points me to an earlier USA Today piece titled "Federal pay ahead of private industry."
Federal employees earn higher average salaries than private-sector workers in more than eight out of 10 occupations, a USA TODAY analysis of federal data finds.

Accountants, nurses, chemists, surveyors, cooks, clerks and janitors are among the wide range of jobs that get paid more on average in the federal government than in the private sector.

Overall, federal workers earned an average salary of $67,691 in 2008 for occupations that exist both in government and the private sector, according to Bureau of Labor Statistics data. The average pay for the same mix of jobs in the private sector was $60,046 in 2008, the most recent data available.
They include an interesting chart comparing occupation-to-occupation.  Here's the top few.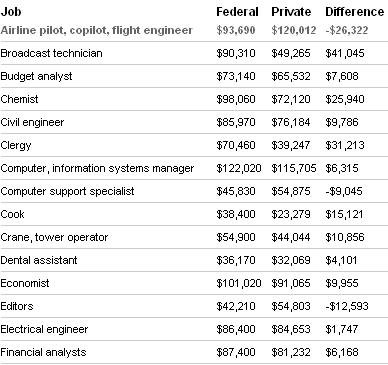 This is interesting, indeed.  Some jobs pay radically more in the government sector; others, radically more in the private sector.
I wonder whether the comparables are really comparables, though.
For example, I presume most "airline pilots" employed by the Feds are military officers.   While they fly planes, they're doing a radically different job than the guy from Delta flying back and forth between Atlanta and New York.
Ditto cooks and clergy.   The only ones that come to mind either work for the military  or for Congress and the White House.  In the private sector, cooks range from the guy flipping burgers at Mickey-D's to the head chef at a Manhattan 4-star bistro.  And clergy range from part-timers who preach to a congregation of 12 in a run-down single-wide to the big-timers who fill a mega-church and heal people on television.
None of this is to say that government employees don't get a pretty sweet deal.   Most of them do, in that their jobs are essentially guaranteed for life and they often come with very little stress.  Others put in 12-hour days without overtime because they think the work's that important.  And others are risking their lives on a daily basis in foreign lands.
As in the private sector, there's just an incredible range of stresses, rewards, and trade-offs.  My only point here is that looking at a single variable — average pay — doesn't do a good job of telling the story.