Fiscal Conservativism? Romney Would Raise Defense Spending $2.1 Trillion Over 10 Years
Mitt Romney is proposing one of the biggest peacetime increases in military spending in U.S. history.
Mitt Romney likes to talk about fiscal responsibility, but there's one area of Federal spending that he would increase by a rather astronomical amount:
NEW YORK (CNNMoney) — Mitt Romney is campaigning on a platform that emphasizes less spending, smaller deficits and renewed fiscal responsibility.

But in one budget area, Romney is running the opposite direction. The former Massachusetts governor wants to increase defense spending by leaps and bounds. By one estimate, additional spending would exceed $2 trillion over the next decade.

Romney's plan calls for linking the Pentagon's base budget to Gross Domestic Product, and allowing the military to spend at least $4 dollars out of every $100 the American economy produces.

With the Pentagon's base budget — which does not include war costs — forecast to hit 3.5% of GDP in 2013, a jump to 4% would mean an increase of around $100 billion dollars in defense spending in 2013.

The additional spending really piles up in future years.

Compared to the Pentagon's current budget, Romney's plan would lead to $2.1 trillion in additional spending over the next ten years, according to an analysis conducted for CNNMoney by Travis Sharp, a budget expert at the Center for a New American Security.

And that number assumes a gradual increase to 4% of GDP. The additional spending would hit $2.3 trillion over a decade if the Pentagon's budget were to immediately jump to 4% of GDP.

Sharp said the United States could certainly ramp up spending to meet Romney's target. But the bigger question, he said, is whether the investment would be worth the cost.

"Romney's plan might reduce military risk in some areas," Sharp said. "But you can never eliminate all the risk — no matter how much you spend."
Indeed as we have noted here at OTB several times in recent years, the United States dwarfs the military spending of every other country in the world, including any of those that could be called actual or potential threats to our national interests, by wide, wide amounts.  Consider, for example, this chart from Wikipedia showing 2011 military spending by the top 20 countries in the world: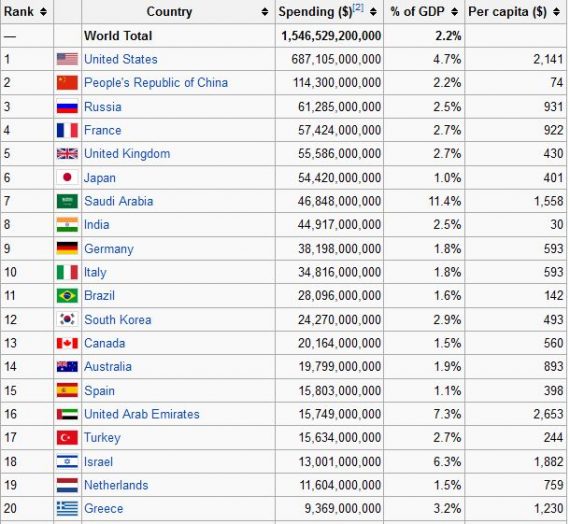 As this chart shows, the United States's military spending (which includes both the Pentagon base spending that Romney would increase and war-related spending) accounts for 44.43% of all the military spending in the world. If you add in the military budgets of the NATO and non-NATO allies in the Top 20, it amounts to more than 70% of the worldwide military spending, dwarfing the spending of nations like China, Russia, and Iran to a considerable degree. Based on sheer numbers alone, the idea that the United States isn't spending enough on defense, a refrain one hears frequently from the hawkish wing of the GOP, is quite simply absurd. Even if Russia an China tripled their combined military spending, they still wouldn't equal what we spend on our one, and they'd be nowhere near what the U.S. and its allies spend. As for Iran, their military budget in 2011 was roughly $7,000,000,000 in 2008 and most likely hasn't increased very much since then, that amounts to .01% of what the United States spent in 2011 and roughly half of what Israel spent in 2008.  As James Joyner noted when he looked at this issue earlier this year, the United States and its alies absolutely dwarf any potential foe when it comes to military spending, at the very least I'd suggest that this means that the constant Republican argument that we must increase defense spending in the face of a dangerous world is essentially bunk.
The most notable thing about Mitt Romney's plan to increase defense spending, though, is that it makes the rest of his fiscal programs largely untenable. There's simply no way, politically or mathematically, that the Federal Budget can be brought under control without including defense spending in the mix. The end of the wars in Afghanistan and Iraq was supposed to actually help in that regard since it would take as much as $1 trillion off the table, and indeed both Republican and Obama Administration budget plans assume that this savings will occur. Romney's proposal would completely wipe that out, thus bringing his entire commitment to fiscal conservatism into question:
Romney's plan to spend more at the Pentagon adds yet another layer of complexity to a set of proposals that would remake the fiscal landscape.

Romney has proposed a slew of tax cuts, and plans to cap federal spending at 20% of GDP. But in both cases, the Romney campaign hasn't fully explained how those provisions will be paid for.

The lack of detail means that Romney's claim of moving toward a balanced budget requires a great deal of trust.

"Romney has listed a few specific cuts he would make in discretionary spending, but they are a fraction of the extra defense spending he proposes," said Jeffrey Vanke, a senior policy analyst at the Committee for a Responsible Federal Budget.

Other budget experts expressed similar concerns about Romney's proposal, including Peter Singer, a senior fellow at the Brookings Institution, who said the plan for additional spending does not "reflect fiscal reality."
To get an idea of just how much of a radical increase in defense spending, here's a chart showing the difference between Romney's proposal and current baseline assumptions on defense spending: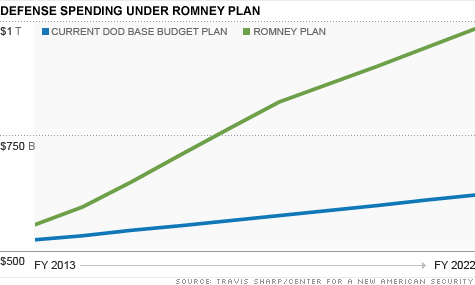 That's a heck of an increase in spending, and one wonders where Romney thinks he's going to get the money for it. Taxes increases are already off the table apparently, so that means either massive decreases in non-defense discretionary spending and entitlements or larger budget deficits. The problem with that, of course, is that there isn't a whole lot of room for significant cuts in non-defense discretionary spending; even eliminating entire Cabinet departments wouldn't result in the kind of savings that would be needed to make up for Romney's massive military buildup. As for entitlements, the political will for the kind of cuts that would be needed simply isn't there on either side of the aisle. That means, then, that Romney would end up having to repudiate his supposed claim to fiscal responsibility and continue running up massive deficits far into the future, or he'd have to abandon his military buildup. Which do you think would happen?
On a final note, I have to say that there doesn't seem to be any logic in tying future defense spending to a percentage of GDP. For one thing, 4% is an entirely arbitrary number that has nothing to do with actual defense needs or economic logic. The fact that we're spending a certain percentage of our GDP on defense doesn't mean that it's being spent wisely, or that we're spending what we need to. It's possible that, in some situations, 4% of GDP in a given year might be too little, while in most years it's likely to be far, far too much. Moreover, GDP itself is a figure that moves for reasons entirely unrelated to the nation's security needs, so it makes absolutely no sense to tie defense spending to it. And what happens in a recession when GDP falls, does that mean we'd have to cut defense spending? Does anyone actually believe that would happen?
Defense spending is no a sacred cow. There's no reason it should not be on the table when we talk about getting the nation's fiscal house in order, and there's certainly no rational reason it needs to be increased by $2 trillion dollars over the next decade. As is usually the case with Republicans, Mitt Romney commitment to fiscal conservatism turns out to be a chimera once you actually look at the details