President Obama Drops The Ball On Deficit Reduction
President Obama's new budget involves nothing less than a thumb in the eye of anyone who hoped he would seriously address federal spending in his first term.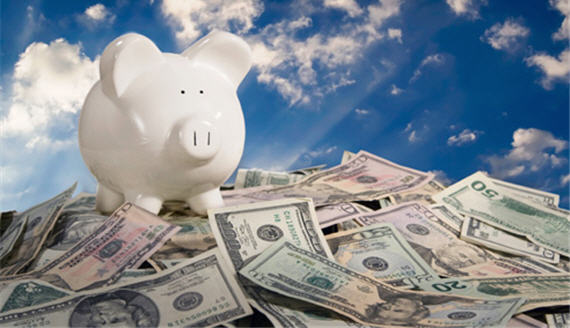 Buried in the President's newly released budget is this rather grim statistic about the Federal Budget deficit:
WASHINGTON—The White House projected Monday that the federal deficit would spike to $1.65 trillion in the current fiscal year, the largest dollar amount ever, adding pressure on Democrats and Republicans to tackle growing levels of debt.

The projected deficit for 2011 is fueled in part by a tax-cut extension that President Barack Obama and Republican lawmakers brokered in December, two senior administration officials said. It would equal 10.9% of gross domestic product, the largest deficit as a share of the economy since World War II
Meanwhile, by at least one analysis, the National Debt is now equal to the size of the entire American economy:
Amid the other staggering numbers in the budget Mr. Obama sent to Congress on Monday, the debt stands out — both because Congress will need to vote to raise the debt limit later this year, and because the numbers are so large.

Mr. Obama's budget said 2011 will see the biggest one-year jump in debt in history, or nearly $2 trillion in a single year. And the administration says it will reach $15.476 trillion by Sept. 30, the end of the fiscal year, to reach 102.6 percent of gross domestic product (GDP) — the first time since World War II that dubious figure has been reached.

In one often-cited study, two economists have argued that when gross debt passes 90 percent it hinders overall economic growth.

The president's budget said debt as a percentage of GDP will top out at 106 percent in 2013, but only if the economy booms.

"I still don't see a sense of urgency from the president about the massive federal debt," said Sen. Lamar Alexander, Tennessee Republican. "His budget calls for too much government borrowing – even though the debt is already at a level that makes it harder to create private-sector jobs."
This is, it would seem, the perfect opportunity for the President to address the problems associated with the Federal Government's structural budget deficits, and the long term consequences of high levels of debt. Instead, he's essentially punted the ball down the field. The meager budget cuts that he proposes touch only 35% of the Federal Budget to begin with, and, as Peter Suderman notes, they aren't really budget cuts at all:
The president outlines a plan that would keep the yearly deficit above $1.6 trillion this year and around $1.1 trillion the year after. The 10-year plan is to shave off about $1.1 trillion from the next decade's total expected deficit. But in the context of a $7 trillion-plus projected deficit, this is hardly a breakthrough, or a serious fix. Last December, the president's own fiscal commission proposed about $4 trillion in cuts, including an overhaul of Social Security. The president's budget, by contrast, barely touches our unsustainable entitlements—and certainly doesn't offer anything in the way of major reform.
Ezra Klein notes that the President completely disregarded the recommendations of his own Deficit Commission:
What was notable about the Fiscal Commission's final report was the way it opened up the playing field on the budget. It went after tax revenues, tax expenditures, the military, Social Security, Medicare, Medicaid, domestic spending, government reform and more. Most everyone disagreed with some of the specifics in the report, but plenty of folks on both sides of the aisle were happy to see so many cows demoted from sacred status.

(…)

The president's 2012 budget dodges on almost all of that. Entitlements are left alone. So, broadly speaking, are tax deductions (though it's worth noting that the Affordable Care Act took a big chunk out of the tax deduction for employer-provided health benefits). The military cuts are exactly what Secretary of Defense Robert Gates said they should be, and they're really not cuts at all: Just slight reductions in the rate of spending growth. The big attack is on the 12 percent of the budget known as non-defense discretionary spending, which is what politicians in Washington always like to focus on, and what the commission's report was trying to move the discussion past. It's like the Fiscal Commission never happened.
Andrew Sullivan, meanwhile, characterizes the budget proposals as a big "Screw You" from Obama to the next generation of Americans:
This president is too weak, too cautious, too beholden to politics over policy to lead. In this budget, in his refusal to do anything concrete to tackle the looming entitlement debt, in his failure to address the generational injustice, in his blithe indifference to the increasing danger of default, he has betrayed those of us who took him to be a serious president prepared to put the good of the country before his short term political interests. Like his State of the Union, this budget is good short term politics but such a massive pile of fiscal bullshit it makes it perfectly clear that Obama is kicking this vital issue down the road.

To all those under 30 who worked so hard to get this man elected, know this: he just screwed you over. He thinks you're fools. Either the US will go into default because of Obama's cowardice, or you will be paying far far more for far far less because this president has no courage when it counts. He let you down. On the critical issue of America's fiscal crisis, he represents no hope and no change. Just the same old Washington politics he once promised to end.
It's all really rather depressing. Realistically, the FY2012 budget is the last chance that either the President or Congress have to begin the process of reforming the government and reducing spending that the deficit for at least the next two years. By this time next year, we'll be well into the beginning of Presidential and Congressional campaigning and neither side is going to be willing to use the budget process for anything other than political grandstanding. In 2013, we'll either have a re-elected President Obama, likely-still-Republican House, and a closely divided (and thus ineffectual) Senate or we'll have a new President who will need to build up political credibility before taking Medicare, Medicaid, Social Security, and the Defense budget head-on. In either case, it will be at least Fiscal 2014 before we would be able to put the beginnings of a sane budget together. By then, the National Debt is likely to have soared by several more trillion dollars.
There is still the possibility, of course, that the House GOP will come up with a budget that seriously addresses our problems and, at least in their reaction to the President's budget, there's some sense that they realize that:
Republicans in Congress are already criticizing President Barack Obama's budget a few hours after its release, accusing the president of putting together a debt-fueling disaster, despite his call for hefty spending cuts.

House Majority Leader Eric Cantor (R-Va.), the second-ranking House Republican, said Obama "missed a unique opportunity to provide real leadership by offering a budget that fails to address the grave fiscal situation facing our country."

""We need a government that finally does what every other American has to do in their households and their businesses, and that's to live within our means," Cantor said in a statement. "Instead, President Obama's budget doubles down on the bad habits of the past four years by calling for more taxes, spending and borrowing of money that we simply do not have."

In his meeting with reporters Monday afternoon, Cantor said the difference between the president's budget and what Republicans believe illustrates a "fundamental difference in the style of leadership."

"As far as individual items, I think there's probably some areas of agreement," Cantor said, responding to a question about areas of agreement in the two parties' plans. "But we cant keep taking the saivngs and going to spend it. The object here is to cut."

House Budget Chairman Paul Ryan (R-Wisc.) said the budget stifles job growth, "leaving our children with a diminished future."

"Failing to heed the warnings of economists and the demands of the American people, the President's budget accelerates our country down the path to bankruptcy," Ryan said in a statement. "Far from 'living within its means,' the President's budget puts the government on track to nearly double in size since the day he took office – a direct result of his party's reckless spending spree."

Sen. Lamar Alexander (R-Tenn.), the third-ranking Senate Republican, echoed his colleagues in the House, saying he does not get a "sense of urgency from the president about the massive federal debt."

"His budget calls for too much government borrowing – even though the debt is already at a level that makes it harder to create private-sector jobs," Alexander said in a statement
There were similar dismissals from House Freshmen and from many of the potential 2012 GOP candidates. That's rhetoric, though, and we have yet to see very much in the way of reality outside of Rand Paul's $500 billion spending cut proposal, which hasn't exactly gotten much in the way of endorsements from his fellow Senators, or from anyone in the Lower Chamber.
Back when the Simpson-Bowles plan was first submitted, I said this:
If we lived in a country with adult political parties, the release of the Commission's report would serve as the beginning of a long overdue national conversation about how to get our fiscal house in order. Liberals would recognize that social spending would have to be cut, and conservatives would recognize that defense spending cuts and tax increases would have to be on the table. Instead, what we're likely to see is more of the same political gamesmanship — liberals accusing the GOP of wanting to starve Grandma, conservatives accusing liberals of just wanting to raise taxes so they can spend more. And the debt will continue to rise.

At some point we're going to be forced to deal with these problems, but it's not going to happen until we start feeling the pain that we could ward off if we'd just grow up already
Today, rather than growing up, the White House proved that it would just rather pretend that the problem doesn't really exist.