Obama Walks Out of Talks Saying 'Don't Call My Bluff'
President Obama has walked out of negotiations on the debt ceiling with an agreement is nowhere in sight.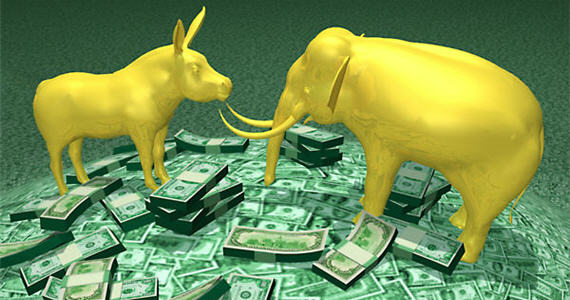 President Obama has walked out of negotiations on the debt ceiling.
Politico ("President Obama abruptly walks out of talks"):
President Barack Obama abruptly walked out of a stormy debt-limit meeting with congressional leaders Wednesday, a dramatic setback to the already shaky negotiations. "He shoved back and said 'I'll see you tomorrow' and walked out," House Majority Leader Eric Cantor (R-Va.) told reporters in the Capitol after the meeting.

On a day when the Moody's rating agency warned that American debt could be downgraded, the White House talks blew up amid a new round of sniping between Obama and Cantor, who are fast becoming bitter enemies.

When Cantor said the two sides were too far apart to get a deal that could pass the House by the Treasury Department's Aug. 2 deadline — and that he would consider moving a short-term debt-limit increase alongside smaller spending cuts — Obama began to lecture him.

"Eric, don't call my bluff," the president said, warning Cantor that he would take his case "to the American people." He told Cantor that no other president — not Ronald Reagan, the president said — would sit through such negotiations.

Democratic sources dispute Cantor's version of Obama's walk out, but all sides agree that the two had a blow up. The sources described Obama as "impassioned" but said he didn't exactly storm out of the room.

"Cantor's account of tonight's meeting is completely overblown. For someone who knows how to walk out of a meeting, you'd think he'd know it when he saw it," a Democratic aide said. "Cantor rudely interrupted the president three times to advocate for short-term debt ceiling increases while the president was wrapping the meeting. This is just more juvenile behavior from him and Boehner needs to rein him in, and let the grown-ups get to work."

On exiting the room, Obama said that "this confirms the totality of what the American people already believe" about Washington, according to a Democratic official familiar with the negotiations, and that officials are "too focused on positioning and political posturing" to make difficult choices.

Cantor insists he never interrupted the president, and was "deferential," seeking permission to speak.
The Hill ("Obama warns Cantor: 'Don't call my bluff' in debt-ceiling talks"):
A Democratic source familiar with the negotiations said the reports of a dramatic or abrupt walk-out by Obama were overblown, but the source acknowledged that the president "said what he was going to say, he got up and walked out."

"The climax of the meeting was the president basically saying 'what's happening in this room confirms what everybody across the country thinks about Washington, D.C.,'" the official said. "Which is that people are more interested in protecting their base and political positioning than solving problems."

The differing accounts came after the fourth day of White House debt talks in a row.

Cantor said Obama became "agitated" when the House majority leader said Republicans were now open to holding two votes to increase the debt ceiling between now and the 2012 elections, which the president has rejected.

Obama said he wanted congressional leaders to decide by Friday what approach to take on the debt limit. The Treasury Department has set an Aug. 2 deadline for lifting the ceiling, and ratings agencies are warning that they will downgrade U.S. credit if Congress doesn't act — an action that could send markets tumbling.

"We are very far apart right now," Cantor said he told the president. "I don't know if we can get there."

Cantor said he asked Obama if he would consider allowing two votes on the debt ceiling to give leaders more time to negotiate additional budget savings while avoiding a calamitous default.
ABC News' Political Punch ("Obama: 'This May Bring My Presidency Down, but I Will Not Yield' on No Short-Term Extensions"):
The president — frustrated — said there would be no short term extensions. It would be bad for the economy, and resolving the deficit issue certainly won't be easier next year in the throes of the political season, he said.

If we can't do this now, we won't be able to do it next year, he said.

"This process is confirming what the American people think is the worst about Washington," the president said. "Everyone is more interested in posturing, political position and protecting their base than in solving problems."

He said we can get a lot of savings "if the spirit changes from why we can't do things to why we can.

"I have shown enormous willingness to compromise and have taken huge heat for it," he said, "but my responsibility is to the American people and there comes a point when I need to say, 'Enough.'"

"It cannot all be on us," the president said, arguing that Republicans need to give on the revenue side of things as Democrats are willing to do so on spending cuts.

"Don't call my bluff," the president said. "I am not afraid to veto and I will take it to the American people."

If Moody's, the credit rating agency that announced a review of U.S. credit, downgrades the United States, President Obama said, "it will be a tax increase on every American."

There needs to be a long-term debt extension, the president argued.

"This may bring my presidency down, but I will not yield on this," he said.

Then he stood up.

"Enough is enough," the president insisted. "We have to be willing to compromise. It shouldn't be about positioning and politics, and I'll see you all tomorrow."

Then he left the room.
Now, frankly, I don't expect Congressmen to be deferential to the president. They're constitutional equals, not subordinates, and can interrupt all they want in private meetings. In this capacity, Obama is merely the nominal head of government. Only in ceremonial occasions, such as the State of the Union address, is the president acting as head of state and entitled to expect a certain amount of decorum.
But, whether he stormed out or merely decided that he needed to cool off and resume tomorrow, I understand Obama's frustration. He's already negotiated a budget deal with Congress authorizing the year's spending; having to renegotiate under a gun because an arbitrary "debt limit" has been reached shouldn't be necessary.
We're coming down to the wire on this and it doesn't look good.
WSJ's Washington Wire ("Alan Simpson: 'No Hope' of Debt Ceiling Agreement")
Former Sen. Alan Simpson (R., Wyo.), who co-chaired the White House's deficit reduction panel last year, said he has lost hope the White House and Congress will be able to reach a deal to raise the debt ceiling by Aug. 2.

" I don't think they'll get it done," he told Washington Wire. "I did for a long while. Now that I see the total rigidity of the parties, if that is going to continue, there's just no hope. I thought there would be."

Mr. Simpson led the White House's deficit-reduction panel with Democrat Erskine Bowles last year, and issued a proposal that would cut roughly $4 trillion from the deficit over 10 years. The package included spending cuts and the elimination of certain tax breaks and it won an unexpected level of support from both parties.

But the proposal ran into resistance in Congress, where many Republicans objected to the tax changes and many Democrats objected to changes in Social Security and Medicare.
Default is an unacceptable option, not least of which because it would exacerbate the debt problem that we're supposedly trying to solve. And the ratings agencies are issuing dire warnings:
Credit rating agencies moved closer to an unprecedented downgrade of the U.S. government's debt amid deteriorating talks in Washington, with President Barack Obama abruptly walking out of a key meeting Wednesday with Republicans seeking a deal to raise the federal borrowing limit.

Moody's Investors Service said it was reviewing the government's top Aaa bond rating for a possible downgrade, citing the "rising possibility" that the government's $14.29 trillion borrowing limit won't be raised soon enough to prevent the U.S. from running out of money to pay its bills.
Pimco boss Bill Gross:
An actual default — or even the threat of one — might set off a chain reaction that would raise Treasury bond yields by 25 basis points (a quarter of a percentage point) or more, pushing up the cost of debt throughout American financial markets. Moody's, the bond rating agency, just Wednesday put America's AAA credit rating on review for potential downgrade, roiling equity and bond markets alike in the aftermath. If an extra 25 basis points becomes the new benchmark, federal interest expenses might increase by $30 billion to $40 billion annually over the ensuing years as $1.5 trillion of new debt is issued each fiscal year, complicating efforts to narrow budget deficits.

[…]

The U.S. dollar is the global reserve currency, producing daily liquidity for trillions of dollars of transactions between trading nations. The greenback earned that status from decades of balance-sheet conservatism and strong economic growth. Now, as the ratio of federal debt to gross domestic product creeps closer to 100 percent — symbolic of AA, not AAA, status — and our growth rate remains mired at a 2 percent annualized rate, countries that have reserve surpluses (China and a host of petroleum exporters) are rethinking their currency preferences. A ratings downgrade or an actual default could reduce the willingness of these countries to do business in dollars, jeopardizing trade receivables and overnight letters of credit in the process. Recent defaulting sovereigns such as Argentina and Russia prove that commerce is difficult to restart once a seller is unsure of being paid in a currency that represents a store of value and is considered "money-good." If our government doesn't give a damn about the greenback dollar and its solvency, why should we expect others to protect its status as a reserve currency — a privilege that, by the way, lowers our interest expenses by an estimated $30 billion annually?
Yet both sides are clearly willing to risk it rather than give in.
Nate Silver ("G.O.P.'s No-Tax Stance Is Outside Political Mainstream") analyzes the polling thus far:
The Republicans in the House of Representatives are extremely conservative on fiscal matters and are significantly out of step with the public as a whole. Given that Democrats continue to control the Senate and the White House, and that their votes may be necessary in the House as well, this makes compromise nearly impossible.

Consider, for example, the poll that Gallup released today, which asked Americans whether they prefer tax increases or spending cuts as part of a deal. Preferences were weighted toward spending cuts:

Few Americans, however, take the view that spending cuts alone should be made in a deal, with no tax increases at all. In fact, only 26 percent of the Republican voters surveyed in Gallup's poll took that position, along with 20 percent of voters overall.
Now, this strikes me as an odd reading of that poll. A majority want the deal done only/mostly with spending cuts, compared to a paltry 11 percent for only/mostly tax increases. So, the Republicans are starting off on much stronger ground. But the "no compromise" position puts them in a 20 percent minority. The sweet spot is somewhere in the mostly with spending cuts/equally with spending cuts and tax increases middle ground, which enjoys 62 percent support.
Not only are the Republicans forcing this showdown but they're not even putting on a united front; Speaker John Boehner and Senate Leader Mitch McConnell don't have the support of their caucus for any concessions at all on the revenue side–even closing obvious loopholes–which means they can't bargain in good faith. Yes, the Democrats are technically just as willing to risk default to avoid giving in. But they're giving more and, again, they're not the ones playing chicken based on an arbitrary ceiling that's historically simply waived off.
This is shaping up much like the 1996 showdown between President Clinton and the Newt Gingrich-led Republican Congress which led to a government shutdown. Clinton initially got the blame for that one because the public siding with the GOP on spending cuts. But Gingrich and company overplayed a winning hand and ultimately paid a huge price for it.