Federal Budget Cuts That Exempt 65% of Spending
Ezra Klein dubs the Federal government "an insurance conglomerate protected by a large, standing army."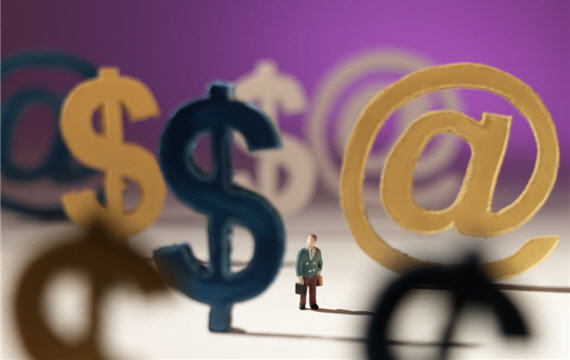 Ezra Klein looks at a pie chart of Federal spending and concludes, "it's an insurance conglomerate protected by a large, standing army."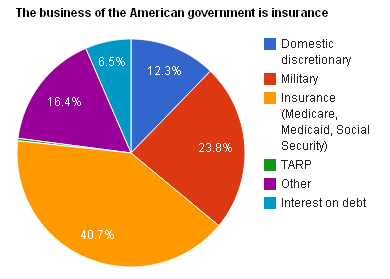 That's about right.  He's also right when he adds,
But you wouldn't know it to listen to the debate over the budget. When House Republicans talk about cutting spending and the Obama administration talks about freezing spending, neither group is talking about the vast expanse of the government's commitments. They're looking at a small corner of the budget, the 12.3 percent known as non-defense discretionary spending. The stuff that's not Medicare, not Medicaid, not Social Security or the military. It's the odds-and-ends, so to speak.

[…]

Politicians get this: Deficits are unpopular, and so are the specifics of deficit reduction. So they've developed a few ways to sound fiscally responsible without committing to anything politically damaging. The term "waste, fraud and abuse," for instance. There is plenty of waste, fraud and abuse in the government, but there's little agreement on what that waste, fraud and abuse is. Farm subsidies, for instance, don't seem like waste to farmers. The defense budget looks tighter to hawks than it does to doves. Gov. Mitch Daniels was right when he told the crowd at CPAC that waste, fraud and abuse are worth little when it comes to cutting the deficit. Focusing on the three items "trivializes what needs to be done, and misleads our fellow citizens to believe that easy answers are available to us."

Promising to freeze non-defense discretionary spending has also come into vogue. It has the dual advantages of sounding tough while remaining vague. But the single biggest chunk of that spending is on education — and education, according to the Pew poll, is the part of the budget that Americans are least interested in cutting. As more specifics of these freezes emerge, and more of the people who depend on or favor these programs protest, we'll see how they fare.
Now, I'd quibble that most people have no clue that education is mostly funded by states and localities, with the federal component tangential at best and counterproductive at worst. Then again, even if we finally achieved Ronald Reagan's promise of closing the Department of Education, it would amount to a rounding error compared to Defense and entitlements.
There's a lot of money that could be cut from the Defense budget; more if you include the off-budget spending on the wars in Iraq and Afghanistan. But it's politically difficult — and not just because most major military end items are produced across enough Congressional Districts to ensure plenty of allies on Capitol Hill.
And what Ezra calls "insurance" is surely the part of the budget that's most in need of control, because the Baby Boomers are about to retire and health care costs are skyrocketing. But we've just been through something called "health care reform" and managed to simultaneously not to address any of the real problems and create such a toxic political environment to ensure no one wants to touch the issue for a dozen years.
The best we can ever seem to screw up the courage to do is some manner of across-the-board spending freeze or "cut" — often defined in the Washington sense of small increases of spending that are less than the projected larger increase. It's pretty pathetic, really, but all we're likely to muster.