Fixing the Debates
Everyone is sick of the current approach. The candidates are looking for a new one.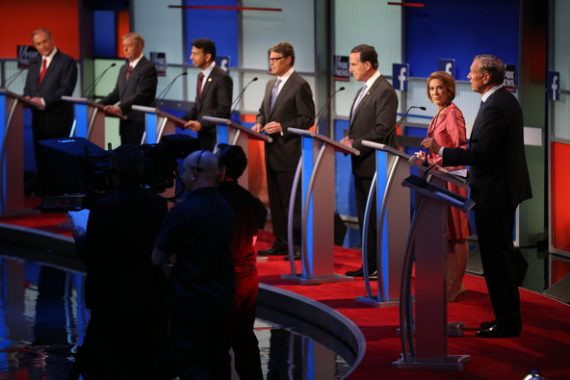 With viewers and candidates alike frustrated by the processes surrounding and format of the Republican presidential debates, calls for immediate reform are growing. Indeed, both front-running and non-factor candidates are pushing to do something, POLITICO reports.
Republican presidential campaigns are planning to gather in Washington, D.C., on Sunday evening to plot how to alter their party's messy debate process — and how to remove power from the hands of the Republican National Committee.

Not invited to the meeting: Anyone from the RNC, which many candidates have openly criticized in the hours since Wednesday's CNBC debate in Boulder, Colorado — a chaotic, disorganized affair that was widely panned by political observers.

On Thursday, many of the campaigns told POLITICO that the RNC, which has taken a greater role in the 2016 debate process than in previous election cycles, had failed to take their concerns into account. It was time, top aides to at least half a dozen of the candidates agreed, to begin discussing among themselves how the next debates should be structured and not leave it up to the RNC and television networks.

The gathering is being organized by advisers to the campaigns of Donald Trump, Ben Carson, Bobby Jindal and Lindsey Graham, according to multiple sources involved in the planning. Others who are expected to attend, organizers say, are representatives for Carly Fiorina, Mike Huckabee, Rand Paul, Marco Rubio and Rick Santorum. The planners are also reaching out to other Republican candidates.
It's telling that not only are the three leading candidates apparently frustrated with the current process but they're meeting with representatives from those currently at the "kids' table." One would think Trump, Carson, and Fiorina would want to winnow the field so that it's only the top five or six candidates on the stage, not figure out how to give Santorum, Jindal, and Graham a better shot. Presumably, then, the concern of the frontrunners isn't fairness and inclusion so much as the circus created by the minor television networks trying to create a spectacle out of the event.
Still, figuring out a solution that's better for all concerned would seem to be an impossible task.
Figuring that out could be contentious as each campaign has a number of different complaints about the process. Some — such as Bush and Paul — have griped about unequal speaking time. Others have complained bitterly about how polling is used to determine who qualifies for the prime-time and undercard debates. Some have insisted on giving opening and closing statements, despite the networks' desire to have the candidates spend as much time as possible clashing with each other on stage.

Jindal, who polls better in Iowa than he does nationally, has argued that criteria for determining who qualifies for debates should be based on early state polling, not just national surveys.

"Our continuous complaint is candidate exclusion and the delusional debate polling criteria. It's unacceptable," said Gail Gitcho, a Jindal spokeswoman. "Maybe this meeting will change that, maybe it won't. But we aren't going to shut up about it."

Graham's campaign has argued that there should be two debates — with two groups of seven or eight candidates selected randomly.
Carson said on Thursday that he had asked his staff to contact other campaigns to propose format changes, without sharing specifically what he thinks those changes should be.

"It's not about me and gotcha questions. It's about the American people and whether they have the right to hear what we think," Carson said before an event at Colorado Christian University. "The whole format was just craziness … You got to be really bad for the whole crowd to boo you." "I think the families need to get together here, because these debates as structured by the RNC are not helping the party," Carson campaign manager Barry Bennett told the Washington Examiner. "There's not enough time to talk about your plans, there's no presentation. It's just a slugfest. All we do is change moderators. And the trendline is horrific. So I think there needs to be wholesale change here."

Rubio, largely considered the standout of Wednesday's debate, said the questions from CNBC's moderators "became irritating" as the night wore on. "I think the bigger frustration you saw is that all those candidates onstage had prepared for a substantive debate. Everyone was ready to talk about trade policy and the debt and tax policies," Rubio said on Fox News. "And we're ready for that, everybody was. And then, you got questions that everyone got, which were clearly designed to get us to fight against each other or get us to say something embarrassing about us and then get us to react."
Now, it's debatable how much the candidates wanted to talk about substantive issues. And, certainly, "gotcha" questions aren't new or unique to the abominable hosts of CNBC. The "What if your wife were raped?" question posed to Mike Dukakis in the 1988 general election debates come to mind. Still, the Fox and CNBC debates, in particular, seemed very much about drawing attention to the moderators and their network vice helping Republican primary voters decide which of the multitude of candidates was best suited to carry their party's banner in the 2016 election.
PowerLine's Steven Hayward has some intriguing ideas for reform which, ironically, have the RNC at their center.
First, cancel the rest of the debates. Instead, announce that the RNC will host the debates and pick the panel of questioners. Allow any news organization that wishes to broadcast it. Most of the cable nets will do so, but who cares if they don't. Panelists should be party elders, such as Newt Gingrich, Bill Armstrong, and Mitch Daniels (who will be sure to ask hard questions on policy), or serious  journalists of the right, like George Will.

Second, given that so many voters these days are independents, why not have debates that mix up the candidates from both parties. How about a debate that draws six candidates (three from each party) by lot, and throws them all together during the primary season. Wouldn't it be fun as well a clarifying to see Rand Paul and Bernie Sanders on the same stage, not to mention Carly and Hillary.

Bonus idea: Since conservatives like competition, how about if Trump, Cruz, Rubio and one other announced they they were not only boycotting the next debate, but would set up a rival debate at the same time period, offering it to C-SPAN and several conservative websites to broadcast on streaming video.  They could give their slots up to Pataki, Graham and other "undercard" candidates. And then let's see who watches which debate.
While I find the notion of mixed-party debates intriguing and think they would be very useful in terms of informing voters and shaking up the process, they're something we should do in the off years. It's reminiscent of the old Firing Line debate specials that PBS would air every few months and a really good way to think through public policy ideas. But the objective at this juncture is to help the parties find their nominee; that's accomplished by having intramural exchanges.
I very much like the idea of taking it away from the networks. Fox is the most Republican-friendly but they nonetheless did an awful job with the first debate. Gingrich, Will, and company would indeed be more likely to ask substantive questions to help separate the field.
Further, while there are simply too many candidates in the current field, most of whom seem obviously to have no shot at the nomination, it's fundamentally problematic to exclude conventionally qualified candidates—former and sitting governors and senators—on the basis of poll numbers months before the first primaries and caucuses.  So, a creative approach such as competing debates or Graham's idea of two randomly-assigned smaller debates vice the current main and ancillary debate has some appeal.
While getting the candidates, who have different agendas and concerns, on board with a new process at this juncture will be difficult, all should be able to agree that we need better moderators and fewer candidates on the stage at one time.  Taking it out of the hands of the networks and putting it into the hands of the candidates or the party makes abundant sense, especially during primary season. Two debates of seven candidates makes more sense than two debates of ten and four. Or, hell, have more frequent debates and rotate among fields of four or five.  CSPAN and PBS would run them even if the for-profit networks balked.