Florida Curriculum Politics Update
A tale from the DeSantis' Woke Wars.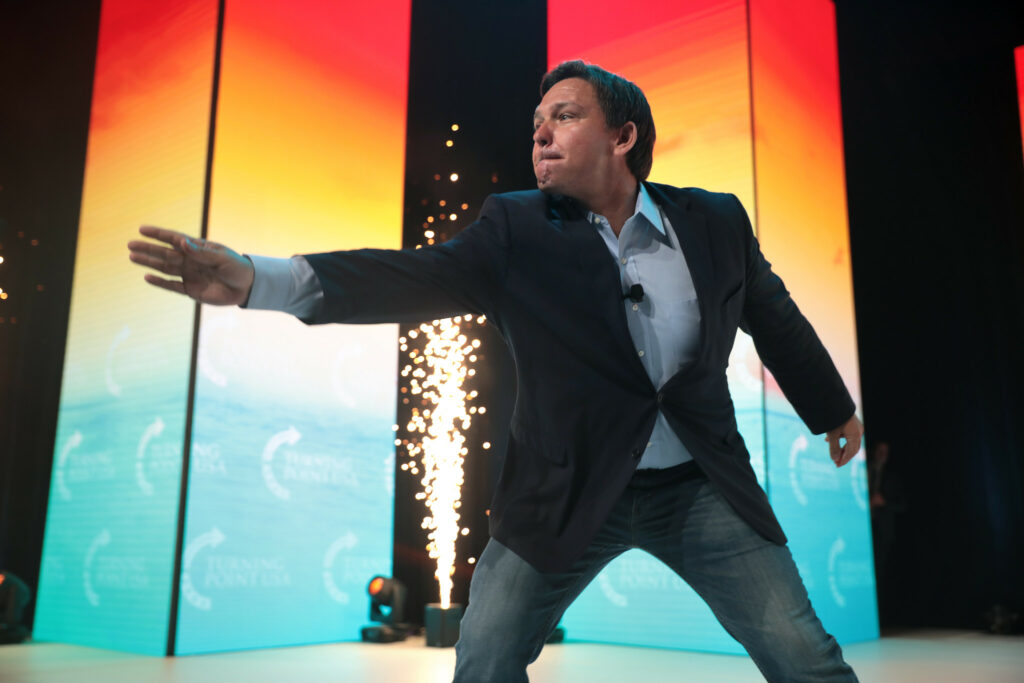 A few follow-ups on my post (Still Thinking about the Past) about the new Florida social studies curriculum that noted: "slaves developed skills which, in some instances, could be applied for personal benefit."
First, via NBC News: Most of Florida work group did not agree with controversial parts of state's new standards for Black history, members say.
A majority of the members of the Florida work group that developed new standards for teaching African American history opposed the sections that have recently drawn criticism, including that middle schoolers be instructed that enslaved people developed "skills" that could be used for their "personal benefit," three members of the work group said.

The members, who requested anonymity out of fear of reprisal, told NBC News that the majority did not want to include that change or a requirement that high school students be taught about violence perpetrated "by African Americans" when learning about events like the Ocoee and Tulsa Race massacres.

"Most of us did not want that language," one member said, adding that two of the 13 members of the group pushed to include those specific items.
Well, you know it is a healthy process when members of a curriculum committee fear reprisals for voicing opinions in public.
The work group members who spoke to NBC News said that only two members of the work group, William Allen and Frances Presley Rice, advocated for the criticized language. Allen and Presley Rice, both Black Republicans, released a joint statement last week defending the new standards as "comprehensive and rigorous instruction on African American history."

"The intent of this particular benchmark clarification is to show that some slaves developed highly specialized trades from which they benefitted," they wrote. "This is factual and well documented."

The members said Allen advocated for including that enslaved people benefited from skills that they learned, and Presley Rice pushed to include that students learn about "violence perpetrated against and by African Americans."

"People were very vocal" and questioned "how there could be a benefit to slavery," one work group member said about the language.

Allen, the member said, countered the arguments by using Frederick Douglass as an example.
I am unfamiliar with Allen, a political scientist. However, I did hear him interviewed by NPR, which struck me as evasive and tonally a bit odd (William Allen, who helped write Florida's new history standards, stands by curriculum).
INSKEEP: Let's drill down in the specific sentence that's gotten all the attention. It says, quote, "Instruction includes how slaves developed skills, which, in some instances, could be applied for their personal benefit." What did you mean by that?

ALLEN: I think the sentence explains itself. Its grammar is certainly perfectly clear when refers to the fact that those who were held in slavery possess skills, whether they developed them before being held in slavery, while being held in slavery or subsequently to being held in slavery, from which they benefited when they applied themselves in the exertion of those skills. That's not a statement that is at all controversial. The facts sustain it. The testimonies of the people who lived the history sustain it.
First, in a situation like this, is an utter dodge to state that "the sentence explains itself" and the side trip into grammar is almost comedic. Still, as I noted in my original post, getting into the bare facts of the sentence isn't the issue. The issue is why, given the limited number of words that the standards can contain, would there need to be any attempt to blunt the horrors of slavery. That is the key issue for me.
INSKEEP: Well, if you just look at that language, do you see anything that says that slavery is nice?

ALLEN: When I look at that language, I see what Booker T. Washington meant when he entitled his autobiography "Up From Slavery" rather than "Down In Slavery." I see what Frederick Douglass meant when he described his slave mistress teaching him to read only at the beginning because his owner put a stop to it. But that small glimmer of light was enough to inspire him to turn it into a burning flame of illumination from which he benefited and his country benefited.
To me, this is a nonanswer. If the goal was to demonstrate that the enslaved were human beings who had skills, that's fine. But that isn't what the standard says. It links being enslaved to skill acquisition and to benefitting the enslaved as a result. What that has to do with Frederick Douglas is lost on me (especially when he notes that training for the skill in question, reading, was quashed by an enslaver–this contradicts the standard being debated, in my view).
A second update on this story comes via Politico: DeSantis rocked by Black Republican revolt over slavery comments.
The bitter fight between Florida Gov. Ron DeSantis and Rep. Byron Donalds over a line about slavery in the state's revised African American history standards is infuriating several prominent Black conservatives.

[…]

"It raises eyebrows," said Diante Johnson, president of the Black Conservative Federation, who is supporting Donald Trump's presidential campaign. "Ron DeSantis is not the candidate for Black conservatives and that's what [he] constantly, constantly exhibits to us."

[…]

Donalds, who largely praised the guidelines as "good, robust and accurate," took issue with the idea of "personal benefit" and said that part is "wrong and needs to be adjusted." Donalds supported DeSantis for governor but has backed Trump in the presidential primary.

[…]

For another of DeSantis' rivals in the presidential primary, the controversy provided an opening. Sen. Tim Scott of South Carolina, who is among the five Black GOP members of Congress, added to the chorus of Black conservatives criticizing DeSantis for supporting Florida's revised educational standard.

"There is no silver lining in slavery," Scott said. "Slavery was really about separating families, about mutilating humans and even raping their wives. It was just devastating."

[…]

Rep. John James (R-Mich.) scolded DeSantis for responding to Donalds and Scott. "There are only five black Republicans in Congress and you're attacking two of them. My brother in Christ, if you find yourself in a deep hole put the shovel down."

[…]

CJ Pearson, a Black Gen Z conservative activist said, "I think it's absurd we're having a debate about whether slavery was good for Black people in 2023."
Meanwhile, waging World War Woke is not working for DeSantis as he had hoped. Via WaPo: Does DeSantis have a Florida problem? Trump dominates in the Sunshine State.