America's "Family Secret" or Just Plain Denial?
Slavery is an inextricable part of our past, whether we want to talk about it or not.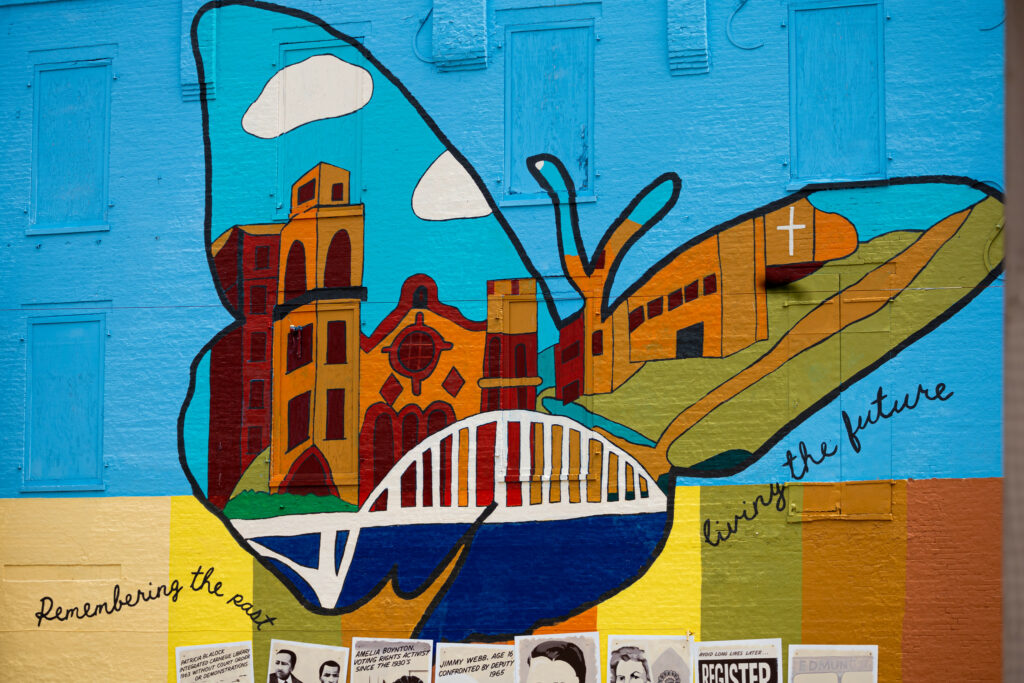 Reuters has a new multi-party series called Slavery's Descendants. Part I is entitled America's Family Secret and it has the following description: "More than 100 U.S. leaders – lawmakers, presidents, governors and justices – have slaveholding ancestors, a Reuters examination found. Few are willing to talk about their ties to America's 'original sin.'"
To be honest, I was surprised that the number wasn't higher (and I was not surprised that few wanted to talk about it). A main way to be exempt is to be, like Donald Trump, a person whose family migrated here after slavery was abolished. Of course, if your family was overwhelmingly from non-slave states or your ancestors were down the economic ladder, that would help as well. But considering that if one is in the elite now the odds are higher than some of your ancestors were elite as well, and given that there are more possibilities to find slaveowners as your family tree branch back in time, it is hardly surprising that a lot of our leaders have such histories.
After all, there were almost 4 million enslaved persons in the United States on the eve of the Civil War with a national population of around 31 million.
Here's the basic breakdown:
100 members of Congress, 28 of whom are in the Senate. "They include some of the most influential politicians in America: Republican senators Mitch McConnell, Lindsey Graham, Tom Cotton and James Lankford, and Democrats Elizabeth Warren, Tammy Duckworth, Jeanne Shaheen and Maggie Hassan."
Every living president except Donald Trump.
Justices Amy Coney Barrett and Neil Gorsuch.
11 of 50 governors. "They include eight chief executives of the 11 states that formed the Confederate States of America, which seceded and waged war to preserve slavery."
Not surprisingly, South Carolina really stands out:
South Carolina, where the Civil War began, illustrates the familial ties between the American political elite and the nation's history of slavery. Every member of the state's nine-person delegation to the last Congress has an ancestral link. The state's two Black members of Congress – Senator and Republican presidential candidate Tim Scott and Representative James Clyburn, a powerful Democrat – have forebears who were enslaved. Each of the seven white lawmakers who served in the 117th Congress is a direct descendant of a slaveholder, Reuters found. So too is the state's Republican governor, Henry McMaster.
My second reaction was that it didn't strike me as much of a "family secret" as much as that truth about our family that we know, but just don't like to acknowledge. But, of course, the reality is that we do have a tendency to treat it that way, both personally and collectively. We really, really would prefer to think of it as something someone else did that has nothing to do with us.
To be clear: I am not asserting some notion of guilt-by-ancestral association. But, at a minimum, understanding how a given person got where they are in the now matters. It all illustrates that as much as we want to pretend like we are all self-made, this is simply not true in the main. Even if we build most of the structure, we cannot pretend like some of the foundations upon which we build were not laid by those who preceded us. Some acknowledgment and understanding of that fact is requisite.*
There is, clearly, no doubt whatsoever about the existence of slavery, but there is a huge amount of denial about its significance in building (quite literally) the country. The underlying animosity aimed at things like the 1619 Project, Critical Race Theory, and even affirmative action programs is rooted, is substantially rooted in the utter inability that we have as a country to truly accept the reality of our past and its deep, long-term implications.
This fact is well illustrated by the fact that the growing attempts to bring attention to the role of the enslaved in the building of America at historical sites* have created some level of backlash.
If, like me, you visited various sites in Washington, DC, or Virginia in the 1980s and 1990s and then did so in the 2010s and 2020s, you saw very different presentations of the slavery issue, for example. A great discussion of this can be found in Clint Smith's book, How the Word is Passed in the chapter entitled "The Monticello Plantation." Indeed, just calling it the "Monticello Plantation" is a useful reorientation to remind us all that it wasn't just a cool house, but a working plantation run by slave labor. People often don't want to be reminded of the "family secret" and would prefer just to look at the cool house.
I mean, who wants to be reminded of all that ugliness on vacation? Best to just have a whitewashed history lesson, right?**
Look, I am not saying that there are legitimate debates to be had and criticism to be levied at all of those topics. But, the reality is that a huge portion of the pushback is based on a real unwillingness to come to grips with the past.
I have read various discussions of backlash at the prominence of the slave issue at these sites (and I have a nagging memory of some discussion of it here at OTB at some point, but I cannot find it–not that I looked all that hard), but I cannot recall, apart from Smith's book, a specific reference. So I went to Google Reviews and sorted from lowest rating and the very first one-star review that came up from a mere two months ago that reads as follows:
I was expecting a well thought out and informative tour of one of the greatest architectural triumph of the 18th century. Instead, I was treated with an obsessive overview of the lives of Thomas Jefferson's slaves and AA descendants. Not one mention of the Virginia Statute for religious freedom, which is arguably his most important contribution to American nation building.

I get that we can't ignore slavers, but the visitor experience of this house went too far ignoring Jefferson's accomplishments.

Don't do my man TJ like this.
And yes, that is just one review (but it is still telling that I didn't have to search very long at all to find one like this, as in mere seconds), and if you search the reviews on the term "slave" you find a number of additional reviews like the one above alongside others that praise the care taken on the subject.
If we want to get more empirical and less anecdotal, we can turn to a Gallup poll from 2021, which shows that the majority of Americans believe that the federal government should address the issue:
As the U.S. marks the Juneteenth holiday commemorating the emancipation of U.S. slaves, a recent Gallup Center on Black Voices survey finds that most Americans believe Black people today have been affected by the history of slavery in the U.S. and that the federal government has a responsibility to address those effects. Americans who think the government is responsible generally believe all Black Americans, rather than just those descended from slaves, should benefit from programs to address the effects of slavery. But the public is divided on whether the federal government should formally apologize for slavery.
This is largely positive, but some of the specific numbers point out that while a majority holds these views, the minority that does is not small. The most telling is that only 32% of white adults in the survey think that slavery impacts Blacks "a lot" today versus 63% of Black adults. Now, in fairness, a majority (62%) of whites think slavery matters a combined "some" and "a lot"–but that still leave a large minority of whites who think that slavery had no impact, or "not much" and since whites make up the majority of the population, those views heavily affect the overall numbers.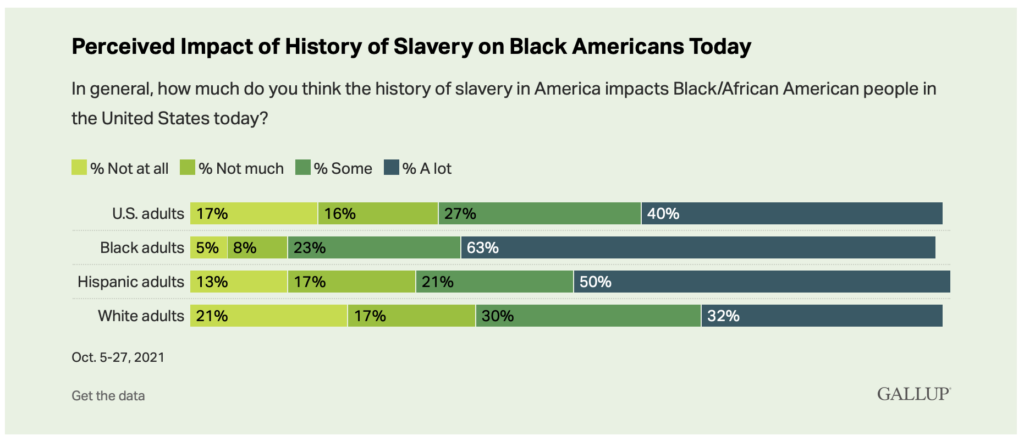 Back to the Reuter's piece, it was noted that a lot of the politicians identified did not want to comment for the piece, but one who did was Mo Brooks, a former US Representative from Alabama. But I note that his comments reflect both a common refrain that suggests a basic acknowledgment alongside some improper understandings of history.
One member of the 117th Congress with a slaveholding ancestor, former Representative Mo Brooks of Alabama, questioned what the country has to gain from revisiting the topic.

"Hopefully, everybody in America is smart enough to know that slavery is abhorrent," Brooks, who lost a U.S. Senate bid last year, said in a phone interview. "So the question then becomes, if everybody already knows that it's abhorrent, what more can you teach from that?"
I think this a fairly typical view, especially among more conservative persons: that yes, slavery was bad. We all know that so what else do you need to know?
Brooks also has what I think is an also typical view in some circles about both a gauzy view of what the practice was like alongside an assumption that the problem was dealt with a long time ago:
Note his attempt at trying to rationalize away the past:
In an interview, Brooks said he hadn't known that his ancestor, great-great-great-grandfather Thomas Ferguson, was a slaveholder. The farmer held one person – a 7-year-old boy – in bondage in Haywood County, North Carolina, according to the 1860 slave schedule. Reuters could find no records that show what became of the child's parents. Had they died? Or was the family separated, sold piecemeal to other slaveholders?

Brooks wondered whether there might be a happier story behind why the boy was listed on the schedule. "It is hard to envision what kind of labor a 7-year-old boy could do to offset the food, shelter, clothing costs of that 7-year-old boy. Which raises the issue of whether this ancestor had the boy in his possession in a traditional slavery sense, or was intending to set that boy free once he reached the age of majority," Brooks said.

Manumission was "highly unusual," said historian Marie Jenkins Schwartz, author of Born in Bondage: Growing Up Enslaved in the Antebellum South. "By the age of 7, an enslaved child would be expected to be productive," potentially helping around the slaveholder's house, watching their children, and learning agricultural or other adult jobs, she said. "They certainly didn't have a life of leisure."
Not only does his understanding of how enslaved children were treated need some serious work, but so too does his post-Civil War history:
Asked about his view on reparations, Brooks said the country has already paid one form of restitution, through a Civil War-era program proposed by Union General William Tecumseh Sherman.

"You may remember – what was it – 40 acres and a mule?" Brooks asked. "Now I'd have to check my history on how prevalent that was. But some freed slaves were given some amount of reparations, if my memory serves me correctly, and that is the origin of the phrase '40 acres and a mule.'

As Harvard's Gates wrote, Sherman did issue a special order in 1865 calling for liberated families under his protection to be issued land and, later, a mule. The property in question was a strip of land down the country's southeastern coast.

Had the order been followed, it would have provided Black Americans assets upon which to build new lives and perhaps pass wealth to subsequent generations.

But the program ended quickly, Gates wrote. President Andrew Johnson, the Southern sympathizer who succeeded Abraham Lincoln, "overturned the Order in the fall of 1865" and returned the land "to the very people who had declared war on the United States of America."

The United States has never paid restitution for slavery.
Ironically, Brooks sponsored the "Saving American History Act" aimed at the 1619 Project.
"The Federal Government," the bill reads, "has a strong interest in promoting an accurate account of the Nation's history through public schools and forming young people into knowledgeable and patriotic citizens."

"It's always good to know history," Brooks told Reuters.
Well, indeed.
Sigh.
The reason that CRT talks about structural racism and why terms like "white privilege" exist is to try and point out that the present was built on the past, both in terms of the physical spaces we occupy but also the existing social and political structures. And the past was one of chattel slavery in the United States until the Emancipation Proclamation of 1863 (and really not until the 13th Amendment in 1865).
It is worth pointing out that the origin of Juneteenth as a celebration is that the news of the Emancipation Proclamation did not reach Texas until June 19, 1865, a full two and a half years after it was issued. This is s very minor, but also very real, example of how the legal does not automatically translate into the real. The history of promises unfulfilled (e.g., forty acres and a mule), or delayed in being fulfilled is a major part of the history of Blacks in the United States. It may be easy to glide over the two and a half years as just a historical fact, but don't ignore that was two and half years of extra enslavement for somewhere near 200,000 human beings.
The next century is one of semi-slavery via sharecropping, using Black felons as labor, lynchings Jim Crow, the denial of the vote, and so forth. The Civil Rights Act is not signed into law until just shy of the 100th anniversary of the 13th Amendment.
And, it should be noted, that the push-back against CRT and, really, any teaching the highlights the actual history of the United States on topics of race and slavery (as opposed to a more heroic past narrative) is because many people don't want to engage in the "family secret" of the nation as a whole.
All of this seems relevant as we continue to struggle with issues like voting rights (including basic access to the polls as well as issues like felon disenfranchisement). It is relevant as we decide that race-based affirmative action is not constitutional for college admissions. It seems relevant as we try to assess why the federal prison population is disproportionally Black or why the Black poverty rate is twice that of whites. It is relevant to the question of police violence against Blacks. It is even relevant to ongoing discussions about Civil War memorials.
To range into public policy, and without even getting too complicated, we could invest a lot more in education, both K-12 and post-secondary in a way that was targeted at the economically disadvantaged. We could spend more on infrastructure, especially in areas with heavy minority populations. On a grander scale, it would help if our system of representative democracy was better representative of the population, to include a fairer representation of urban areas and interests.
But it is telling that something as simple as a formal apology for slavery (back to the Gallup poll) is an issue that most Americans, and a large majority of white Americans, oppose: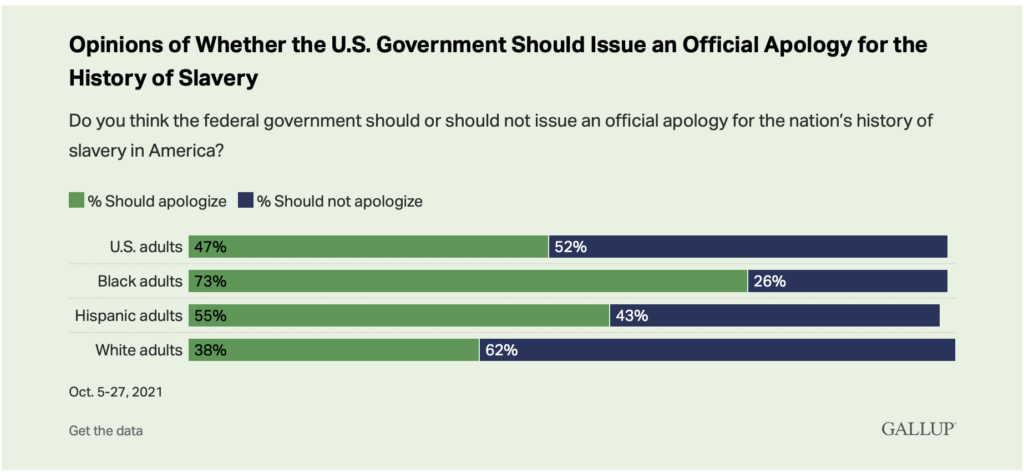 It really does make you wonder why this would be something to oppose, unless, of course, we just don't want to deal with the implications of the family secret.
On this issue, the Gallup write-up acknowledges:
In 2008, the U.S. House of Representatives passed a resolution that apologized for slavery, and the U.S. Senate adopted a different resolution in 2009. The two chambers have never passed a joint bill, so it is unclear whether those prior actions constitute an official government apology.
Oddly enough, I have no neat and tidy solution to these issues. I do think that we need much more honest acknowledgment of our past, even the uncomfortable parts. I would further note, for any who think otherwise, it is quite possible to love one's country and be critical of its past and frustrated with its present. Indeed, true love requires embracing the whole package, not just some idealized version.
Since I am finishing this post on Independence Day, let me state that my personal goal has always been to treat Jefferson's statement that "We hold these truths to be self-evident, that all men are created equal, that they are endowed by their Creator with certain unalienable Rights, that among these are Life, Liberty and the pursuit of Happiness.–That to secure these rights, Governments are instituted among Men, deriving their just powers from the consent of the governed" should be our ongoing aspirational goal, one not yet perfected, but one that we collectively seek to perfect as the years pass.
---
*No doubt some readers are utter masters of their own fates, and the past had no influence over them whatsoever in either the micro or the macro. Indeed, they created their own genes and innate talents out of raw will to go along with their utter lack of any reliance on the physical realities that preceded them. To them we can only give a wide berth for the rest of us can only stand in awe.
**See also, The National Parks Conservation Association, 'An Honest Reckoning.'
The emotional barriers to studying, researching and presenting the realities of slavery are also formidable. The subject is painful for many people, and those speaking candidly about this country's history of racism and cruelty may be met with resistance. Over the summer, online reviews of plantations in the South went viral after visitors griped about having to hear about slavery. "Would not recommend … Tour was all about how hard it was for the slaves," one reviewer wrote.

"Let's begin with the fact that your discomfort dictates that these things are not discussed," said Cheryl Janifer LaRoche, an assistant research professor at University of Maryland whose three-year ethnographic study of those enslaved at Hampton was scheduled to conclude in late 2019 (but may continue). "How do we get an honest reckoning of what went on at Hampton? Many people don't even know there was slavery in Maryland."