Still Thinking about the Past
On Florida's updated standards regarding slavery.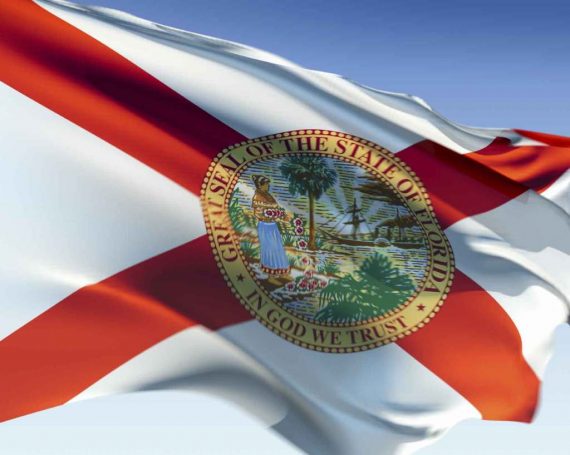 In a couple of recent posts, I have noted what I think are general, and in some cases very specific, deficiencies in our collective memory/understanding of our past as it relates to slavery and post-enslavement in the United States. It would appear that the state of Florida wants to help bolster my arguments. Revised social studies standards were approved in the state this week and there are some specifics in those standards that help underscore my point that we tend not to want to grapple with our past in ways that really underscore the effects of slavery, segregation, white supremacist terrorism, Jim Crow, and the like.
Specifically, here is the standard that has drawn the most attention straight out of Florida's State Academic Standards –Social Studies, 2023.

This strikes me rather straightforwardly as an attempt to soften the brutality of slavery. Let's face facts, while it is not factually incorrect to state that "slaves developed skills which, in some instances, could be applied for personal benefit" this papers over that the "instances" in which those "skills" could be "applied for personal benefit" is freedom. In other words, these alleged benefits could only be accessed if a) the slave ran away and was able to retain their freedom, b) the enslaver freed the slave, or c) slavery was abolished. Those are some mighty specific (and wildly unlikely) "instances."
This is a clear attempt to soften discussions of the brutality of chattel slavery. Just like attempts to assert that enslavers treated slaves well because they were valued property, this is an attempt to give white citizens, in particular, some rationalization fuel. It reminds me of things like being told that the descendants of the enslaved should be happy about the past, because they get to live in America.
Let's be clear: there are a lot of whites who want, desperately, to have an excuse to pretend like the past really wasn't as bad as we know that it was. After all, if it really wasn't that bad, we can stop worry about the ongoing ramfications of the past.
Likewise, there is this.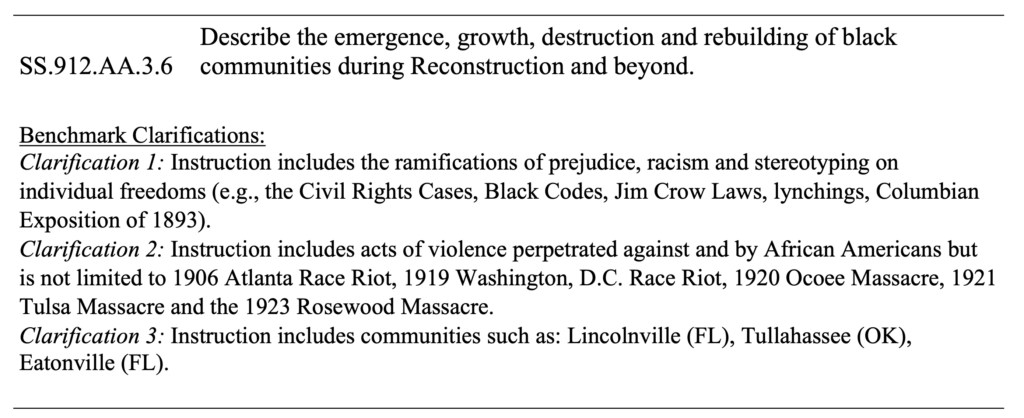 Now, credit where credit is due, the standard mentions several events that I have noted need to be more widely taught. The problem is the second clarification that asserts the need to include "acts of violence perpetrated against and by African Americans" (emphasis mine) which comes across to me as both-sidesing the situation in a way that, again, attempts to soft pedal reality. As best as I can tell, there is no clarification about "acts of violence perpetrated against and by British colonists during the American Revolution" nor about "acts of violence perpetrated against and by Allied forces in Europe during WWII."
In other words, if I am being too subtle, in violent clashes in which we already "know" who the good guys and bad guys are, no one feels the need to elaborate on the fact that the good guys also committed violence (or, to be more specific, the victims of violence also often respond in kind).
I will confess to not being an expert on the events listed above, but I am fairly certain they are all examples of white supremacist violence against Blacks. And yes, I expect any number of persons engaged in violence in those incidences, and that fact would likely be relevant to a lesson on these subjects. But the question is not whether the clarification is based in reality. The question is: why is this being specifically highlighted in the standards? What would be the motivation to, as I noted above, provide some way to make the past look not quite as bad for the whites in the narrative?
Let me underscore this point. Florida officials and other defenders of these standards have stated that the statements are factually accurate. I am not arguing that they are not. However, discussing their accuracy is a distraction. The issue is why these specific clarifications were chosen over hundreds of other clarifications that could have been entered. Why not "clarify" family separations? Why not point out that female slaves were often raped by their enslavers and that children that resulted were also enslaved? Why not clarify any number of hideous realities of chattel slavery instead of actively choosing to point to something that kind of sounds positive/builds in some excuses for the abuses?
I would also underscore that there was limited space in these standards for clarifications and therefore it is more than fair to scrutinize why specific choices were made (because it should not be forgotten that very specific choices are, in fact, being made).