Florida Governor's Race A Dead Heat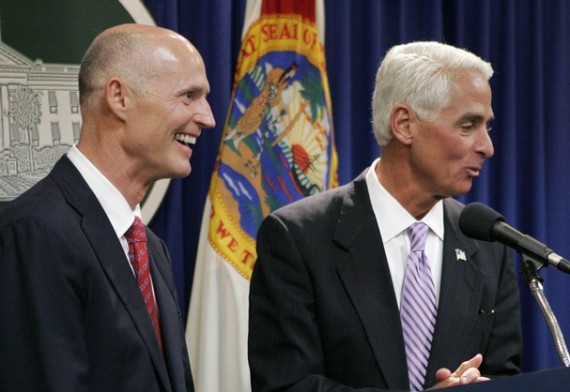 Since he entered the race last year, former Florida Governor Charlie Crist, now a Democrat, had been maintaining a strong lead in the polls over Rick Scott, his Republican successor. Crist's lead was so substantial that many had begin to write Scott off along with other vulnerable Republican Governors such as Pennsylvania's Tom Corbett. Over the last month or so, though, Rick Scott has unleashed a serious of negative ads aimed at Crist and, if the new Public Polcy Polling poll is any indication, they've had their intended effect:
Rick Scott's early negative advertising blitz against Charlie Crist has paid off in a big way. What was a 12 point lead for Crist over Scott last fall at 50/38 is now a tie race at 42% each, and the biggest thing that's changed over the last 8 months is how Floridians feel about Crist.

Scott remains an unpopular Governor, although his approval ratings are not quite as bad as they have been at some times during his term. Only 39% of voters think he's doing a good job to 48% who disapprove, up from 33/55 in late September. Those are still numbers that would generally have you headed for defeat. But Crist has seen a precipitous decline in his image with voters in the state. Where they were closely divided on him last fall with 43% rating him favorably and 42% unfavorably, now just 32% of voters see him in a positive manner with his negatives spiking to 48%.

Crist's image is basically unchanged with Democrats. But much of his residual appeal to Republicans has faded off- where he still managed a 25/65 rating with them last fall that's now declined to 16/74. And he finds himself upside down with independent voters as well at 24/49.

If there's a silver lining for Crist it's that the 16% of voters who remain undecided are not very big on Scott- he has just a 23% approval rating with them to 51% who disapprove. The undecideds also skew female, Hispanic, and younger and they voted for Barack Obama 43/39 in 2012. Even though Crist's support has been knocked down, Scott still hasn't been able to build his up below the l0w 40s. It's a toss up but there are at least a few things that could go Crist's way.
The RealClearPolitics Average still gives Crist a slight advantage, but that's largely a reflection of the influence of the earlier polls that had him in the lead. Another recent poll actually has Scott leading within the margin of error. As noted above, though, the good news for Crist is that Scott remains unpopular, which means there should be a some movement in the polls when he starts his own negative ad blitz. In either case, though, this will be a race to watch all the way to the end.