Florida State Employees Ordered Not To Refer To "Climate Change" Or "Global Warming"
Don't say "climate change" or "global warming" if you work for Florida's Department of Environmental Protection.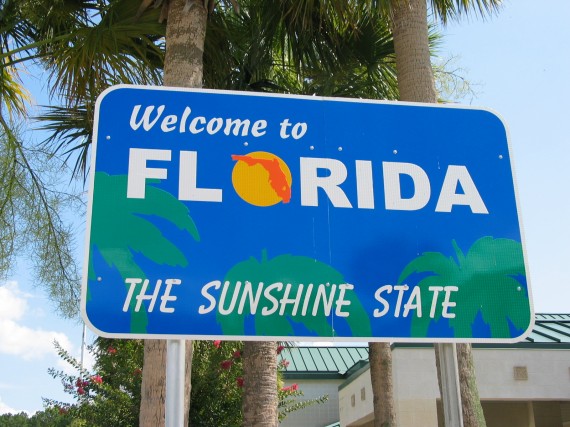 Employees of the State Of Florida working in departments dealing with the environment have apparently been ordered not to use to the terms "climate change" or "global warming" in official reports or statements:
The state of Florida is the region most susceptible to the effects of global warming in this country, according to scientists. Sea-level rise alone threatens 30 percent of the state's beaches over the next 85 years.

But you would not know that by talking to officials at the Florida Department of Environmental Protection, the state agency on the front lines of studying and planning for these changes.

DEP officials have been ordered not to use the term "climate change" or "global warming" in any official communications, emails, or reports, according to former DEP employees, consultants, volunteers and records obtained by the Florida Center for Investigative Reporting.

The policy goes beyond semantics and has affected reports, educational efforts and public policy in a department with about 3,200 employees and $1.4 billion budget.

"We were told not to use the terms 'climate change,' 'global warming' or 'sustainability,'" said Christopher Byrd, an attorney with the DEP's Office of General Counsel in Tallahassee from 2008 to 2013. "That message was communicated to me and my colleagues by our superiors in the Office of General Counsel."

Kristina Trotta, another former DEP employee who worked in Miami, said her supervisor told her not to use the terms "climate change" and "global warming" in a 2014 staff meeting. "We were told that we were not allowed to discuss anything that was not a true fact," she said.

This unwritten policy went into effect after Gov. Rick Scott took office in 2011 and appointed Herschel Vinyard Jr. as the DEP's director, according to former DEP employees. Gov. Scott, who won a second term in November, has repeatedly said he is not convinced that climate change is caused by human activity, despite scientific evidence to the contrary.

Vinyard has since resigned. Neither he nor his successor, Scott Steverson, would comment for this article.

"DEP does not have a policy on this," the department's press secretary, Tiffany Cowie, wrote in an email. She declined to respond to three other emails requesting more information.

"There's no policy on this," wrote Jeri Bustamante, Scott's spokeswoman, in an email.

But four former DEP employees from offices around the state say the order was well known and distributed verbally statewide.

One former DEP employee who worked in Tallahassee during Scott's first term in office, and asked not to be identified because of an ongoing business relationship with the department, said staffers were warned that using the terms in reports would bring unwanted attention to their projects.

"We were dealing with the effects and economic impact of climate change, and yet we can't reference it," the former employee said.

Former DEP attorney Byrd said it was clear to him this was more than just semantics.

"It's an indication that the political leadership in the state of Florida is not willing to address these issues and face the music when it comes to the challenges that climate change present," Byrd said.
For his part, Scott denies that there has ever been any such policy, but largely dodged questions about the extensive Miami Herald report linked above:
"First off, it's not true," Scott told reporters Monday, declining to elaborate when asked about the report.

"Let's look at what we've accomplished: We've had significant investments in beach re-nourishment, with flood mitigation," Scott said as he changed the subject to other environmental projects, a talking point from his 2014 reelection campaign.

Scott wouldn't say if the agency plans for or believes in global warming, but said he's a problem-solver. Asked if he thought global warming was a problem, Scott refused to say.

When he first ran for office in 2010, Scott said "I have not been convinced" about man-made causes of global warming. He said he needed "something more convincing than what I've read" to change his mind. The first-term GOP governor stopped talking about global warming during his reelection campaign against Democrat Charlie Crist, who was aided by a nearly $18 million effort from billionaire investor-turned-climate-change activist Tom Steyer's NextGen Climate Action Florida group.

"I'm not a scientist," Scott, echoing other Republicans, repeatedly said in 2014 when asked about climate change.
Notwithstanding Scott's denial, the number of current and former Florida DEP employees quoted in the report as confirming the existence of such a policy makes it hard to believe that this is a completely false report. No doubt, this has never been a written policy of any kind regarding this but it's not hard to believe at all that, from the time Scott's appointee took over the department, that there has been an unwritten policy designed to discourage employees of the department from emphasizing "climate change" and "global warming" in the material that they produced as part of their jobs on a regular basis, even if there was a legitimate scientific basis to do so. Given the fact that, as the report goes on to note, the reports that have been produced by the Florida DEP in the years since Scott became Governor don't use terms like "climate change" or "global warming" at all, it certainly seems plausible to assume that this is the result of a policy of some kind, regardless of whether it is "official" or has ever been written down. Notwithstanding the fact that Florida is one of the states that is likely to be most directly impacted by things such as rising sea levels in decades to come, then, it appears to be the policy of the department charged with protecting Florida's environment has been barred from discussing what most scientists believe to be the primary threats to the environment in the coming decades. That seems both stupid and shortsighted.
None of this is surprising, of course. Conservatives have been engaged in a war against the science of climate change for the better part of a decade now, if not longer, to the point where it is seemingly required for Republican politicians to either deny the science behind climate change or to dodge the question as best they can. As I've noted before, this seems to me to be the wrong way to approach this issue. While science is a democracy, the fact that the vast majority of scientists who have studied the issue agree that human activity has an impact on global climate, and that average global temperatures have been steadily rising, seems to be rather in contvertible. Denying those realities just tends to make politicians look as silly as the people who continue to content that the Earth is only 6,000 years old and that there is no basis for Evolutionary Theory. As I've noted before, the science of climate change shouldn't be a matter of political contention. Instead, we can and should have legitimate debates about what policies are appropriate to respond to it. Those debates are important, and are certainly less silly than banning people who work for the Florida Department of Environmental Protection from even mentioning the words "climate change."