'Fortunate Son' At The Concert For Valor. Not 'Anti-Military,' But Completely Appropriate
Some people didn't like the song selection at last night's Washington, D.C. concert for Veterans Day.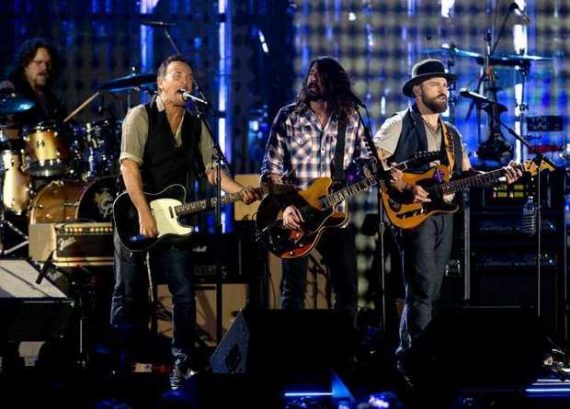 At one point during last night's Concert for Valor on the National Mall, Bruce Springsteen, Dave Grohl, and Zac Brown joined together for a performance of Creedence Clearwater Revival's Vietnam-era song Fortunate Son, and that didn't sit too well with some people:
Who would have thought that that Bruce Springsteen, Dave Grohl, and Zac Brown, accomplished musicians all, would be so, well, tone-deaf? But how else to explain their choice of song—Creedence Clearwater's famously anti-war anthem "Fortunate Son"—at the ostensibly pro-military "Concert for Valor" this evening on the National Mall?

The song, not to put too fine a point on it, is an anti-war screed, taking shots at "the red white and blue." It was a particularly terrible choice given that Fortunate Son is, moreover, an anti-draft song, and this concert was largely organized to honor those who volunteered to fight in Afghanistan and Iraq.
That comes, not surprisingly, from a writer at The Weekly Standard, and prompted this response from one person on Twitter:
Fortunate Son isn't "anti-military," it's anti-warmongering elites who pay no cost. i.e. the Weekly Standard. http://t.co/ieRSoXMqc0

— Matt Duss (@mattduss) November 12, 2014
The reality, of course, is that songs like Fortunate Son, as well as Springsteen's own Born In The USA do a better job of speaking about the truths that many veterans of war face than all of the patriotic anthems that the Weekly Standard author likely prefers on a day like yesterday, especially when speaking about the Vietnam era vets that both songs speak to. The fact that some people can't see that, and falsely paint the song as "anti-military," says more about the mindset of the author than anything else.
Just consider some of the lyrics:
Some folks are born made to wave the flag
Ooh, they're red, white and blue
And when the band plays "Hail to the Chief"
Oh, they point the cannon at you, Lord

It ain't me, it ain't me
I ain't no Senator's son
It ain't me, it ain't me
I ain't no fortunate one, no

(…)

Yeah, some folks inherit star spangled eyes
Ooh, they send you down to war, Lord
And when you ask them, "How much should we give?"
Oh, they only answer, more, more, more, oh

It ain't me, it ain't me
I ain't no military son
It ain't me, it ain't me
I ain't no fortunate one
Is there anything that more accurately portrays the reality of who fought in Vietnam, who sent them there, and who was able to get away with not fighting there? I can't think of another example off the top of my head, but it certainly hits the nail on the head. Indeed, it seems like it could be said to be just as accurate a statement of the forces that were sent to fight in Iraq and Afghanistan. How many of those men were the sons of Senators, Congressmen, or the members of the elite? Yes, there were some, but the harsh truth is that there were very few people among those who authorized and supported America's most recent wars who had family members with their lives on the line, just as it was in the war the Creedence Clearwater Revival was singing about. Pointing out that reality isn't "anti-military," it's pointing out a harsh reality that some people, like the Weekly Standard author, obviously don't want to be reminded of. Including this song in a concert to honor the men and women who have actually fought the wars that people like him have advocated wasn't an insult at all, it was entirely appropriate.
In any case, here's a brief snippet of last night's performance, which may or may not stay available on YouTube for much longer:
And here's the original: