Fox News & Sarah Palin Attack The White House Christmas Card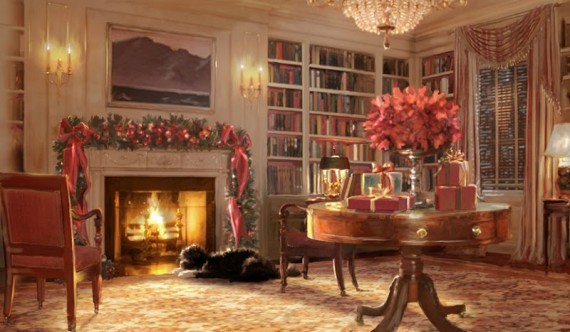 In the world of Fox News and Sarah Palin, the picture above, which graces the front of the 2011 White House Christmas Card isn't, well, Christmas-y enough:
The official White House holiday card makes no mention of the word 'Christmas' and instead focused on Bo the First Dog based on the wishes of the First Family.

"From our family to yours, may your holidays shine with the light of the season," read the inside of the card, featuring the presidential seal.

The front of the card features Bo the First Dog lounging by a fireplace. Holiday greenery is draped over the fireplace mantle. Holiday presents are placed on a table underneath a poinsettia – instead of a Christmas tree.

Los Angeles-based artist Mark Matuszak told the LA Times that he was asked to create the card by the White House social secretary.

"They wanted to do an inside shot, something home related," Matuszak told the newspaper. He said one of the ideas was to focus on the Obama's family dog. "So we thought, let's put Bo in front of a fireplace."
It's almost Norman Rockwell-ish. A table with presents and poinsettia. A fire in the fireplace. Candles burning. A mantle decorated with holiday garland. And Bo, the White House Dog. Who could possibly find something objectionable there?
Well, you know who:
Former Alaska Governor Sarah Palin told Fox News & Commentary that she found the card to be a bit unusual.

"It's odd," she said, wondering why the president's Christmas card highlights his dog instead of traditions like "family, faith and freedom."

(…)

Palin said the majority of Americans can appreciate the more traditional, "American foundational values illustrated and displayed on Christmas cards and on a Christmas tree."

As for the Obama card, she replied, "It's just a different way of thinking coming out of the White House."
I'm tempted to think that Sarah had been sippin' on a really strong batch of the Palin Family Egg Nog when she conducted this interview, but I'm afraid its pretty much consistent with every thing else she, and her ilk on the right, have been saying for four years now. Palin even repeated the charge that the Obama's first White House Christmas Tree included ornaments depicting Mao Tse-Tung when, in reality, it depicted Andy Warhol's famous painting. One wonders what Palin would have thought of the Christmas Card sent out by Ronald and Nancy Reagan in 1987, or this card sent out by President George W. Bush, which barely had any indication of Christmas at all (not to mention lacking a dog). For that matter I wonder what Palin has to say about the cards her employer sends out.
Why, it's almost like they're just making up crap to hate the President over now. But that couldn't be true, could it?
H/T: The Pajama Pundit