Obama's 37 Christmas Trees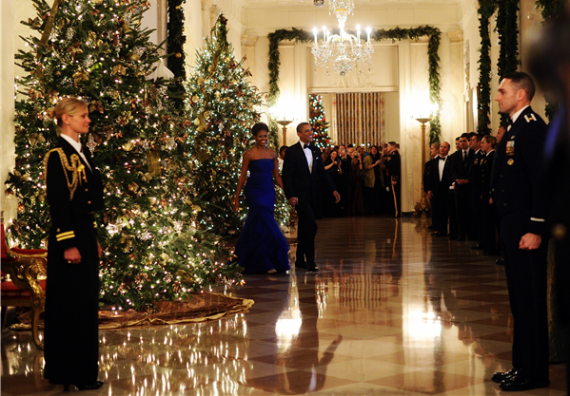 Glenn Reynolds points to Andrew Malcolm's IBD column titled "As Americans struggle, the Obamas make do with 37 Christmas trees."
The economy may be weak, unemployment strong and the first family soon to vacate the White House for another half-month of vacation in Hawaii.

But the Obamas have gone all out in decorating their house this year, including a nearly quarter-ton gingerbread White House.

They have also installed 37 different Christmas trees. Thirty of the trees are live, or were, including one nearly 19-feet tall from Wisconsin. Seven of the three dozen Christmas trees are artificial or homemade including, of course, one from recyclables.

[…]

Of course, every administration decorates the White House in some way for holidays, from green fountain water in mid-March to evergreen wreaths come December.

The extravagance of 2011's decorations, however, are striking given the widespread joblessness, pale economic growth, home foreclosures and grim outlook for 2012, not to mention the incumbent president's historically low approval rating heading into his reelection bid.

How simple, politically astute, symbolically helpful and cost-effective it would have been for the Obamas this year to say that in sympathy with so many struggling countrymen, they were curtailing holiday decorations to match the sacrifices of others.
One sees this sort of argument constantly, regardless of who's occupying the White House. It's invariably silly.
For one thing, these Christmas trees aren't for the Obamas. Rather, they're for the tens of thousands of tourists who line up in the cold to tour the White House during the holidays. Indeed, precisely because of all the tourists running around, this is the part of the White House that the Obamas are least likely to use.
For another, the notion that the best thing one can do during a bad economy is to cut back on spending is remarkably counterproductive. If anything, the Obamas should be laying on more Christmas trees–and so should the rest of those fortunate to have jobs. That's, after all, how people who sell and transport trees and ornaments put food on their tables. The last thing they need is for people to start cutting back in some bizarre show of solidarity.