Obama Declares War On Christmas By Having Too Many Christmas Trees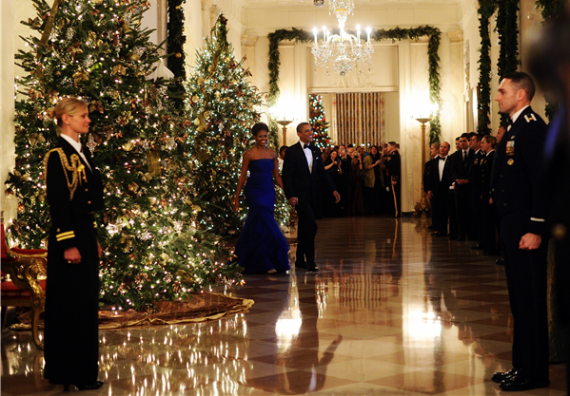 Apparently, there is such a thing as being in too much of a holiday spirit:
Amazing how a reelection can reshape an incumbent's thinking about many things. Now safely ensconced in the White House for 49 more months, the Obamas have decorated the place with 54 Christmas trees this year.

Even allowing for the usual Washington excesses with taxpayer money, that's a whole grove of Christmas trees.

"We have 54 trees in the White House," an excited Michelle Obama proudly told visitors the other day. "54!  That's a lot of trees."

In fact, the Obamas' 54 trees this year are almost 50% more Christmas trees than last year. That was during the campaign before Obama whispered a reminder to the Russians that he had to be careful until Nov. 6, when a victory would give him more "flexibility."

Now, how much carbon do you suppose those 54 trees could be sequestering had they not been chopped by this green president?

And no wonder Obama talked over the weekend about addressing tax increases before any of that annoying business about cutting spending to address this thing called the national debt, now having soared past $16.3 trillion..

In addition to 54 Christmas trees, Michelle Obama has overseen the placement of thousands of ornaments in public rooms. Many of the ornaments celebrate the Obama family dog, Bo, who seems to have become the First Family's favorite symbol of Christmas. Other decorations, including on the more prominent trees, were made by children in schools on U.S. military bases.

There's several hundred yards of garlands and wreaths all over the hallways and rooms. And, of course, a traditional gingerbread house that has working chandeliers and weighs about 300 pounds.
As James Joyner noted just under a year ago, this is a complaint we see all the time from partisan opponents of whoever happens to be PresIident of the United States at the time. Additionally, all of the  Christmas decorations at the White House aren't some personal vanity thing for the Obama family, they are  meant to be observed and enjoyed by the tourists and guests who will be visiting during the Holiday Season. It's a tradition that Presidents have followed for a long, long time, and attacking Obama or it is quite simply absurd. Additionally, I must note that last year, the White House had 37 trees. This year, they increased that by 45%. Isn't that good for the economy?
Of course, I have to think that this is one of those things where it really doesn't matter what President Obama does as far as conservatives are concerned.