Franken to Win Recount by 27 Votes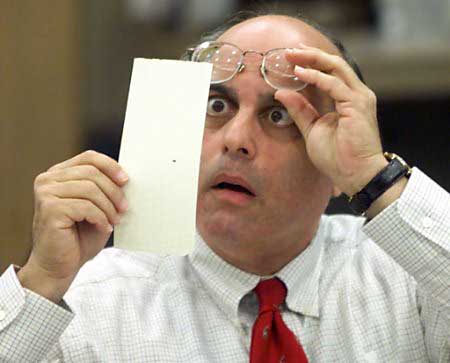 Nate Silver uses a combination of regression analysis and wild ass guesses drawn from limited information on challenged ballots to project that Al Franken will come out ahead by a mere 27 votes.  Kevin Drum, for one, is convinced.
While I'm less enthralled by Silver's savant status than most (many came closer to the results by informed guessing) I agree that a narrow Franken win is the most likely outcome.  Even though Norm Coleman was ahead by 600 votes with 100 percent of the precincts in, every action since then has resulted in Franken picking up votes.  I have little doubt that he'll manage to come out ahead in the end.
The amusing thing one finds in reading the comments thread at Silver's place is that, in addition to confusing the ability to apply basic statistical analysis with "genius," is the number of Democrats who think that, if Coleman does manage to win, it'll somehow be a "stolen" election — just like 2000!  This, despite the fact that Coleman and Bush both won the initial count.
For reasons I don't quite understand, Democrats seem to fare much better on recounts than Republicans.  Indeed, I can't recall a statewide election that ended closely and required either a recount or going to the absentee ballots in which the Democrat didn't come out ahead.
via Memeorandum