Free Tuition?
Why is Romney bragging on education policies a Democrat would love?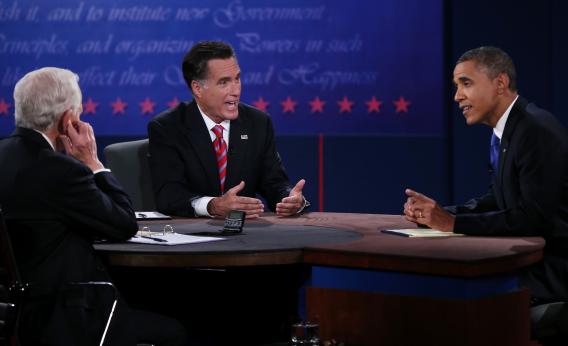 The following struck me from last night's debate (and not because it was a domestic policy issue in a foreign policy debate, although there is that as well):
MR. ROMNEY: The first — the first — and we kept our schools number one in the nation. They're still number one today. And the principles that we've put in place — we also gave kids not just a graduation exam that — that determined whether they were up to the skills needed to — to be able to compete, but also, if they graduated in the top quarter of their class, they got a four-year tuition-free ride at any Massachusetts public institution of higher learning.
(I think, by the way, that this came up in the previous debate in a portion I did not see).
Now, this strikes me as a profoundly weird thing for Romney to bring up because such a program is nothing but the government subsidizing higher education for a substantial amount of students.
Now, I suspect his response would be the same as his federalism dodge on RomneyCare:  i.e., that if states want to do that kind of thing, great, but it has nothing to do with his general governing philosophy and nor is it something that the federal government should be involved in.
I can acknowledge the philosophical position, and even the constitutional theory, that says that funding higher education is a state level issue, but one would think that if Romney is, indeed, the deficit-cutting, debt-reducing, fiscally responsible advocate for individual responsibility and accountability that he wouldn't be supportive of a give-away program.
Indeed, all of his bragging on Massachusetts public education is made all the more profoundly weird by the fact that the state is one of the states that spends the most on K-12.
In other words:  he is touting policy successes from his state that we would, in the context of US politics, associate with liberals/the Democratic Party.  It is one thing to make a federalism argument, it is another to basically endorse one set of policies/philosophies at the state level, but then utterly reject them at the national level (which is exactly what he has done with health care, for example).
And no:  this is not surprising given Romney's debate performances (and general approach to campaigning) but it is still pretty audacious.