Fukushima Proves Nuclear Power Awesome
Nuclear power remains far safer than coal. The awful events in Fukushima must not spook governments outlawing atomic energy.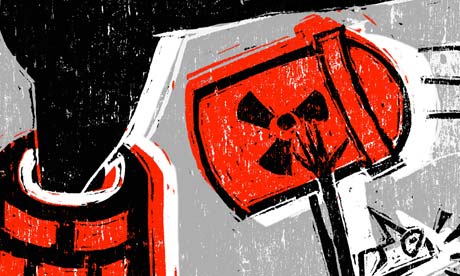 George Monbiot takes to the Guardian for a turn-the-conventional-wisdom-on-its-head piece worthy of Slate:  "Why Fukushima made me stop worrying and love nuclear power."
You will not be surprised to hear that the events in Japan have changed my view of nuclear power. You will be surprised to hear how they have changed it. As a result of the disaster at Fukushima, I am no longer nuclear-neutral. I now support the technology.

A crappy old plant with inadequate safety features was hit by a monster earthquake and a vast tsunami. The electricity supply failed, knocking out the cooling system. The reactors began to explode and melt down. The disaster exposed a familiar legacy of poor design and corner-cutting. Yet, as far as we know, no one has yet received a lethal dose of radiation.

Some greens have wildly exaggerated the dangers of radioactive pollution. For a clearer view, look at the graphic published by xkcd.com. It shows that the average total dose from the Three Mile Island disaster for someone living within 10 miles of the plant was one 625th of the maximum yearly amount permitted for US radiation workers. This, in turn, is half of the lowest one-year dose clearly linked to an increased cancer risk, which, in its turn, is one 80th of an invariably fatal exposure. I'm not proposing complacency here. I am proposing perspective.

If other forms of energy production caused no damage, these impacts would weigh more heavily. But energy is like medicine: if there are no side-effects, the chances are that it doesn't work.
He goes on to lay out that case in some detail. This is, I think, right. We simply must have energy and have yet to find a source that's without substantial downsides. Nuclear is safer than most and can be made much safer through better engineering and, oh, not building plants on major fault lines. But there will be spills.