Gaddafi's Days Numbered?
There are a number of signs coming out of Libya that indicate the regime is in serious trouble despite the willingness of the state to use violence on the crowds.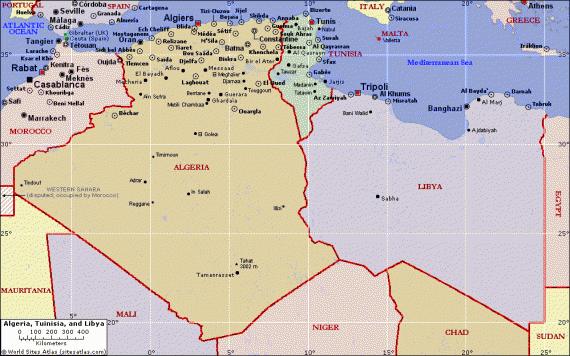 Via the BBC (Libya protests: Col Gaddafi under mounting pressure) comes several interesting elements in regards to the situation in Libya.
First, Gaddafi's son, Saif al-Islam Gaddafi  both attempts to throw a bone to the protestors, but also threatens more violence:
In a lengthy TV address, he offered significant political reforms but also vowed that the regime would "fight to the last bullet" against "seditious elements".
The excepts from his speech drips of desperation both in terms of the promises and the threats.
Second, the story indicates that part of the country was no longer under state control, and that Gaddafi acknowledged this in his speech:
He acknowledged, though, that the eastern cities of Benghazi and al-Bayda had fallen to the opposition.
This is a remarkable development.
Third, fracturing at the elite and tribal levels has started:
Libya's envoy to the Arab League, Abdel Moneim al-Honi, announced he was "joining the revolution" and its ambassador to India, Ali al-Essawi, told the BBC he was resigning in protest against his government's violent crackdown on demonstrators.
Mohamed Bayou, who until a month ago was chief spokesman for the Libyan government, said the leadership was wrong to threaten violence against its opponents.

"I hope that [Saif Gaddafi] will… change his speech to acknowledge the existence of an internal popular opposition, to enter into dialogue with them regarding thorough changes in the Libyan system," Mr Bayou said in a statement obtained by the Reuters news agency that appeared to indicate disagreement within the ruling elite.

In another blow to Col Gaddafi's rule, two tribes – including Libya's largest tribe, the Warfla – have backed the protesters.
Fourth, al Jareeza reports that some of the military appears to have defected:
Anti-government protesters in the eastern Libyan city of Benghazi have reportedly seized army vehicles and weapons amid worsening turmoil in the African nation.

Mohamed, a doctor from Al Jalaa hospital in Benghazi, told Al Jazeera that members of the military had sided with the protesters.
These are all clear signs that the regime's days are numbered.