Gallup: Obama In Close Races With Romney, Perry, Bachmann, And Paul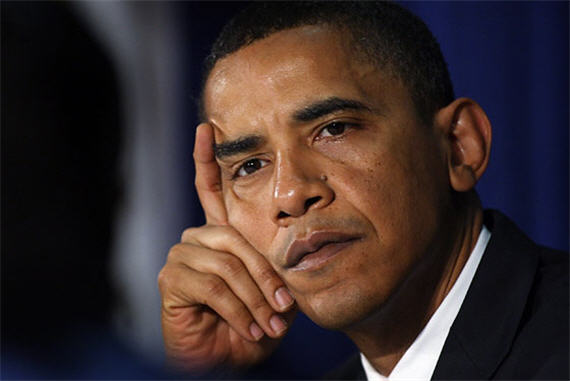 It's way too early, and the numbers are largely a reflection of the President's declining job approval numbers, but these numbers are nonetheless interesting:
President Barack Obama is closely matched against each of four possible Republican opponents when registered voters are asked whom they would support if the 2012 presidential election were held today. Mitt Romney leads Obama by two percentage points, 48% to 46%, Rick Perry and Obama are tied at 47%, and Obama edges out Ron Paul and Michele Bachmann by two and four points, respectively.

These prospective election ballots — measured Aug. 17-18, well over a year before the Nov. 6, 2012, election — indicate that the race for president at this point is generally competitive, with voters fairly evenly divided in their preference for giving Obama a second term or electing a Republican candidate. Even though the four Republican candidates tested have varying degrees of name recognition, they all fare roughly the same.

Gallup's generic presidential ballot — measured six times this year — shows a close race between Obama and a generic "Republican presidential candidate," although there have been survey-to-survey variations on this measure, with the Republican candidate leading in June and July.
President Obama's job approval rating is hovering around the 40% mark. This is below the rating that any of the six incumbent presidents re-elected since Eisenhower has had at the time of the presidential election. However, in August of the year before they were re-elected, Ronald Reagan (43%) and Bill Clinton (46%) were both below 50%. Obama's position of rough parity against leading GOP candidates shows that more Americans at the moment say they would vote for Obama than approve of the job he is doing — perhaps a reflection of the continuing lack of a strong front-runner on the Republican side.
Of course, it's worth noting that these numbers don't necessarily tell us much about November 2012, as past experience has shown:
In August 1999, Texas Gov. George W. Bush led Vice President Al Gore by 55% to 41% in a Gallup trial heat poll. That race ended up in a virtual dead heat, with Gore ultimately winning slightly more of the national popular vote than Bush.
In August 1995, Kansas Sen. Bob Dole was slightly ahead of President Bill Clinton in a Gallup poll, 48% to 46%. On Election Day 1996, Clinton beat Dole by eight points.
In August 1983, President Ronald Reagan was ahead of Democrat Walter Mondale by only one point, 44% to 43%. Reagan went on to beat Mondale in a 59% to 41% landslide in the November 1984 election.
In August 1979, incumbent President Jimmy Carter was tied with former California Gov. Reagan — each getting 45% of the vote. Reagan ultimately defeated Carter by 10 points.
As I said, this is largely a reflection of the fact the President's job approval numbers have been consistently declining over the past few weeks, which is itself a reflection of a declining economic situation: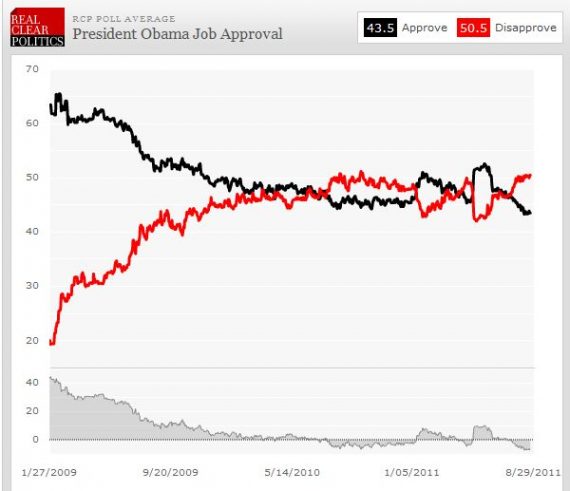 If this slippage continues, then it's apparent that President Obama is going to have a tough path to re-election next year.