Gary Johnson Hits 12% In Latest Fox News Poll
Libertarian Party Presidential nominee Gary Johnson is doing quite well in the polls, when pollsters bother to include him.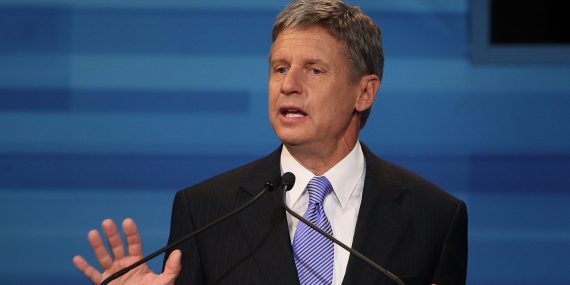 Reason's Brian Doherty notes that Libertarian Party Presidential nominee Gary Johnson is garnering a surprisingly high 12% in a recent Fox News poll, a number that is close to being high enough to qualify him for an invitation to the fall Presidential debates:
The Libertarian Party's presidential candidate Gary Johnson has long insisted that the presidential debates are key to his ticket's success. And getting into the debates, through the front door anyway, requires polling at 15 percent in five (as yet unnamed) reputable national polls.

He's inching closer to that goal with today's announcement of his highest even national poll total, with 12 percent from Fox.

He was only at 10 in their last presidential poll including him in May. Since that poll, Clinton stayed the same against him and Trump with 39 percent, while Trump fell from 42 percent to 36 percent. (In Utah, Johnson's currently polling at 16 percent.)
As Johnson has noted in the past, the media has often placed third-party candidates in something of  Catch-22 in that they can't qualify for debates if they don't make some kind of showing in the polls. As a general rule, this is a reasonable standard by which to determine who gets invited to a debate but the Catch-22 comes in the fact that, many times, polling companies don't bother including third-party candidates in their polling. News organizations in turn say that the reason they don't provide much coverage to such candidates is because they don't show up in the polls. Thus you have a viscious circle. The polling companies don't include the third-party candidates in part no doubt because the media doesn't pay much attention to them, the media doesn't pay attention to them because they don't register in the polls, and they don't get invited to debates because they don't meet the debate criteria. It's all quite frustrating.
I've made my own support for Johnson clear in the past. I supported him in 2012, and will do so again in 2016, not so much because I think he can win, indeed even he clearly recognizes that the odds of that happening as being essentially zero, but because his candidacy stands in start contrast to the offerings of either of the major political parties. This is especially true in a year when those offerings include a demagogue who appeals openly to racism and xenophobia, and a woman whose candidacy includes the not entirely appealing prospect of returning to the politics of the 1990s. Obviously, the current polling showing him doing better than any previous Libertarian Party nominee is likely based as much on a rejection of either of the two major party nominees as it is on an affinity for Johnson himself, but that is part of the reason why he is the right candidate for a year such as this. Even leaving ideology aside, Johnson is the most qualified nominee the Libertarian Party has ever put forward, and he is the best conduit to carry the party's message, which is not represented in either major party at this point, to the public. In no small part this is due to the fact that his status as a former Governor and Republican Presidential candidate, which has made it easier for him to get access to the kind of media coverage that Libertarians have not typically gotten. The same is true of his running mate, former Massachusetts Governor Bill Weld, who also ran for Governor as a Libertarian in New York in 2006 before dropping out of the race. For a long period in the 1980s and 1990s, Weld was courted by Libertarians to run for President, but he consistently demurred. The fact that he agreed to join Johnson on the ticket in a year when the LP has a good chance of attracting the votes of disaffected and rebellious Republicans is quite significant, and could help the LP win support in the Northeast and among moderate Republicans and conservatives repulsed by the populist radicalism of Donald Trump, but unwilling to support Hillary Clinton.
Four years ago on his own, Johnson garnered more votes than any Presidential nominee in the forty-four year history of the LP. This year, his goals are far more substantial, and include an invitation to the Presidential debates and far more attention for libertarian ideas in the media. So far at least, he seems to be doing well in both regards. If he succeeds, he may not become President but perhaps he will have made it possible for new ideas to be discussed in the public square and in the media, and that can only be a good thing for representative democracy as a whole.