Gates Warns Europe: America Won't Defend You If You Won't Help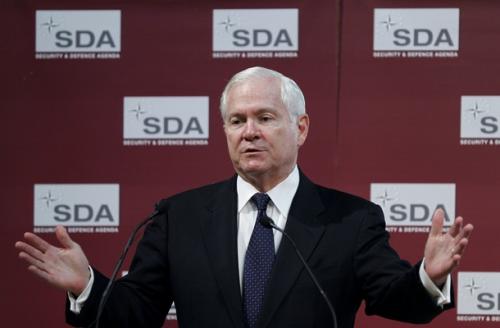 Rumors that Robert Gates would deliver a provocative farewell to the European allies were well founded. Going further than he had to date, he bluntly warned that NATO has become a two-tiered Alliance and said it faces a "dim, if not dismal" future.
Gates has been displaying increasing frustration with the European Allies and pointedly criticized Germany, Poland, Spain, Turkey, and the Netherlands for not carrying their weight in Libya Wednesday. He took it up a notch in today's speech at SDA.
I summarize his remarks, which I wholeheartedly endorse, in a New Atlanticist post titled "Gates: NATO a Two-Tiered Alliance with a Dim, Dismal Future." I do, however, push back a bit, noting:
On the other hand, America remains a superpower that sees its interests as truly global. Our defense budget will likely remain massive for decades to come, simply because the ability to project power any where, any time is central to our self-conception. It's not at all clear that there would be significant cuts in America's defense budget if the Europeans suddenly stepped up. To paraphrase Cap Weinberger, They cut, we spend. They spend, we spend.

It would obviously have been a great relief if the Europeans had shouldered more of the burden in Afghanistan. But it was our fight, not theirs; they were there, in most cases against the strong wishes of the people who elected them to office, because we asked. We'd have fought it exactly the same way in their absence. In that light, every European and Canadian soldier was a bonus.
Libya is a different story. Click through if you're interested.
Photo credit:Reuters.