Gay Soldier Booed at GOP Debate
Stephen Hill, a US soldier serving in Iraq, was booed by some members of the audience at last night's Republican debate.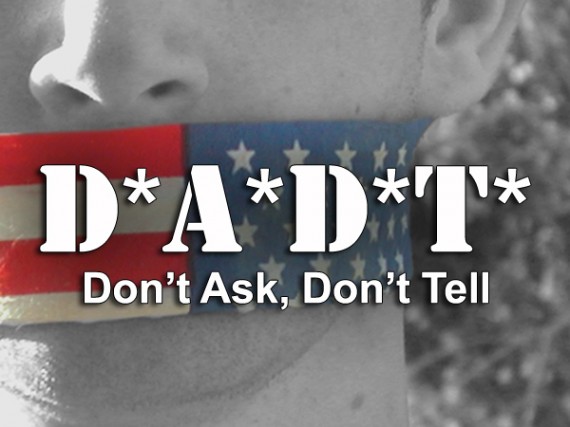 Stephen Hill, a US soldier serving in Iraq, was booed by some members of the audience at last night's Republican debate.
The Hill ("Gay soldier booed at GOP debate, candidates stay mum"):
Some members of the GOP debate audience booed a gay soldier who asked via video whether the Republican candidates would reinstitute the recently repealed "don't ask, don't tell" policy of banning openly gay soldiers.

After Stephen Hill, who is serving in the army in Iraq, asked his question, a handful members of the audience booed loudly. None of the Republican candidates responded to the audience's reaction.

Former Sen. Rick Santorum (R-Pa.) answered that "Any type of sexual activity has no place in the military" and that he would return to the policy of requiring gays and lesbians to stay silent on their sexuality or get thrown out of the military. His response garnered loud applause.

When pressed with what he would do with soldiers who have now come out, he said "What we're doing is playing social experimentation with our country right now and that's tragic" but said that he would not throw out soldiers who have recently come out because of the policy's end.

This is not the first time the Republican audience has had a controversial reaction during a GOP debate and the candidates have avoided addressing their reactions. At the last debate, when asked if a dying man who had not bought health insurance should be allowed to die, many in the audience clapped, cheered and shouted "yes."
Mediaite ("Republican Debate Crowd Boos Steven Hill, Gay Soldier Serving In Iraq"):
At Thursday night's Fox News/Google Republican Presidential Debate, the crowd was once again the star of an ugly moment. Moderator Megyn Kellyintroduced a question via Youtube from Stephen Hill, a soldier who's currently serving in Iraq. When the man asked what the candidates would do about the US policy on gays in the military, like himself, several in the crowd booed loudly. When candidateRick Santorum replied that he would reinstate DADT, a thunderous ovation followed.

"Do you plan to circumvent the progress that has been made for gay and lesbian soldiers in the military?" Hill asked, to several loud boos, and silence from the rest of the crowd. There was no applause when his service to our nation was mentioned, and the crowd thunderously approved of Santorum's answer, that he would reinstate "Don't ask, don't tell."
It's difficult to tell from the video how isolated the booing was:
Mediatite's Tommy Christopher passes along Sarah Rumpf's first-hand account that "Only a few booed. Many shushed & hissed at booing." There was indeed some stirring after the boos, so I'll take her report as valid.
At any rate, I'm less concerned about the horrible reaction of a few yahoos than I am about the people vying to be the next commander-in-chief. One would hope that, regardless of their policy position on gays in the military, that they would at least have some respect for a soldier in a war zone and condemn the outrage of booing him. Then again, I don't know what the acoustics of the room are; something audible on television, which relies on microphones throughout the room and careful processing by a production team, may not be audible on the stage.
Rick Santorum once again proved what a weird human being he is. Aside from the Mike Dukakis-like tone deafness of his response to the question being humanized rather than theoretical, the notion that  "Any type of sexual activity has no place in the military" is simply bizarre.
GOProud says Santorum owes Hill an apology:
That brave gay soldier is doing something Rick Santorum has never done – put his life on the line to defend our freedoms and our way of life.  It is telling that Rick Santorum is so blinded by his anti-gay bigotry that he couldn't even bring himself to thank that gay soldier for his service.

Stephen Hill is serving our country in Iraq, fighting a war Senator Santorum says he supports.  How can Senator Santorum claim to support this war if he doesn't support the brave men and women who are fighting it?
As a tweet that's making the rounds this morning puts it, "That wasn't a "gay soldier" you booed last night; it was an AMERICAN SOLDIER."
UPDATE: Dave Weigel, who also was reminded of Dukakis' painful response to the "What if your wife were raped" question, has more background on this and says "A boo is not 'a crowd booing.'" I think that's right.
The more I think about this, the less it's about a couple people booing a soldier asking a respectful question from a war zone than it is about Santorum and the crowd's reaction to him. While those in attendance mostly reacted negatively to the despicable jerk(s) who booed Hill, they enthusiastically applauded Santorum's nonsensical answer.
I'm repeatedly asked by commenters how it is I can continue to align myself with a party where such sentiments are so prevalent. I'll likely write a longer piece on that at some point. The short answer is that, while I've grown further isolated from the rural, evangelical base of the party, I'm still closer to the party elites on policy issues than I am to the Democrats. We may have reached a turning point on that with the 2010 elections. Thus far, though, Republicans have nominated much more moderate figures for the presidency. My money is still on Mitt Romney, who I would likely support over President Obama, for 2012. (My preference would be Jon Huntsman, but that ain't gonna happen.) If it's Rick Perry, I'll have a decision to make. Thankfully, Bachmann and Santorum appear to still be fringe candidates.