George H.W. Bush Reportedly Voting For Hillary Clinton
According to one report, the GOP's longest living former President plans to vote for a Democrat this fall.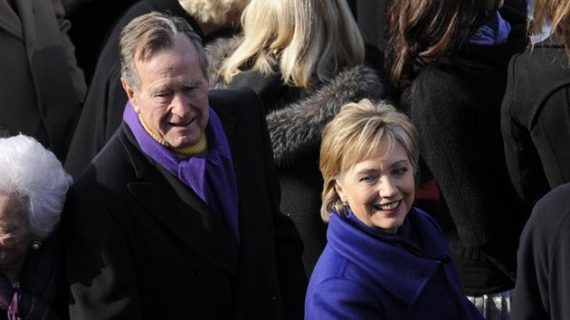 Politico is reporting that former President George H.W. Bush who, along with the rest of his family has been largely silent during the Presidential election, plans to vote for Hillary Clinton instead of his party's nominee Donald Trump:
Former President George H.W. Bush is bucking his party's presidential nominee and plans to vote for Hillary Clinton in November, according to a member of another famous political family, the Kennedys.

Bush, 92, had intended to stay silent on the White House race between Clinton and Donald Trump, a sign in and of itself of his distaste for the GOP nominee. But his preference for the wife of his own successor, President Bill Clinton, nonetheless became known to a wider audience thanks to Kathleen Hartington Kennedy Townsend, the former Maryland lieutenant governor and daughter of the late Robert F. Kennedy.

On Monday, Townsend posted a picture on her Facebook page shaking hands next to the former president and this caption: "The President told me he's voting for Hillary!!"

In a telephone interview, Townsend said she met with the former president in Maine earlier today, where she said he made his preference known that he was voting for a Democrat. "That's what he said," she told POLITICO.

Asked about Townsend's post, George H.W. Bush spokesman Jim McGrath in an email replied, "The vote President Bush will cast as a private citizen in some 50 days will be just that: a private vote cast in some 50 days. He is not commenting on the presidential race in the interim."

George H.W. Bush and former First Lady Barbara Bush have stayed out of the political debate since campaigning earlier this year for their son Jeb's unsuccessful bid for president. Neither George H.W. Bush nor his son, former President George W. Bush, attended this summer's Republican National Convention in Cleveland where Trump accepted the nomination.
Consistent with his long-standing tradition of staying largely out of the political debates of the day since leaving office in 1993, Bush is unlikely to say anything further on the matter between now and the election, and you can interpret Kennedy Townsend's however you wish. The fact that none of the senior Bush's, including both former Presidents or their wives have given any indication that they support Donald Trump. Jeb Bush, who spent much of last year and the winter and spring being attacked by Trump during his run for the Republican nomination, has similarly remained mostly quiet about the Presidential race since dropping out earlier this year. In fact, what the Bush family really think of Donald Trump can largely be judged by the fact that the family did not attend or participate in the Republican National Convention for the first time in many years. Additionally, reports over the spring made it clear that there was very little goodwill for Trump within the family based on his conduct during the primary. So far, the only exception to this rule has been George P. Bush, the eldest child of Jeb Bush, who was elected Texas Land Commissioner in 2014 and widely seen as representing the next generation of the Bush clan in the political world and who endorsed Trump early in the General Election cycle in roughly the same manner as other elected Republicans have.
There have, of course, been a plethora of Republican officials and former Presidential advisers who have said they will not vote for Trump, and a few who have said they will vote for Clinton, including several former top advisers to the elder President Bush such as former National Security Brent Scowcroft. At the same time, as Philip Bump notes, even the fact that Bush 41 has declined to endorse his party's nominee is a notable exception to recent history. As Bunp notes, since the Truman Administration no living former President has failed to eventually endorse their party's nominee for President with the exception of Richard Nixon, who apparently didn't endorse anyone in the years after he left office in 1974, for what are largely understandable reasons. In fact, as Bump notes, Trump has secured the endorsement of only two of the five living most recent Presidential nominees from his party, and none of of the living former Presidents. The fact that both of those living former Presidents are named Bush makes it unlikely that he'll be getting one any time prior to Election Day. In the end, that fact is as noticeable, and just as significant, as the question of whether or not Bush 41 ends of voting for Hillary after all, which we'll likely never know unless he says something publicly.