George W. Bush To Campaign For Republican Candidates
After spending most of his post-Presidency on the political sidelines, former President Bush is hitting the fundraising trail for GOP candidates in Texas and Florida.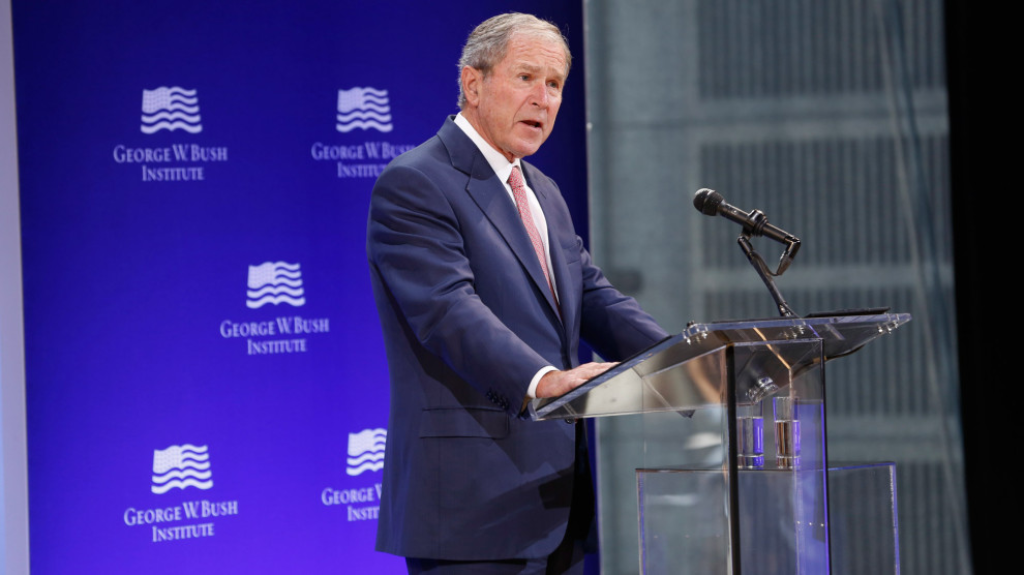 In a move that would have been seen as unlikely as recently as a year or two ago, former President George W. Bush is hitting the fundraising trail for some Republican candidates:
Former President George W. Bush is hitting the fundraising circuit for a handful of Republican House and Senate candidates, joining the party's push to maintain its congressional majorities.

Bush has maintained a low profile since leaving office in 2009. Yet as the midterm campaign season enters its final weeks and the party braces for the prospect of a Trump-fueled wave, Bush — who has been critical of the president — is putting his muscle behind Republicans in heated races.

Bush's tour will begin Wednesday morning, when he holds a closed-door event in Fort Worth, Texas, for GOP Rep. Will Hurd, a second-term congressman who faces the hurdle of seeking reelection in a West Texas district that President Donald Trump lost in 2016.

Then, on Friday, Bush will travel to Florida to hold a pair of events for Florida Gov. Rick Scott, who is in a pitched battle for a Senate seat. One of the fundraisers will benefit New Republican, a pro-Scott super PAC.

Bush will return to the circuit next week, when he headlines a Sept. 19 fundraiser in Fort Worth for North Dakota Senate hopeful Kevin Cramer. The following day, Bush will hold a Dallas fundraiser for Texas Rep. Pete Sessions.

Sessions, who occupies a rapidly diversifying suburban Dallas district, is embroiled in one of the most competitive races in the country. Sessions has said that he's eager to campaign with Bush, who has a personal interest in the contest: He is a resident of the district, and it's where his presidential library is located.

Then, next month, Bush will host fundraisers for two Senate hopefuls — Josh Hawley of Missouri and Mike Braun of Indiana.
Unlike President Obama, who last week hit the campaign trail for Democratic candidates with a series of public speeches, President Bush appears to be limiting his campaigning to private events and high-dollar fundraisers. Nonetheless, it's a marked change for a former President who had largely spent the eight years of the Obama Administration, as well as the 2016 Presidential campaign, on the sidelines. Outside of a few campaign appearances with his brother Jeb Bush during the race for the Republican nomination, Bush has largely stayed out of politics since leaving office in 2009. In no small part, of course, that was due to the fact that Bush left office with relatively low approval ratings and a Republican Party that wasn't exactly eager to associate itself with him. The fact that some candidates at least are willing to ask for his help is interesting for this fact alone since it appears to show something of a rebirth for the former President inside the Republican Party. Of course, the fact that Republicans are now being led by Donald Trump may have something to do with that. Compared to Trump, the Bush 43 years aren't looking quite so bad.