Get Ready For The Subpoenas If The GOP Wins In November
If Republicans regain control of Congress, you could be seeing a lot of scenes like this on your television for the next two years.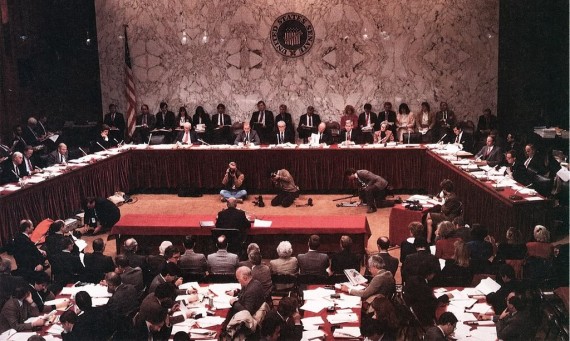 Notwithstanding the fact that it's clear that the number one issue this year is the economy, Republicans are already talking about seemingly endless rounds of Congressional hearings if they regain control of Congress:
If President Barack Obama needed any more incentive to go all out for Democrats this fall, here it is: Republicans are planning a wave of committee investigations targeting the White House and Democratic allies if they win back the majority.

Everything from the microscopic — the New Black Panther party — to the massive — think bailouts — is on the GOP to-do list, according to a half-dozen Republican aides interviewed by POLITICO.

Republican staffers say there won't be any self-destructive witch hunts, but they clearly are relishing the prospect of extracting information from an administration that touts transparency.

And a handful of aggressive would-be committee chairmen — led by Reps. Darrell Issa (R-Calif.) and Lamar Smith (R-Texas) — are quietly gearing up for a possible season of subpoenas not seen since the Clinton wars of the late 1990s.

Issa would like Obama's cooperation, says Kurt Bardella, spokesman for the ranking Republican on the House Oversight and Government Reform Committee. But it's not essential.

"How acrimonious things get really depend on how willing the administration is in accepting our findings [and] responding to our questions," adds Bardella, who refers to his boss as "questioner-in-chief.'

That's feeding anxieties within the West Wing — even if administration officials won't admit it publicly.

"I actually think it will be even worse than what happened to Bill Clinton because of the animosity they already feel for President Obama," says Lanny Davis, a deputy White House counsel who lived through Clinton's trials.
Stephen Green thinks this is a really bad idea:
This is an issues election, and the issues are more important than any in our lifetimes. People want action, they want results — and they're going to need a new majority party to get those results. And that new majority party is going to need a popular mandate.

And you don't get a mandate by running on a platform of bickering. Investigations can wait. And besides, does the GOP think they can do a better job of repudiating 18 months of bad Democratic policy than the American people will do on November 2? It's almost as if they're trying to lose.
I'm not sure that I agree with Steve that bringing this issue up hurts the GOP in upcoming elections all that much. After all, the people for whom it's likely to cause a problem aren't likely to vote Republican anyway. Moreover, to the extent Republicans do bring it up, it should probably best be viewed as throwing some red meat to the base. That's the reason you see a back-bench bomb thrower like Michele Bachmann flirting with the absurd idea of impeaching the President.
The problem isn't so much whether or not the GOP makes this investigation meme a part of the 2010 campaign, but what they do if and when they regain control of the House and/or Senate. While they haven't done many smart things, I will say that the one thing that the Democratic Congressional leadership has been right about is resisting the temptation to give in to the demands of many on the left to launch Congressional investigations of the Bush Administration, either while Bush was still in power or after he left in January 2009. Politically, such hearings would have accomplished nothing and would have left the Democrats open to the charge that they wasted time on hearings while the economy burned (whether what they did instead of hearings was any better is, of course another question).
So, Steve is right. The GOP needs to concentrate on the issues, not just in 2010, but in 2011 and beyond.