Gingrich 2012: Will The GOP End Up Nominating The Unelectable Candidate?
Newt Gingrich is leading the GOP field, but losing to President Obama, but Republican voters don't seem to care.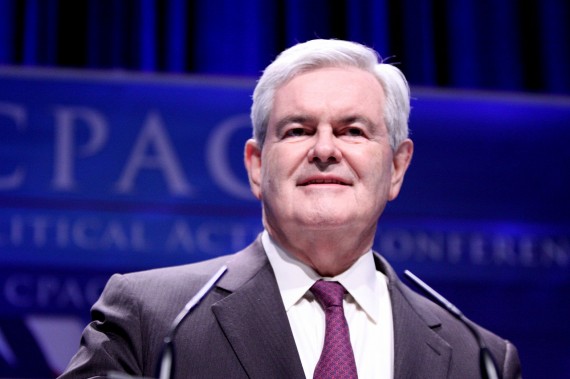 A new NBC News/Wall Street Journal poll shows Newt Gingrich continuing to expand his lead over Mitt Romney and the rest of the GOP field, but at the same time it contains warning signs for Republicans who might actually want to win the election in November 2012:
WASHINGTON – Exactly three weeks until the first Republican presidential nominating contest in Iowa, front-runners Newt Gingrich and Mitt Romney have two different challenges, according to a new NBC News/Wall Street Journal poll.

Romney faces a challenge with the Republican primary electorate, trailing Gingrich nationally by 17 percentage points as nearly two-thirds of Republicans view him as either liberal or moderate.

Gingrich, meanwhile, faces a challenge with the general electorate, as half of all voters say they wouldn't vote for him in November, and as he trails President Barack Obama by more than 10 percentage points in a hypothetical contest — compared with Romney's two-point deficit versus the Democratic incumbent.

(…)

According to the poll, Gingrich, the former House speaker, is the first choice of 40 percent of GOP primary voters — the highest percentage any Republican presidential candidate has received in the party horserace so far.
advertisement

Romney, the former Massachusetts governor, is the first choice of 23 percent of Republicans. He's followed by Texas Rep. Ron Paul at 9 percent, Minnesota Rep. Michele Bachmann at 8 percent, Texas Gov. Rick Perry at 6 percent, former Utah Gov. Jon Huntsman at 5 percent, and former Pennsylvania Sen. Rick Santorum at 3 percent

Reduced to a three-person GOP race, Gingrich gets 53 percent, Romney gets 31 percent and Paul gets 13 percent.

And in a two-way Republican contest, Gingrich leads Romney by 23 points, 59 percent to 36 percen
The reason for Gingrich's huge lead becomes fairly apparent once you look at some of the poll internals. Gingrich is seen as the more conservative candidate by a wide margin, while Romney is seen as largely a moderate by the same wide margin. Given the make up of the GOP selectorate this cycle, this is not at all surprising. The party is more conservative than it has been in previous cycles and clearly seems to be more interested in finding a candidate who agrees with them than one that actually has a change of defeating Barack Obama in 2012. And it's when you get to those head to head numbers that Gingrich's real problems becomes apparent:
Obama leads the former House speaker by 11 points among registered voters, 51 percent to 40 percent. But the president's lead narrows to just two points against Romney, 47 percent to 45 percent.

Against a generic Republican, 43 percent say they will probably vote for Obama, while 45 percent say they will probably vote for the GOP candidate.

Why the difference between Gingrich and Romney? Look no further than their favorability ratings.

Gingrich enjoys strong numbers among Republicans (46 percent positive vs. 21 percent negative), conservatives (42 percent positive vs. 23 percent negative) and Tea Party supporters (54 percent positive vs. 16 percent negative). In fact, they are higher than Romney's numbers among these same three key Republican groups.

But Gingrich struggles with other important voting blocs — like women (20 percent positive vs. 38 percent negative), independents (16 percent positive vs. 40 percent negative) and suburban residents (25 percent positive vs. 41 percent negative).

By comparison, Romney fares better among women (22 percent positive vs. 31 percent negative), independents (21 percent positive vs. 29 percent negative) and suburban dwellers (29 percent positive vs. 30 percent negative).

What's more, 50 percent of registered voters say they would not vote for Gingrich in a general election — compared with 45 percent who said that about Obama and 44 percent who said that about Romney.

"Romney has work to do," says McInturff, the GOP pollster. "But Newt starts in a difficult position" for the general.
Calling Gingrich's position difficult is putting it mildly. His problem isn't lack of name recognition like a Jon Huntsman suffers from, or history of campaign gaffes that call his readiness into question like Rick Perry. In many ways, Newt is in the same position that Sarah Palin has been since the end of the 2008 election. Thanks largely to the fact that he has maintained a presence in the media in the years since leaving the Speakership and making his comeback a few years later, Gingrich is fairly well known and, as James Joyner has noted, there are plenty of them who remember the Newt Gingrich of 1995 to 1998, the negative aspects of his time in office, and his public persona, which was less than pleasant even at the height of his popularity. If they don't remember, the magic of video is going to make it very easy for the Obama campaign, the Democratic Party, and the various independent SuperPACs likely to get involved int he race to remind them. Gingrich's personal negatives, especially among crucial voting blocs like women, independents, and suburban voters which will be important in swing states like Virginia, Florida and Ohio, are more likely to increase than decrease as the campaign goes on. And then, of course, there's always the possibility that Newt Gingrich will implode as he has in the past and that the "Bad Newt" will make his seemingly inevitable appearance. That could happen in January, or it could happen in late October 2012 when its too late to undo any damage caused.
Which thus leaves the Republicans with something of a dilemma. After months of searching for the "not Romney" and going through a list of former challengers for that role that frankly didn't belong running for Dog Catcher not to mention President and a Governor who can't seem to open his mouth without making a verbal gaffe, they've settled on a morally suspect, somewhat sleazy looking, former Speaker of the House who has spent the last 13 years lobbying for the expansion of the Federal Government and advocating policy choice that ought to be anathema to any self-respecting conservative. Except for the fact that he talks a good game and he sounds smart, the differences between Mitt Romney and Newt Gingrich are minimal at best (except for the fact that I think I could trust Mitt Romney's judgment, I know I cannot trust Gingrich's), and yet voters seem to be rallying behind the guy who seems least likely to be able to capitalize on Barack Obama's weaknesses in the General Election because his own vulnerabilities are far too apparent. You can already sense that members of the GOP establishment are getting nervous about Gingrich since more and more of his former colleagues are willing to speak against him. Whether it will be enough to convince Republicans in Iowa and elsewhere to avert the train from the cliff it appears to be headed over is something we'll just have to wait and see.