Gingrich Sets The Terms Of Debates He'll Never Participate In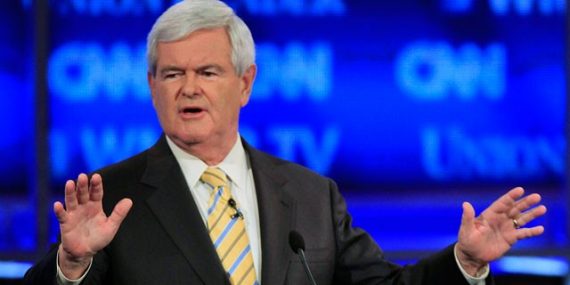 Wrapping up a campaign in Florida that seems likely to end in a big defeat, Newt Gingrich went back to his old habit of attacking the media:
With his poll numbers lagging in Florida, Newt Gingrich returned Monday to his tried-and-true offensive against the media, declaring that if he's the Republican nominee, he will not debate President Obama if a reporter serves as moderator.

"The reporters who run the debates have no interest in asking any question which will affect Obama," Gingrich told a crowd gathered to see him at the Pensacola airport. "That's why, as your nominee, I will not accept debates in the fall in which the reporters are the moderators because you don't need to have a second Obama person on the debate."

It is not the first time Gingrich has threatened such action during his week in Florida. At a tea party event in Coral Springs last Wednesday, he told the crowd that he would "tolerate" the media-hosted primary debates, but in the general election he would want to set the terms of the debate with the president himself.

"We should be able to talk to the American people without reporters playing gotcha, being clever or having 60-second rules like 'What would you do about Nigeria in 60 seconds?' or 'What's your answer to Social Security in 30 seconds?'" Gingrich told the enthusiastic crowd.

The former House speaker has said that as nominee he would challenge the president to seven, three-hour Lincoln-Douglas style debates, despite the fact that the debate schedule has already been set by the Commission on Presidential Debates.
Of course, there will not be seven three hour "Lincoln-Douglas" style debates, nor will there be any significant changes to the debate format set down by the Commission on Presidential Debates which has been the bipartisan group in charge of setting Presidential debates since 1988. As Allahpundit notes, if Gingrich even tried to change the terms of the Commission's debates, past precedent would provide the President's campaign with more than enough political cover to rebuff his efforts and make it look like he was the one who didn't want to participate in fair debates.  Of course, this isn't really a serious proposal on Gingrich's part it's a continuation of the attack the media strategy that we saw examples of two weeks ago in South Carolina when Newt went after Juan Williams and John King in the debates. It's red meat for the crowds, but it doesn't actually mean anything:
He's obliged to say stuff like this on the trail now. Media-bashing has become his calling card. A Newt rally without it would be like a Stones concert without "Satisfaction." Do the lunar base/flat tax medley if you want, but at some point you've got to make the people happy and play your anthem.
Yep, pretty much.
Of course, the other part of this is that, after tonight, the odds that Newt Gingrich will every actually be debating Barack Obama will drop significantly. Oh, we can all humor him for another six weeks or so and he may actually win another primary or two, but the die has been cast in Florida and it's clear that Mitt Romney is going to roll over Gingrich in the end no matter how long it takes. So continue making those speeches Newt, they'll give you some good talking points when you're back commenting on Fox News Channel.