Greta Friedman, Who Claimed To Be Nurse In Iconic V-J Day Photo, Dies At 92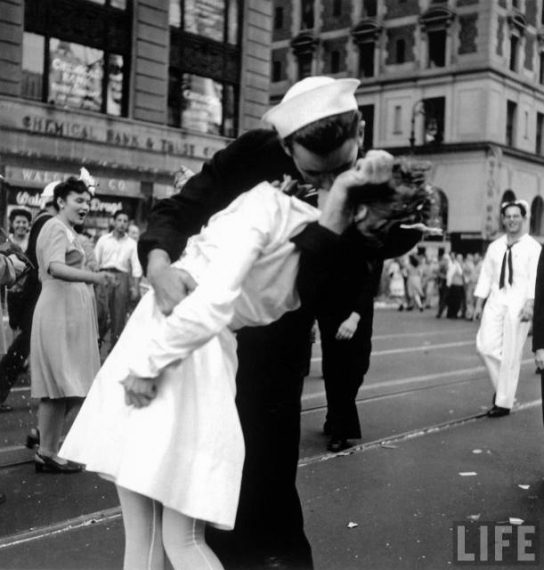 Greta Friedman, who claimed to be the nurse in an iconic photograph taken by Time/Life photographer Alex Eisenstadt, has died at the age of 92:
Greta Friedman, who said she was grabbed and kissed by a sailor in a euphoric moment that made for one of the most defining American photos of the 20th century, died on Thursday in Richmond, Va. She was 92.

The cause was pneumonia, her son, Joshua Friedman, said.

The black and white image of a woman and an American sailor was shot by the renowned photographer Alfred Eisenstaedt on Aug. 14, 1945, after the news of Japan's surrender effectively heralded the end of World War II. The photograph ran as a full page in Life magazine shortly after.

Yet the identity of its subjects — a dark-suited sailor and a woman in a white nurse's outfit captured in what seemed to be mid-embrace amid a celebration in Times Square on V-J Day — has long been debated. At least 11 men have claimed to have been the sailor in the photo, while three women, including Ms. Friedman, had prominent claims that they were the nurse.

Ms. Friedman said that she did not see the photo until the 1960s, when she came upon a book of Mr. Eisenstaedt's images and found the moment immortalized on the page. She wrote to Life and was told that another person had been identified as the woman in the photo.

"I didn't believe that because I knew it happened to me," she said in 2005 in an interview archived by the Veterans History Project. "It's exactly my figure, and what I wore, and my hairdo especially."

Mr. Eisenstaedt, a photojournalist who produced more than 2,500 picture stories and 90 covers for Life, did not have a definitive record of the man and the woman in the photo.

Decades later, he met with Edith Shain, a kindergarten teacher from Beverly Hills, Calif., who claimed to be the woman in the photo. Mr. Eisenstaedt died in 1995; Ms. Shain died in 2010.

The photo has served as a symbol of the exuberance Americans felt at the end of World War II, capturing what many saw as a charmingly ideal portrait of the United States at a portentous moment of history. It has been the subject of countless reproductions, re-enactments and tributes.

But in recent years, some have noted its darker undertones.

In 2012, a writer on the website Crates and Ribbons argued that the picture depicted not a moment of romance, but a "sexual assault by modern standards," pointing to Ms. Friedman's description of the kiss during her interview with the Veterans History Project.

"I felt that he was very strong. He was just holding me tight. I'm not sure about the kiss," Ms. Friedman said. "It was just somebody celebrating. It wasn't a romantic event."

In an article in 2014 about the photo, Time, whose parent company discontinued the monthly publication of Life magazine in 2000, noted that "many people view the photo as little more than the documentation of a very public sexual assault, and not something to be celebrated."

Ms. Friedman did not shy away from the photo or her role in it, her son said. Mr. Friedman said he believed she understood the argument that it was an assault but did not necessarily view it that way.

Ms. Friedman was born Greta Zimmer on June 5, 1924, in Wiener Neustadt, a small town in Austria outside Vienna. She was one of four daughters of Max Zimmer, a clothing store owner, and Ida Zimmer.

As conditions worsened for Jews in Nazi-occupied Austria, her parents sent their children out of the country. Ms. Friedman and two of her sisters came to the United States in 1939, while the other sister went to what was then Palestine. The Zimmer parents were killed in the Holocaust, Mr. Friedman said.

Ms. Friedman landed in New York City. She had been working at a dentist's office on Aug. 14, which was why she was wearing the white nurse's outfit, she recalled in the Veterans History Project interview. She also worked in costuming, her son said.
Glenn McDuffie, who may or may not have been the sailor in the photo died in 2014, and it's worth noting that Edith Shain, who also claimed to be the nurse in the photo died in 2010.