Grover Norquist Gives The GOP A Pass On Raising Taxes
Grover Norquist has seriously undercut the credibility of the ATR anti-tax pledge.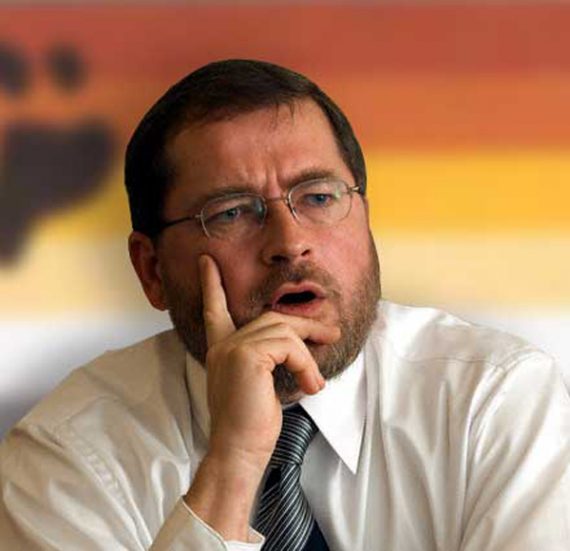 Grover Norquist, the head of Americans For Tax Reform who for two years now has taken on a reputation of being the man who has the House GOP Caucus in his pocket thanks to the pledge not to increase taxes that the vast majority of its members have signed at one point or another in their political career, has given the GOP a pass on raising taxes on high income earners:
Grover Norquist's Americans for Tax Reform is giving House Republican's a pass on Speaker John Boehner's "Plan B" to let tax rates go up on incomes above $1 million.

In a blog post on ATR's website, the group states that a vote for Plan B, which could come up as early as Thursday, will not be a violation of the pledge.

"This legislation — popularly known as "Plan B"— permanently prevents a tax increase on families making less than $1 million per year. Republicans supporting this bill are this week affirming to their constituents in writing that this bill — the sole purpose of which is to prevent tax increases — is consistent with the pledge they made to them. In ATR's analysis, it is extremely difficult — if not impossible—to fault these Republicans' assertion."

ATR argues that because House Republicans have "already voted twice to prevent any tax increases on any American" and because the bill "contains no tax increases of any kind" it would not be a pledge violation. Boehner's bill permanently extends the Bush tax cuts for those who make less than $1 million, and would simply let taxes go up for those above that threshold by letting them expire.
The House is apparently scheduled to vote on this "Plan B" sometime this week, however it has absolutely no chance of making it through the Senate and President Obama has said that he would veto the bill if it ever did make it to his desk. Arguably, when Plan B dies, and regardless of what happens regarding the fiscal cliff over the next 13 days, Norquist could argue that his comments only applied to the proposal put forward by Speaker Boehner and not any other piece of legislation. Any such comments, though, would end up being nothing more than intellectually dishonest prevaricating. Up until today, it was the position of ATR as an organization and Norquist in particular that there can be no increases in existing tax rates and no changes in deductions and loopholes that are not offset by spending cuts. That's no longer the case. Today, Norquist essentially endorsed a proposal that increases taxes on a portion of the population. Win or lose on Plan B, I would submit that this undercuts the entire logic of the ATR pledge. Were I a Republican Member of Congress, I would no longer consider myself bound by it.
As David Weigel notes, Norquists position on Plan B is opposite of the one taken by other conservative groups such as The Heritage Foundation and The Club For Growth, both of whom have come out strongly against the  package. However, it's the ATR pledge that has achieved near legendary status on Capitol Hill these past couple years. Today, the power of that pledge suffered a significant blow.